Jason Craig: The man behind the DJ booth at the Don Haskins Center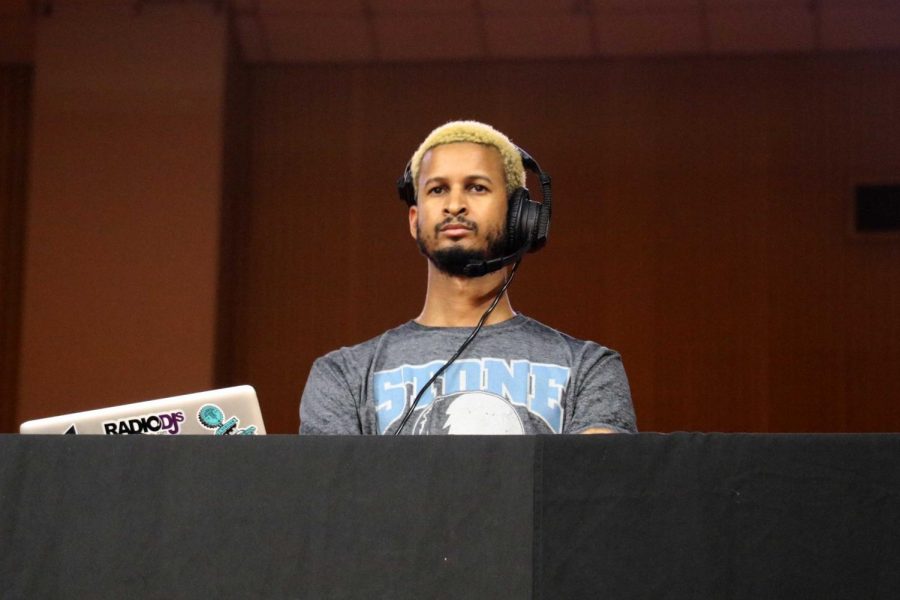 For every UTEP men's basketball game at home there is a guy behind a deejay booth playing music from all genres and generations, located right in the middle of the student section next to the band. 
DJ Jason Craig, 34 an army veteran, is the man behind the sounds of the Don Haskins Center.
Craig, originally from Orange County, California, has been deejaying for 10 years. Craig started his music career in upstate New York, eventually getting his big break in Baltimore, Maryland. Originally what got people's attention was the fact that he played West Coast hip-hop music.
"I was bringing something so new to the table because the East Coast, they don't get no West Coast music," Craig said. "You got to know your stuff to be able to play it."
In his first two years, Craig went out and made a name for himself. Craig became hip-hop star Big Sean's DJ for a tour, he Deejayed Chelsea Handler's after-hours party, and he even opened up for hip-hop's Wale. Craig went out and made a name for himself in his first two years.
The father of four then got a military transfer out to the Sun City. He's been Deejaying all across El Paso since then.
"They brought me here to Fort Bliss and I decided to stick around. You know, the vibe's dope here," Craig said.
Craig has been at the forefront of self-marketing, going live on different social media platforms to get his name across, creating content and engaging fans. Craig has always been social media savvy, but admits it was a constant hustle to get to where he is at now.
"Eventually all the hard work and just staying consistent got me here at UTEP," Craig said.
One night last year at a local bar on Cincinnati Street, Craig was approached by UTEP's marketing team with a plan to create a home-crowd advantage for men's basketball midway through the 2017-18 campaign. One bar discussion led to a meeting and within a couple days he was hired to DJ the upcoming home games.
"I gave her my card and I didn't think anything of it," Craig said. "I'm not gonna get a call. I give out my card all the time and don't get a call. So, then I got a call and they're like come in for a meeting and let me tell you my ideas. So, I come in and was given the whole spill of what she wanted to do. And I was like, yes let's try it out, then that was it."
Craig began spinning at the start of conference play last season and has been a constant crowd energizer this season as the Miners have an 8-18 record overall and an 8-7 home record. To Craig, he feeds off the energy from the crowd of the Don Haskins Center and the players.
"We really want more of the students to embrace what you have, show some school spirit," Craig said."You don't understand how energy given back and forth makes things change. With Deejaying, if you're giving me energy, I'm giving you the same amount of energy back and we're going to have a great time."
Craig told the Prospector he understands fans typically tend to show up to the games only when the Miners are winning, but he believes the Miners need the energy at the Don Haskins to win.
"You give them enough energy, they're going to play harder because their adrenaline goes up. It's all about the energy," Craig said. "We're just trying to get more people to come out and have a good time."
With the basketball season drawing to a close, you can find Craig spinning at local bars around the Sun City. Craig will DJ once again next season when the basketball season tips off again, but until then you can see him at the Miners home season finale as part of "Senior Night" Wednesday, March 6 when UTEP faces Middle Tennessee at the Don Haskins Center. Tipoff is scheduled for 7 p.m.