T-shirt exhibit represents 30 years of Dr. Natalicio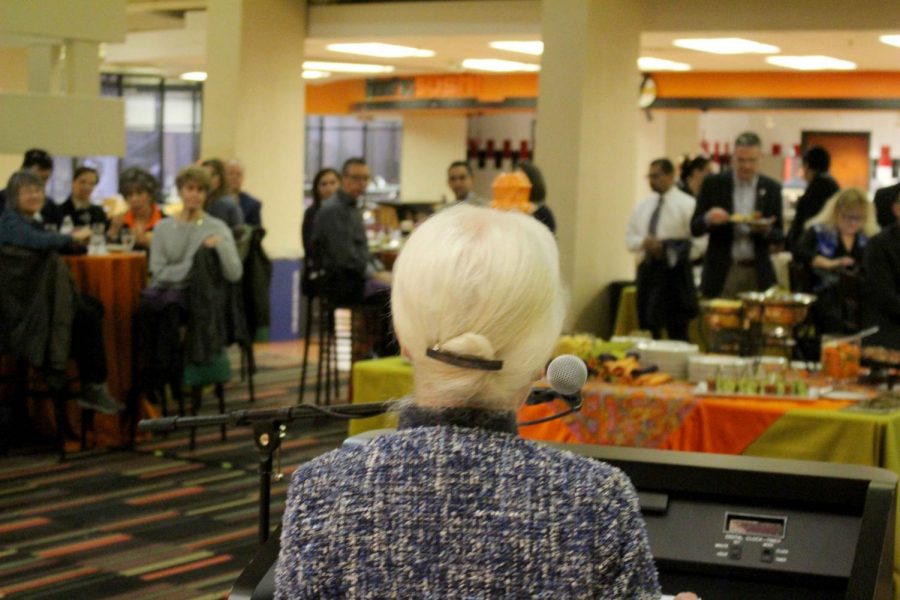 President Dr. Diana Natalicio has 450 UTEP T-shirts. She and the university decided to honor her 30 years at the helm by displaying her personal collection of T-shirts in an exhibit called "My Tenure in T-shirts" on the second floor of the Union East Building in the Union Gallery.  
"T-shirts have always been kind of an interesting way of expressing identity or creating pop culture for events and for certain groups of people and I think the UTEP brand is very interestingly woven throughout this collection," Natalicio said.
The collection was debuted to select members of the UTEP faculty before the doors officially opened for the public Feb. 18. Natalicio said the collection is a trip down memory lane for some members of the UTEP family.
"You're going to see some things and I hope that they evoke some very sweet memories for each one of you," Natalicio said at the reception.
The exhibit was placed in the Union, Natalicio said, so it would be visible to students. She hopes it inspires reflection about how far the university has come.
"Decided to place it here in the Union gallery because it's really about our students," Natalicio said. "It's really about all their activities. It's what they did. … I want them to be able to see them, too. Now, most of them weren't here when some of these vintage T-shirts were created. But maybe they'll learn something about the history of the university as a result of it."
Natalicio announced her retirement from the university May 22, 2018. The search for UTEP's next president is ongoing.
The exhibit will be on display at the Union Gallery through March 15.