UTEP women's track and field sprints to championship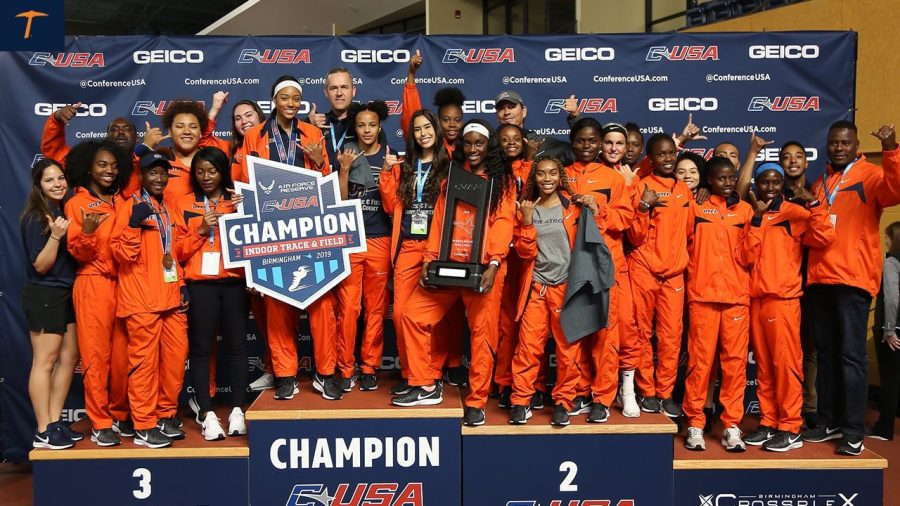 UTEP women's track and field team won the 2019 Air Force Reserve Conference USA Indoor Track and Field Championship held Sunday, Feb. 17 in Birmingham, Alabama. 
UTEP had a total score of 89.50 points, which beat the second-place winner Charlotte by nearly nine points. 
The Miners have now taken home the indoor title four out of the past five years. The last time they won was in 2017.
"Coaches are extremely proud of the women's championship team," said Head Coach Mika Laaksonen. "Girls came out strong this weekend and fought hard from beginning to end. I don't think anything went wrong for us and we got all the points we were supposed to get, plus more."
The women's 4x400m team consisted of senior Dreshanae Rolle, juniors Madison Gibson and Kimisha Chambers, and sophomore Annette Bolomboy. UTEP went into the final race with a score of 81.50 points with Charlotte in second place with 75 points. UTEP came out and won the first two meets of the heat.
Although UTEP came in second place in the last race of the heat the team finished with their best time all season with 3:43:39 to complete the 4x400m.
Earlier that day, the women of track and field set the tone in the first track event when senior  Lilian Koechran and teammate sophomore Carolyne Chepkosgeiin took home the gold and silver medal, respectively in the mile race.
Other Miners with noticeable top finishes are Junior Kimisha Chambers who took home the bronze medal in the 60m hurdles with a time of 8.46.
In men's track and field news, teammate Junior Sean Bailey earned the bronze medal in the 400m with a time of 46.89.
Up next for the Miners is the NCAA Indoor Championships March 8-9 in Birmingham, Alabama.