UTEP women's basketball gains momentum following two straight road wins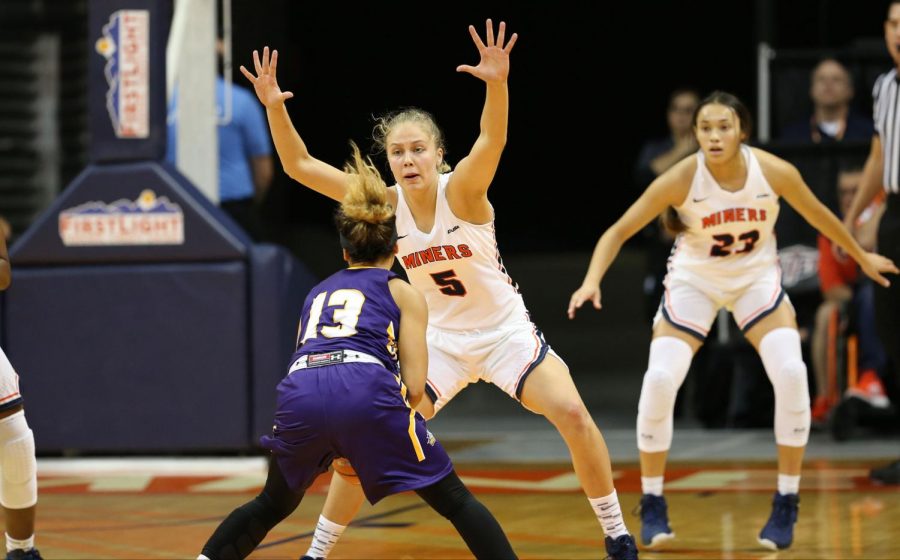 The UTEP women's basketball team (6-18, 3-8) is coming off two exceptional wins against Florida Atlantic University (5-19, 2-9) and Florida International University (4-20, 1-10) this past week during their two-game road trip in the Sunshine State. The Lady Miners also snapped their eight-game losing streak in the process.
"I just really like the way we're playing right now. We're playing good, competitive winning basketball right now," Head Coach Kevin Baker said.
Their 44 points allowed against FAU were the lowest points allowed this season for UTEP while recording a season-high 10 steals.
The Puc and Zec connection was evident during the two-game road trip.
Junior forward Zuzanna Puc recorded 18 points against FAU and 19 points against FIU, leading all Miners in both games. Puc leads the team in points averaging 13 a game, rebounding with seven, and is tied for second on the team in total assists with 44.
Puc's average of seven rebounds a game puts the Polish prominent talent ninth-best in Conference-USA.
Junior forward Katarina Zec scored 16 points against both FAU and FIU while recording five and six rebounds against FAU and FIU respectively. Zec was also perfect from the charity stripe against FAU shooting 6-of-6 from the free throw line.
Moving forward to their two-game homestand this week against conference foes Louisiana Tech and Southern Miss, the Lady Miners still have only seven active players.
"I'm really proud of this team and we are truly seven strong," Head Coach Kevin Baker said.
UTEP will be going up against an exceptional talent in Conference-USA's leading scorer in Louisiana Tech senior guard Kierra Anthony who is averaging 23.2 points a game and is tied for first in the conference in free-throw percentage at .865. Anthony is shooting .504 from the field, placing her fifth-best in the conference.
The Lady Techsters also have one of Conference-USA's premier three-point shooters in senior guard Stahly Taylor. Taylor has knocked down 45 threes from downtown this season averaging 2.1 threes a game this season placing her fifth in the league.
Louisiana Tech is the second-best scoring offense in the league averaging 74.1 points a game, but the Lady Techsters are not as efficient on the defensive end allowing an average of 69.3 points per game.
In their matchup against Southern Miss, the Lady Miners will be facing a solid defensive team in Southern Miss.
The Lady Eagles allowing an average of 58 points a game which puts them in fourth in Conference-USA and junior guard Shonte Hailes provides plenty of pressure on the defensive end averaging 1.8 steals a game placing her at seventh in the conference.
Hailes paces the team in points averaging 11.8 a game and leads the Lady Eagles in total assists this season with 101.
UTEP will begin the two-game homestand at the Don Haskins Center against Louisiana Tech at 7 p.m. Feb. 14 and will take on Southern Miss at 1 p.m. Feb 16.