UTEP men's basketball look for first road win before group play begins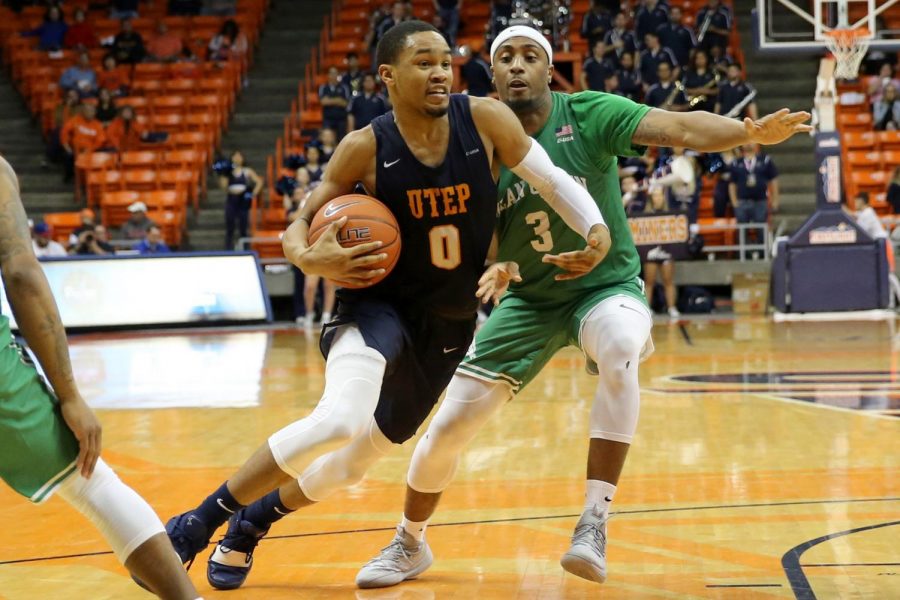 The UTEP men's basketball team heads on the road for a two-game trip as they search for their first road win of the season.
After splitting their final two-game homestand before Conference-USA group play, UTEP (8-15, 3-9 C-USA) heads on the road to face the Louisiana Tech Bulldogs. Then they will close out the road trip against the Southern Miss Golden Eagles.
UTEP is 0-9 on the road this season.
During the previous homestand, the Miners split the two games against the Sunshine State teams-losing to Florida Atlantic and beating Florida International.
Against FAU, UTEP played poorly, lacking energy on both sides of the court. UTEP shot 28 percent from the field and 19 percent from behind the arc. Previously before the homestand, UTEP was the seventh best defense in conference when it came to defending the 3-point line, after letting FAU shoot 50 percent from behind the arc, the Miners fell down to ninth in 3-point defense. Freshman guard Nigel Hawkins was the lone Miner to score in the double-digits.
Freshman guard Jordan Lathon shot 30 percent from the field and 1-for-5 from behind the arc finishing with eight points against FAU. The freshman flipped the script against FIU, scoring 16 points shooting a perfect 4-for-4 from behind the arc and 6-of-7 from the field.
"Honestly, I saw him yesterday even though we had an off day and it was cerebral when it came to planning for FIU," Hawkins said. "He was in the gym and he was practicing his shot and then just formed shooting and it paid off big time for him. So, he just had ultimate confidence going in."
Lathon is the team's leader in assists with 61 on the season averaging three a game. The freshman's performance on and off the court has shown strides that Lathon is going to be a great Miner.
"That's our leader, he's going to be a great player for the Miners," said senior forward Paul Thomas. "He's a great point guard, is really vocal and he helps when the energy is low he gets it right back up. So, I'm proud of Jordan."
Currently, UTEP is in 13th place in conference standings, with six games to go, four will be on the road, two will be at the Don Haskins Center. This upcoming road trip is vital if the Miners want to sneak in and be one of the 12 teams in C-USA to compete in the conference tournament.
"Got to get one, most definitely," Thomas said. "As we approach March; we're treating every game as a must win because we know if we get to that conference tournament, anything could happen. So, that's that's our main goal right now."
La Tech is currently riding a three-game losing streak as they have struggled on the road all season (3-9). UTEP is putting their winless road record on the line against a team that is undefeated at home (12-0). 
La Tech has a top five defense and top five offense in C-USA. Averaging 74 points per game notches the Bulldogs fifth in scoring. On the defensive side, La Tech allows opposing teams to score 68 points per game for fifth in scoring defense.
Junior guard Daquan Bracey is the Bulldog's leading scorer averaging 14 points a game. Bracey is just one of four players that are averaging double-digit scoring for the Bulldogs. Sophomore guards Amorie Archibald and Jacolby Pemberton each average 10 points per game, sophomore forward Anthony Duruji averages 12 points per game.
Southern Miss is currently on a four-game winning streak, but before they make their way to the Borderland, Southern Miss will play the second best team in C-USA the UTSA Roadrunners at home Thursday, Feb. 14.
The Golden Eagles are seventh in scoring offense averaging nearly 73 points per game and are the number three team in total defense in C-USA, allowing opponents to score nearly 65 points per game.
As a team, the Golden Eagles lead C-USA in sharing the basketball, the team averages 17 assists a game. One of the reasons why they lead the conference is because of senior guard Tyree Griffin. Griffin is the conference leader in assists with 159 on the season, averaging nearly seven a game.
Junior forward Leonard Harper-Baker is the fourth leading rebounder in C-USA averaging eight rebounds a game. Senior guard Cortez Edwards is fifth in field goal percentage shooting .463 averaging 14 points per game.
Southern Miss attacks the basketball defensively forcing seven steals a game which notches them third in C-USA. Edwards is third in steals averaging two a game. UTEP averages 16 turnovers while opponents are averaging 12 points off turnovers.
UTEP kicks off the road trip against La Tech at 5:30 p.m. Thursday Feb.14. The game will be available on television where available by BEIN Sports. UTEP then closes out the road trip against Southern Miss at 1 p.m. Saturday, Feb. 16  and will be available to watch on ESPN+.