UTEP men's basketball prepare for C-USA group play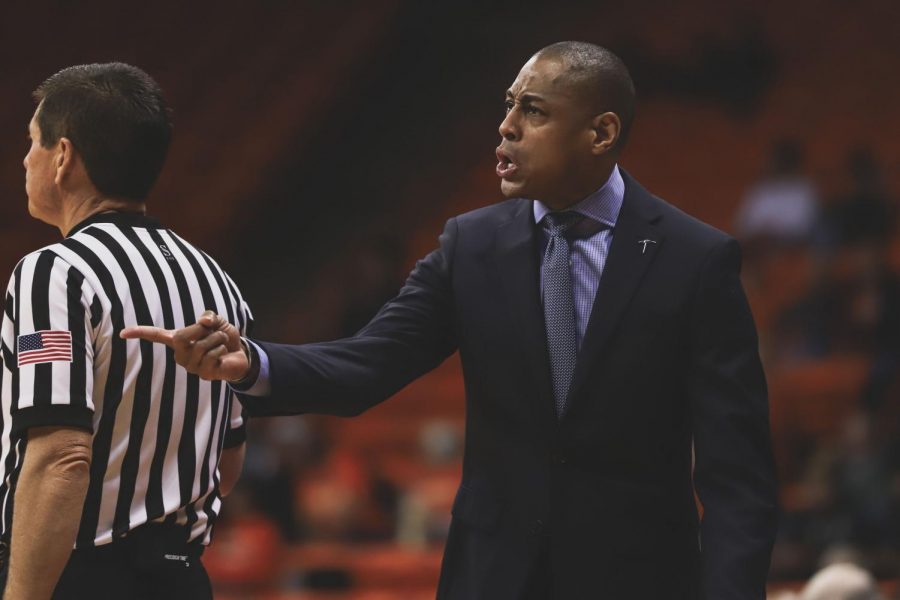 The UTEP men's basketball team returns to the Don Haskins Center for a two-game homestand against Conference-USA's Sunshine State's schools when they host Florida Atlantic (13-10, 4-6 C-USA) and Florida International University (14-9, 5-5 C-USA). 
The Miners return home after two close contests against C-USA's higher-seeded teams, the Marshall Thundering Herd and Western Kentucky. UTEP is now 0-8 on the road.
Last week, UTEP jumped two spots in the standings to the 12th position in C-USA. But after losing two straight games, the Miners have moved down a spot. The conference tournament will feature the 12 best teams out of 14 in C-USA. UTEP is currently ranked 13th in conference.
Last week against Marshall the UTEP freshman combined for a record of 63 points in a 91-86 defeat. Guards Nigel Hawkins and Jordan Lathon scored 22 and 15, respectively, while forwards Efe Odigie and Kaosi Ezeagu added 22 and four.
Both teams from the Sunshine State do a good job of scoring and defending the 3-point line, ranking in the top five of 3-point defense. Both are also in the top five for 3-point field goals, as both teams average nine 3s a game.
UTEP is the seventh best defense in conference when it comes to defending the 3-point line, holding opposing defenses to a .339 percentage. The Miners are in the top five of field goal percentage defenses with .420, ranking them fifth in C-USA. UTEP as a team is allowing opposing teams to score 69 points a game, notching them in seventh place of scoring defense in conference.
During the conference slate, Hawkins has been the leading scorer for the Miners averaging 15 points per game. Sophomore guard Evan Gilyard is the team's second leading scorer averaging 13 points a game. During the two-game road trip, Gilyard came off the bench for the Miners. He suffered an injury scare against Western Kentucky Feb. 2. Gilyard needed to be carried away after sustaining a knee injury in the second half. The sophomore returned after the injury to score 16 points for the Miners.
Odigie is still C-USA's second-leading rebounder; behind him is WKU freshman forward Charles Bassey, who recorded his 11th double-double of the season as he held Odigie to just eight points and four rebounds as the Miners lost to WKU by 17 points.
Florida Atlantic enters the Don losing their last game by two points against Southern Miss Feb. 2. FAU is dealing with injuries to their two main starters, junior forward Jailyn Ingram who was the team's leading scorer averaging 19 points a game before he was ruled out for the remainder of the season with an ACL injury. The other starter out for FAU is graduate transfer Xavian Stapleton who is also dealing with a knee injury that could keep him out for the season as well. Stapleton is the team's third-leading scorer despite the injury.
Stepping up to fill the scoring hole is the team's second-leading scorer senior guard Anthony Adger. Adger is averaging nearly 17 points a game and has failed to score in double-digits just three times this season. The senior opened up conference play by burning Middle Tennessee for his season-high of 33 points on Jan. 5.
FAU does a good job in attacking the glass whether that is on the offensive side or on the defensive side. FAU leads C-USA averaging 40 rebounds per game. They lead in offensive rebounding with nearly 13 a game and is third in defensive rebounds averaging 27 boards a game.
In contrast, UTEP is ranked eighth averaging nearly 10 a game while UTEP is second to last in total rebounds with 763 averaging 36 a game.
FIU is the number one scoring offense in C-USA, averaging nearly 86 points a game. The downside is their defensive effort as they are near the bottom allowing opposing teams to score an average of 81 points per game. Four Panthers players average double-digit scoring: senior guard Brian Beard Jr. is averaging 18 points a game; junior forward Devon Andrews averages 14 points per game; junior guard Trejon Jacob, and senior guard Willy Nunez Jr. each average 11 points a game for the Panthers. 
Beard Jr. not only leads the team in scoring but is C-USA's second-leading point guard averaging nearly seven dimes a game, the senior has 143 assists on the season. Junior forward Osasumwen Osaghae leads C-USA in total blocks on the season averaging three a game.
UTEP opens up the two-game homestand against FAU Thursday, Feb. 7. Tipoff is scheduled for 7 p.m. UTEP will continue the homestand against FIU Saturday, Feb. 9. Tipoff is also scheduled for 7 p.m. Student tickets are available at studenttickets.utep.edu.