UTEP Men's Basketball look to capitalize off conference win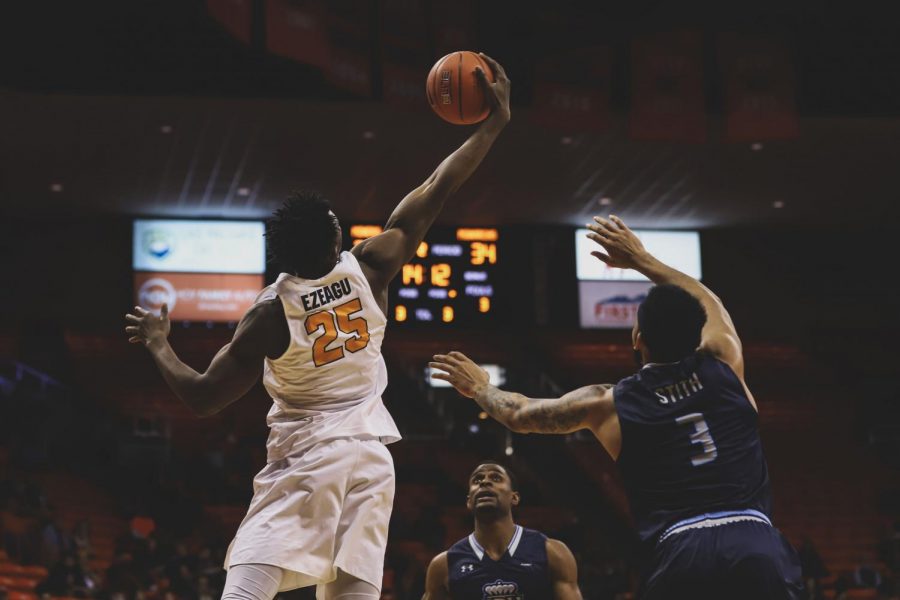 The UTEP men's basketball team (7-12, 2-6) are in search of its first road win of the season as on a two-game road trip to face Marshall (12-9, 5-3) and Western Kentucky (11-10, 4-4). 
UTEP earned its second win in conference in a tightly contested battle against Charlotte. UTEP will look to use that win as momentum as the Miners have not won a game on the road this season (0-7).
UTEP moved up two spots in the standings after ranking last place last week.The Miners are four games behind first place in C-USA. 
UTEP has the have the sixth best scoring defense allowing opposing offenses to an average score of 67 points. 
During C-USA play the Miners defense are third in field goal defense(400) and fourth in scoring defense.
UTEP has a total of 55 blocks on the season. Three of its four freshman lead the team with double-digit blocks forward Kaosi Ezeagu has 14, fellow forward Efe Odigie has 11 and guard Jordan Lathon has 12. 
One of Lathon's 12 blocks sealed the win for the Miners when they faced Charlotte at home. Lathon blocked C-USA's second-leading scorer, Charlotte's senior guard Jon Davis, and shot with four seconds left to help UTEP get its second win in C-USA. 
"You go on the road you got to bring your defense with you every night," said first-year Head Coach Rodney Terry."We try to have a staple, an identity that we are going to guard every night. We don't know how well were going to shoot the basketball, but we know we can bring our defense every night.
"Our defense hasn't traveled. It's got to travel, defense is all about want to, effort and attitude. We got to be willing to do that on the road. We go on the road and we do that, we defend, we rebound, we value taking care of the ball then we'll give ourselves a good chance."
Freshman forward Efe Odigie is averaging nine rebounds a game and has eight double-doubles so far in his early career. He is also the team's second-leading scorer with 13 points a game. Sophomore guard Evan Gilyard is the team's leading scorer, averaging 16 points per game. Through eight conference games freshman guard Nigel Hawkins is averaging nearly 15 points per game. 
In the Miners last matchup against Charlotte, senior Paul Thomas, who came off the bench in the Miners last two games, posted 11 points, seven rebounds, and two steals against the 49ers. For his performance, Thomas was named Steve Hoy Athlete of the week.
The first road test for the Miners will come against the second-highest scoring offense in C-USA, the Marshall Thundering Herd, who average 79 points per game.  Marshall is in the midst of a three-game losing streak, losing two games by total of nine points before getting blown out by a 50 points by Southern Miss on Jan. 26. The Thundering Herd  led by their two senior guards Jon Elmore and C.J. Burks. Elmore is the third-leading scorer in C-USA, averaging 19 points per game while Burks is averaging 17 points a game. Elmore is also in the top five in assists with a 117 on the season, averaging five dimes a game. 
One thing UTEP must not do is turn the ball over against the Herd. Marshall is the second-best team in steals, averaging nine a game. Meanwhile UTEP averages 16 turnovers per game.
UTEP then wraps up the road trip with a showdown against the Western Kentucky Hilltoppers. The game will feature the two top rebounders in C-USA with WKU's freshman forward Charles Bassey and UTEP's Odigie. Bassey is averaging nearly 10 rebounds a game to make him the leading rebounder in C-USA. Three starters are averaging double figures for the Hilltoppers: Jared Savage (13 points per game), Taveion Hollingsworth (15 points per game) and Bassey (14 points per game). 
This will be the second game of a two-game home stand for WKU this week as they host UTSA Thursday Jan. 31. The Hilltoppers are two games behind first place with six games left in group play. 
This season C-USA established an 18-game schedule in which teams will be grouped based on their finish and then scheduled against four conference opponents in the final three weeks of the season. 
Group play operates by 12 teams in conference play getting divided into three games of four. The teams in each group will then play the teams in their division for the remainder of the schedule. This new group play benefits the higher seeded teams when it comes to RPI. 
Both games on the Miners upcoming road trip will be broadcast online or on television. UTEP takes on Marshall at 5:30 p.m. Jan. 31 in Huntington, West Virginia. on Bein Sports. UTEP then wraps up the road trip against WKU at 5 p.m. Feb. 2 in Bowling Green, Kentucky. on ESPN+.