Stalking awareness month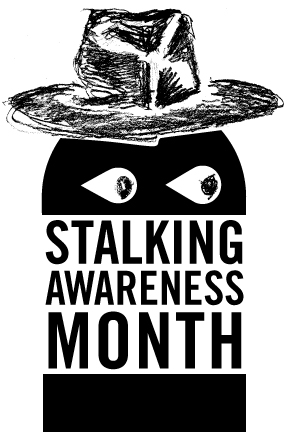 The Stalking Prevention, Awareness and Resource Center (SPARC) held a training Thursday, Jan. 24, at Boquillas Hall. Geared for UTEP students and staff, it focused on identifying and responding to stalking. 
In order to recognize National Stalking Awareness Month, which reached its 15th anniversary this January, the Campus Advocacy, Resources and Education (CARE) team decided to invite SPARC's director to talk about the issue at hand.
"A lot of times we'll see people describing certain behaviors, but not making the connection that those are actually stalking behaviors," said Jennifer Landhuis, director of SPARC. "By hosting this training and having the availability of, not only student staff, but faculty and law enforcement as well, you're creating a community that can be safer for victims."
Landhuis began the training by having the students draw what they thought stalking feels, sounds and looks like in order to gather a general idea of the mindset of those who attended the training. 
Stalking was then described by Landhuis as a pattern of behavior directed specifically towards a person that would cause a reasonable person to feel fear.
Students were surprised to learn that 6 to 7.5 million people are stalked within a year in the United States, proving that this is an incredibly common incident.
"As college students, we should be more aware of what's out there, perhaps the threats or dangers that we could face," said David Yeverino, a UTEP student that attended the training.
In order to stress the seriousness of the topic, Renee Sue O'Neal's case of stalking was discussed. In 2017, O'Neal had been stalked by her ex-boyfriend, Jerrod Hill. After pressing charges against him, O'Neal was supposed to attend Hill's hearing for a felony stalking charge. Before the hearing could even take place, Hill murdered O'Neal before committing suicide.
The training placed an emphasis on context. Landhuis discouraged the students from dismissing someone as overreacting or paranoid as they might not know the past experiences that the person has undergone that makes certain "ordinary" actions frightening.
Everyone was encouraged to discuss and identify the ways that stalking can take place by introducing the common courses of action that stalkers tend to take, such as life invasion, interference, surveillance and intimidation.
Also mentioned during the training was the use of social media as a method for stalking due to the fact that people and their friends constantly post where they are. By using social media platforms such as Instagram, Facebook and Snapchat, stalkers can easily gather information about someone's life.
At the training, Landhuis mentioned that the public relations team for Netflix's "You," a series that showcases a stalker's obsession with a girl, contacted SPARC to voice concerns about people becoming desensitized of the seriousness of the topic.
"I think they're doing a great job of combatting the social normalization [of stalking]… We see stalkers portrayed in the media all the time and it's always romanticized," Landhuis said about the show.
SPARC is a national resource center that offers in-person training, webinars, online resources, individual and organizational assistance, policy and protocol development, consultation and more in order to share the ways to identify and respond to stalking. SPARC encourages anyone who wants to learn more to visit StalkingAwareness.org