UTEP loses its third straight to Old Dominion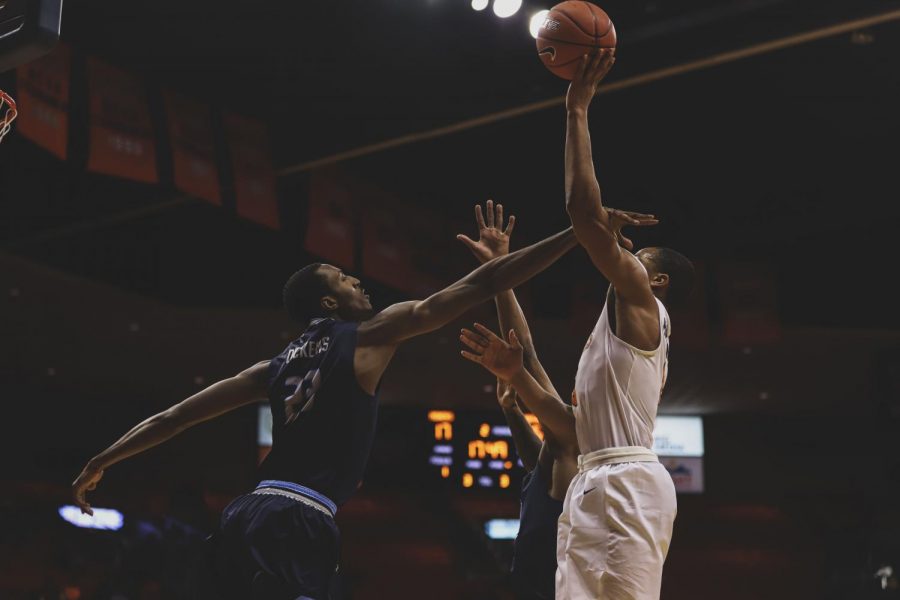 UTEP's second-half comeback was not enough as the Old Dominion Monarchs edged out the Miners, 50-48, Thursday night, at the Don Haskins Center.
UTEP fell to 6-11 and 1-5 in C-USA while ODU improved to 16-5 and 6-2 in C-USA.
"I thought we continued to battle," said first-year head coach Rodney Terry. "I thought our guys even down the stretch executed some things offensively and defensively to put themselves in position to have a chance to win against a really good team at home."
Freshman forward Efe Odigie led all Miners with his eighth double-double on the season leading UTEP in points and rebounds with 13 and 11. Odigie struggled in the first half to find his shot scoring only two points and going 0-for-6 from the field.
"Big fella (Odigie) he really responded," Tery said. "I was on him pretty hard in terms of his energy level, his body language and just given us the lift that we need. We want to play inside out I've always coached teams to try to play inside out,  you going to try and play outside in its going to be hard to win a lot of games but you have to have an inside presence and he's given that to us all year long and he struggled a little bit early in the first half but he responded in a huge way down the stretch and it showed a lot of perseverance."
At the end of the first half, UTEP found themselves trailing by five points, 22-17. UTEP closed out the half shooting 1-of-8 from the field, while ODU closed out the half shooting 4-of-5. UTEP had an early lead nine minutes into the game until the Miners committed six turnovers during a nine-minute time span, in those nine minutes ODU took advantage of UTEP's turnovers as they went on an 8-0 run to give them the lead.
Both teams committed nine turnovers, each scoring four points off turnovers. UTEP was 6-for-31 from the field for 19 percent while ODU shot 9-of-35 for 26 percent. UTEP scored a new season low in points with 17 to close out the first half.
Sophomore guard Evan Gilyard struggled to find his shot in the first half as he missed his first six field goal attempts. Gilyard did not nail his first field goal until the second half, the sophomore finished with seven points on 1-of-10 from the field.
The second half was a different tale compared to the first half as UTEP clawed its way back into the game tying it up at 48 with 1:19 left on the clock after a pair of Odigie free throws. ODU would go on and nail a pair of free throws to extend their lead to two. Prior to tying up the game, the Miners found themselves down by 11, coach Terry called timeout and after the timeout, UTEP answered back with a 7-0 run.
Coach Terry would call timeout again as UTEP drew up a play that would hopefully take them to overtime with 7.9 seconds left in regulation. Freshman guard Jordan Lathon drove down the lane towards the baseline and found Odigie down low. He then got tangled up with a Monarch defender in the paint which ended in a jump ball. The possession arrow favored ODU with 2.5 seconds left on the clock. ODU would go on to run out the clock and onto their 16th win of the season.
"It's a set that our guys are very familiar with to play out of it," Terry said. "We're down two and we want to put it in in one of our better bigger playmaking guards an opportunity to get things done and you know you got one of our best shooters in the corner in Evan, those guys executed the way we wanted. They did a great job taking that shooter away and we're really at the rim really at the end of the day. You have to put young guys in a position like that so they can make those kinds of plays one day."
UTEP would finish the game shooting 15-58 for nearly 26 percent from the field while ODU shot 20-65 for 30 percent from the field.
Odigie was the lone Miner to score in double-digits, freshman guard Nigel Hawkins chipped in with eight points. Hawkins and Gilyard led UTEP in assists with three each.
UTEP will look to end its three-game losing streak against Charlotte on Saturday, Jan. 24 at 7 p.m. at the Don Haskins Center.