Men's basketball looks to bounce back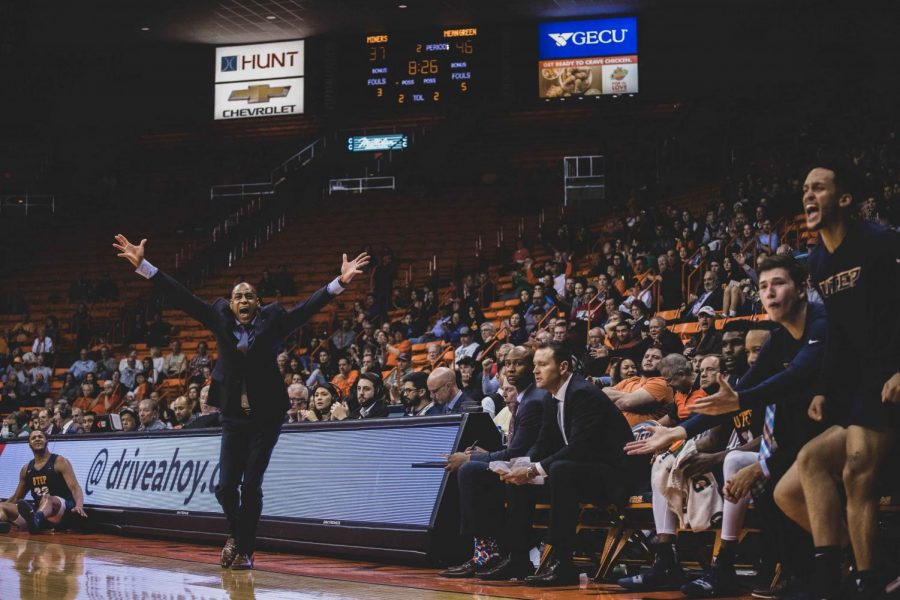 The UTEP Miners men's basketball team returns home to the Don Haskins Center for a two-game homestand as they look to bounce back after losing two straight games on the road.
UTEP (6-11, 1-5 C-USA) is dead last in Conference USA division standings.Their lone win in conference play came against the Rice Owls on Jan. 12 that  ended in a buzzer beater by freshman guard Jordan Lathon.
 Despite being last in standings and four games away from sitting in first place, the Miners defense has been what keeps them in games. UTEP is ranked seventh in C-USA allowing 69 points per game. UTEP has 79 steals on the season averaging 4.6 steals a game and 2.8 blocks a game. The last time the Miners were home they recorded their season high in blocks with eight against North Texas Jan. 5.
On the offensive side of the court, it is still a work in progress as it is not up to par compared to the defense. 
UTEP averages nearly 67 points per game, which puts them ahead of Charlotte for last in scoring offense. 
Stretches of turnovers are what disrupt the Miners offense. Against Middle Tennessee, they were up by 12 before the half, but four costly turnovers to close out the half allowed the Blue Raiders to cut the lead to two. UTEP would go on to lose by three. They have committed 277 turnovers on the season averaging 16 a game. Opposing teams are averaging 12 points off turnovers. 
Despite the issues, the young guns of the men's basketball team have been producing. 
During the conference slate, freshman guard Nigel Hawkins leads the Miners in scoring, averaging 16 points per game, while fellow freshman forward Efe Odigie leads C-USA in rebounds averaging almost 10 boards a game. Both freshmen are in the top 25 of scoring leaders in conference. Lathon averages 3.1 assists per game putting him in the top 10 of the conference leaders in assists. 
Sophomore guard Evan Gilyard is shooting 40 percent from behind the arc making him the conference leader in 3-point- field goal percentage.  
One area of concern is the lone senior Paul Thomas. The senior is averaging seven points a game and grabbing five boards. In comparison to his junior season, Thomas averaged eight points, six rebounds per  game. Just recently, against Middle Tennessee Thomas came off the bench for the Miners, making it the first game all season the senior did not start. 
First up for the Miners on their two-game homestand will be the Old Dominion Monarchs (14-5, 4-2 C-USA) on Thursday, Jan. 24. 
ODU is led by their senior guards, Ahmad Caver and B.J. Stith, both averaging double-digit points. Smith not only scores but attacks the boards.The guard is ranked number five in conference rebounds, averaging eight boards a game.
UTEP completes the homestand on Saturday, Jan. 26, when they face the Charlotte 49ers (5-12, 2-4 C-USA). This will be the third game this week for Charlotte as they face Old Dominion, then go on the road to University Of Texas at San Antonio, followed by UTEP.
The 49ers average nearly 60 points per game, their leading scorer is senior guard Jon Davis, who averages 20 points per game, making him the second leading scorer in C-USA. 
UTEP and ODU are scheduled for a 7 p.m. tipoff and the game will be broadcast on ESPN+ on Thursday, Jan. 23, and Jan.24 against Charlotte is scheduled for 7 p.m. 
Students may get their tickets at the UTEP Sports Lottery, available at utepsportslottery.utep.edu.