Strong defensive effort is not enough as the Miners lose their third straight in C-USA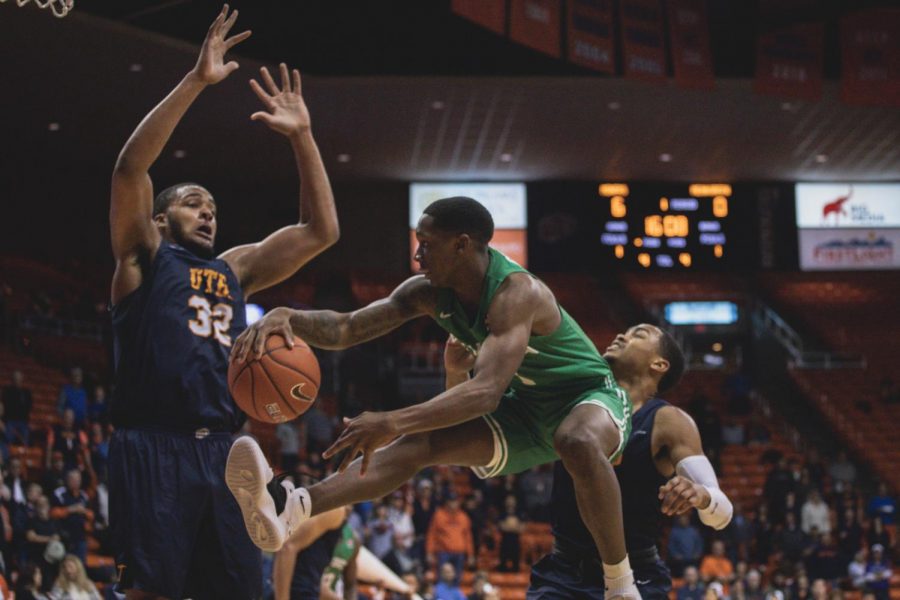 The UTEP men's basketball team couldn't hand North Texas their first loss in Conference-USA despite a strong defensive effort.
"We want to get lost playing hard on defense," said first-year head coach Rodney Terry. "We don't never work going into games saying we have to outscore. We got to try to get meaningful stops."
UTEP is now 5-9, and 0-3 on conference play, while UNT is now 4-0 in C-USA and 16-1 on the season.
In the first half, the Miners came out and set the tone with their defense, forcing the no. 1 team in field goal percentage in C-USA to miss their first six field goal attempts. UTEP jumped out the gate with a 12-5 lead six minutes into the game. The Mean Green would answer back and get back in the game with a defensive effort of their own, forcing UTEP to four costly turnovers that lead to a 10-2 run for North Texas. Freshman guard Jordan Lathon, who returned from injury, converted a four-point play after getting fouled on the Miners second made 3-pointer, that play ended a scoring drought that saw UTEP shoot 1-of-9 from the field. UNT answered back by tying the game at 22 a piece before the first half ended.
UNT entered the half shooting 37 percent while UTEP shot 33 percent from the field. Both teams committed a high volume of turnovers, UNT, 12, UTEP, 9, both teams had five points off of turnovers in the first half.
In the second half, UNT came out as the aggressor as they were able to take the lead from the Miners as the Mean Green jumped out to its largest lead of the night with 13 points. During that run, UTEP fell victim to a 2-3 zone defense by UNT that saw the Miners shoot 1-of-8 from the field while UNT went on an 11-1 run at the beginning of the second half.
UTEP did not go down quietly as they answered back with a 9-0 run of their own forcing four UNT turnovers and forcing five missed field goals. This young Miners team once cut the lead down to two with less than two minutes left in regulation. But the no. 1 team in three-point field goals started to make their 3-point attempts. UNT shot 56 percent from behind the arc in the second half after only shooting 17 percent in the first half.
Freshman forward Efe Odigie lead all Miners with 13 points, fellow freshman guard Nigel Hawkins chipped in 11 points for the Miners. Lathon led all Miners with four dimes, Odigie led all Miners with four of the Miners season-high eight blocks.
UNT had four players score in double figures, guards junior Roosevelt Smart and red-shirt freshman Umoja Gibson led the way with 13 points for UNT.
UTEP was outrebounded,43-28, UTEP was a plus-five on the turnover margin, forcing 19 turnovers compared to the Miners 14.
"I think you just have to every night you got to come out and compete for 40 minutes," Terry said. "We've shown, three conference game you know, we got off to a great start with the exception of the first game over there you know, you gotta play for 40 minutes and we're still learning how to do that and what it takes to win to do that at this level."