UTEP drops its second straight in C-USA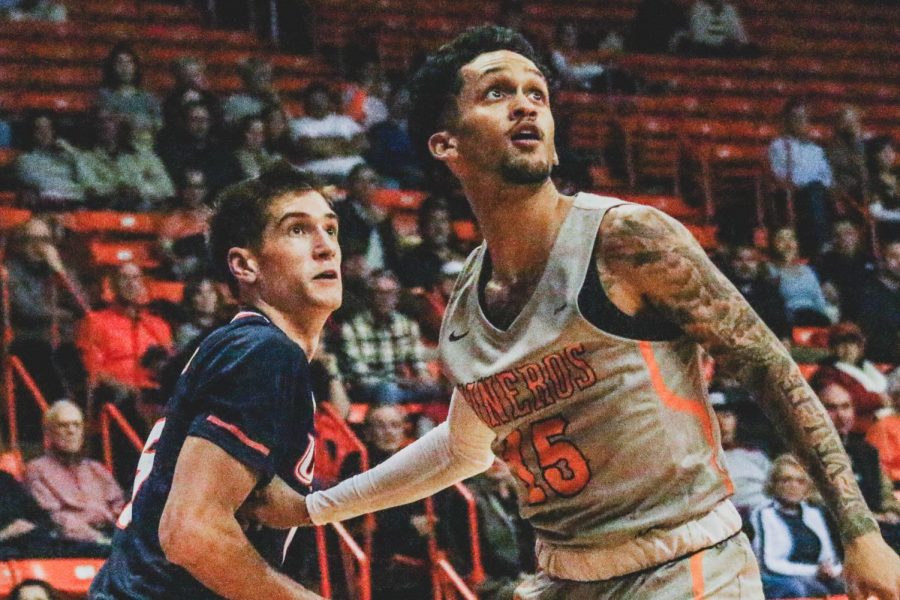 The UTSA Roadrunners swept the UTEP men's basketball team in conference play after a 67-63 win Saturday night at the Don Haskins Center.
UTEP fell to 5-8, (0-2 C-USA) while UTSA is now 8-7 (2-0 C-USA).
"It's not where you start it's how you finish," said first-year head coach Rodney Terry.
UTEP opened up the game with an Efe Odigie basket with just 45 seconds into the game, in the first match up against the Roadrunners UTEP didn't score their first points of the game till the 15:41 marker in that game, UTEP did not score their first field goal till 12:48, a vastly different approach was taken when the Miners jumped out to a one point lead with 15:27 left in the first half.
UTSA answered back by going on a run of their own which lead to the Roadrunners highest lead of the first half with six points. After a timeout, UTEP sophomore and San Antonio native Kobe Magee exploded on an 8-0 run after hitting back-to-back triples followed by a jumper. The Magee run lead to a 16-2 run by the Miners. UTEP had its largest lead of the night leading by nine points. UTSA scored right before the halftime buzzard to go into the half down by seven.
The second half was a different story for the Miners after shooting 50 percent from the field UTEP shot 27 percent from the field struggling at times to score. UTSA switched up its defensive presence in the second half playing a 2-3 zone that frustrated the Miners.
"We let it slow us down, we need to be able to attack inside and outside the zone," Terry said.
"Anytime you lose it's frustrating. You could be a frustrated loser but you have to e able to learn," Terry continued. "We have to continue to try and get better. We have a very small margin of error for this team. We can't turn the ball over and give 28 points off turnovers. We have to value every possession and play with urgency in every possession."
UTEP allowed 28 points off 16 turnovers.
Jhivvan Jackson scored a game-high 24 points to lead the Roadrunners in victory, in the first game at San Antonio the sophomore guard scored 13 points.
UTEP had three Miners score in double-digits, sophomore guard Evan Gilyard scored a team-high 18 points, senior forward Paul Thomas and sophomore guard Kobe Magee each had 10 points apiece. 
Thomas did not score in the Jan. 3, meeting against UTSA.
For the first time ,all season Odigie failed to score in double-digits. Breaking a 12 game streak for the freshman, the most by any UTEP freshman, finished with eight points and a team-high 16 rebounds.
Terry did provide an update on freshman guard Jordan Lathon, Terry said the freshman was around 75 percent and did not want to risk him aggravating his injury for the betterment of the program.
UTEP will continue its conference play when they host North Texas on Thursday, Jan. 10 at the Don Haskins Center.