Aguirre completes solo exhibition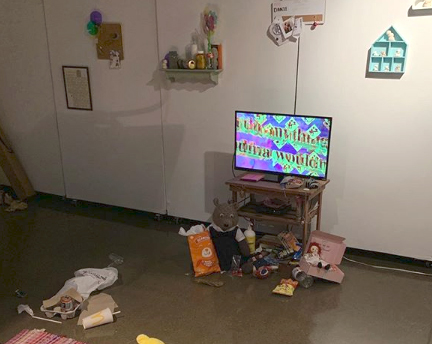 After six years as an art student at UTEP, Danielle Aguirre is set to graduate this December as a double major in drawing and ceramics, hoping to continue her work as an artist.
Like most students, Aguirre has been pushing through the last weeks of the semester but notes setting up her solo exhibition that serves as her final portfolio as a drawing major has become her favorite memory during her time at UTEP.
Aguirre's exhibition, "Your Partner is Typing…" includes all of her semester work presented in digital mediums, like digital GIF collages and video installations, that she created to look like her own bedroom.
"It was satisfying to see how much my art has developed during these years of working towards my Bachelor of Fine Arts," Aguirre said.
The satisfaction of improving skills from college classes is something all students strive to feel but loving those classes, while taking them doesn't always come hand-in-hand. For Aguirre, it did.
"It might sound cliché but all of my drawing and ceramic classes have been my favorite," Aguirre said. "I've learned so many skills and met such amazing artists along the way."
Aguirre said she could have graduated in four or five years if it weren't for the unfortunate scheduling of art classes, but said it worked in her favor.
"I wish the department could have (created) better schedules for classes, or more classes," Aguirre said. "But honestly all the time I've spent here has developed me into an artist I wouldn't have imagined I could be all those years ago."
Aguirre is thankful for her extended experience at UTEP and for the support of her parents knowing it wasn't easy for them to hear she wanted to pursue a degree in art.
"They supported me anyways and throughout the years they have seen that there is a true value to the degree and art in general and I am so thankful for that," Aguirre said. "So many sacrifices have been made for me that I'll never come close to paying back, but I can only hope that I can keep making them feel like backing me up was the right decision."
Students who major in fine arts are not always supported by family members or friends, but Aguirre has some advice for incoming art majors.
"Keep an open mind about art and its community. Don't go into your major thinking that you have all the answers and no one can possibly change your artistic voice if you do that you won't be able to reap the benefits of what our professors, staff, visiting artists and fellow artists provide," Aguirre said. "When I started UTEP I only wanted to be an illustrator but now I've come to realize I have a voice in many other mediums."
With those artistic skills in other mediums and a bachelor's degree, Aguirre plans to continue working as an artist to eventually advance her skills and education.
"I plan to keep building my portfolio so that I may eventually get into a Master's program while working as a freelance artist," Aguirre said.
Ten years from now Aguirre happily sees herself working every day as a business owner and independent artist and said her mom, dad, two sisters, two brothers and her pug, Pepé, are to thank for her bachelor's degree that will open many doors for her in the future.