UTEP students react to Streetcar opening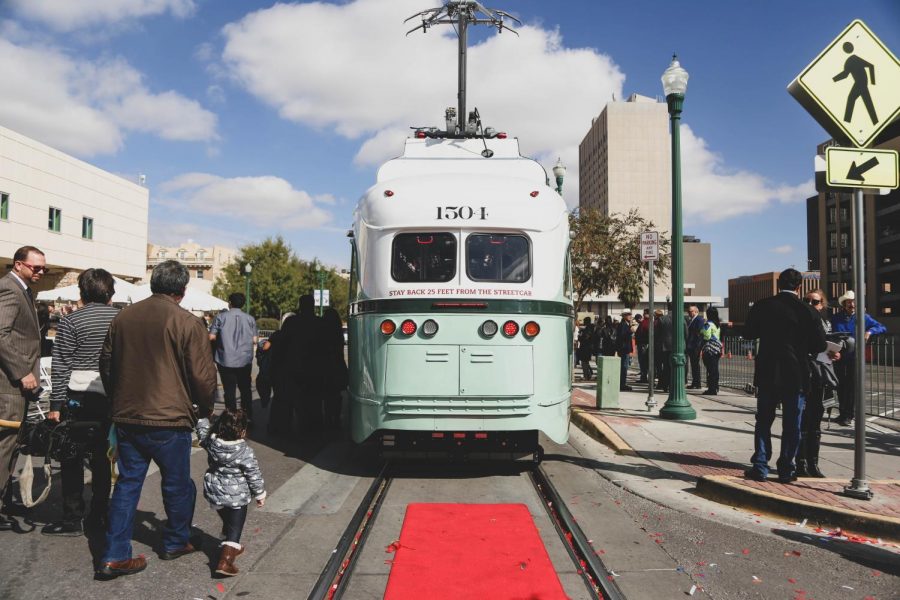 Brianna Chavez, Reporter
November 26, 2018
It's been 45 years since streetcars were operating in El Paso.
Now, after several years of planning, preparation and construction, the streetcar project has finally come to fruition.
Thousands of El Pasoans, including UTEP students, have had the chance to ride along the 4.8 mile-route on the same streetcars that were driven through the 1950s to 1970s.
"It was like seeing El Paso for the first time," said senior organizational and corporate communication major Mitzi Anguiano on her experience riding the streetcar.
"It was like stepping into a time machine," added senior media production major Abel Jaquez. 
A time machine indeed, the El Paso Streetcars are Presidential Conference Car streetcars (PPC), the same model approved by President Franklin D. Roosevelt in the mid-1930s.
City Representative Peter Svarzbein told the El Paso Times back in December of 2017, "Our streetcars are older than the famous San Francisco streetcars. And, what's most unique is that it's the very same streetcar that at one point traveled over 500 times a day between Juárez and El Paso."
The streetcars that once ran where left in the desert near the El Paso International Airport and decayed over time. Six streetcars were sent to the Brookville Equipment Corp. in Pennsylvania to be refurbished in 2015. The refurbished streetcars made their way back to El Paso in March of this year. 
Carl Jackson, assistant director of Streetcar Operations at Sun Metro, told The Prospector back in early 2017 that he believed El Pasoans would love the project once completed.
"It's going to go from the downtown to the uptown and the movement is to take the city and uplift it," Jackson said.
Younger generations are experiencing something new for the first time. While older generations of El Pasoans are overcome with a sense of nostalgia riding along the same cars they once rode on four decades ago.
"I got on it for the first time with my family, and it was fun being able to ride it thru my mom's old neighborhood," Jaquez said.
The El Paso Streetcar has two loops, the uptown and downtown loop. The Uptown loop has 27 stops from Downtown to Kern place to UTEP and back. The Downtown loop has 10 stops starting downtown before working its way to Segundo Barrio. 
All six streetcars have several amenities including free Wi-Fi, bike racks and air conditioning. They are also all ADA accessible.
Students who have ridden the streetcars told The Prospector that the cars have been packed with people waiting 10 to 15 minutes to climb aboard.
They also added that the ride was smooth and drivers have been friendly.
"We live in a fast-paced society and being on that trolley that afternoon, it felt different, timeless even," Anguiano said.
Jackson told The Prospector that the streetcars offer something for everyone.
"Millennials, especially, will take this concept and love it. This is a fundamental change for El Paso that people will end up loving," Jackson said.
While they have been a hit so far, senior organizational and corporate communication major Gabriel Gonzalez, who enjoyed riding the streetcar for the first time, is not quite sure if students will benefit from the project at all
"Unfortunately, UTEP is a commuter university. I believe that students would not use it much," Gonzalez said.
Anguiano disagrees adding that the streetcar is a great and new form of public transportation that is perfect for the UTEP community including the students that take the Sun Metro buses to UTEP.
"If you want to take a quick bite, but don't want to move your car from a UTEP parking lot out of fear that there won't be any spots when you get back, you might want to opt for the streetcar. It's less complicated than a bus," Anguiano said.
The $97 million endeavor caused a lot of traffic nightmares for students and faculty as construction crews stripped the roads on Oregon, Mesa, and Stanton. It made parking and commuting around the area difficult, prompting people to accommodate their routes.
All of those complaints and construction headaches seemed to have halted for the time being since the Streetcar Project was completed on Nov. 9. For Anguiano, the benefits of the streetcar have outweighed all of the costs.
"The streetcar took years of planning, preparation, and tax dollars. But by the looks of it, El Pasoans enjoy it. Any cost and traffic outweigh enjoying time with friends and family," Anguiano said.
The streetcar operates Monday through Thursday from 7 a.m. to 7 p.m., Friday from 7 a.m. to 1 a.m., Saturday from 9 a.m. to 1 a.m. and Sunday from 9 a.m. to 5 p.m.
The fare to ride the streetcar is $1.50; one dollar for students and military. It's free to ride every weekend until Jan. 6, 2019.
Brianna Chavez may be reached at [email protected]