UTEP ends the season with a dismal offensive performance on 'Senior Day'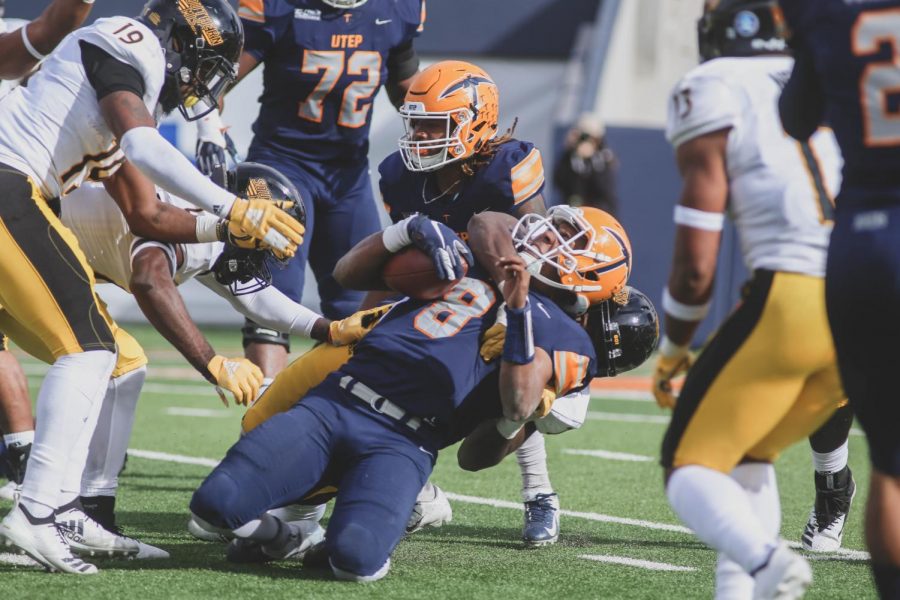 UTEP closed out the season in a 39-7 loss to the Southern Miss Golden Eagles (6-5, 5-3 C-USA) on 'Senior Day' for the Miners (1-11, 1-7 C-USA) at the Sun Bowl on Saturday, Nov. 24.
"It was a game where we went into the ballgame with the direct focus of eliminating turnovers, said head coach Dana DimeI. "I really felt like our defense matched up well against these guys, could hold their own and put it in bad situations early in the ballgame. But, you know, again, we had too many costly turnovers, three more interceptions in the game, and then the fumble there to start the second half. We got to eliminate those things and we got to be more disciplined with our decision making, and you can't turn the ball over."
In the first quarter, junior quarterback Brandon Jones struggled to find his wide receivers. Jones threw two interceptions in four attempts. His first one was returned for a pick-six by sophomore cornerback Rachuan Mitchell for a 41-yard touchdown.
The Miners saw themselves down by 16 at the end of the first quarter.
After what looked like a promising drive for the Miners early in the second quarter, senior kicker Jason Filley missed his second field goal attempt of the first half.
Southern Miss would tack on a field goal to go into halftime with a 19-0 lead over UTEP.
UTEP struggled on the offensive end, Jones had 12 yards and completed 3-of-7 of his pass attempts. Jones did lead all runners with 39 yards on nine attempts. Junior running back Quardraiz Wadley ran for 24 yards on six attempts.
On the first drive out of the half for the Miners, Wadley fumbled on the fifth play of the drive. The Golden Eagles would take over at the UTEP 44-yard line. It wouldn't take long for Southern Miss to take advantage of points off turnovers scoring on a six-play drive that ended when junior wide receiver De'Michael Harris scored on an 18-yard touchdown. That would be the only score of the third quarter.
Jones would throw his third interception on the Miners first drive of the fourth quarter. Southern Miss would return the interception at the Miners 16-yard line. On the very first play of the drive for the Golden Eagles freshman quarterback, Tate Whatley found the end zone to extend the lead to 33-0.
Southern Miss would score one more time capping off a seven-play 82-yard drive when freshman running back Trivenskey Mosley scored on a 24-yard run.
With seven seconds left in the fourth quarter, UTEP evaded the shutout when Erik Brown caught a 41-yard pass from Jones.
UTEP finished the season with a total of 19 interceptions, they were second in the nation behind Rutgers University with 20. UTEP had thrown seven interceptions in their last eight quarters of football and nine interceptions in their last three games.
Southern Miss was perfect inside the red zone scoring on all five of their red zone attempts.
Jones finished the game with 114 yards through the air completing 11-of-23 pass attempts. Threw for one touchdown and three interceptions. UTEP ran for a total of 73 yards, Jones led all Miners with 51 yards, Wadley chipped in 39 yards on the ground. Brown led all receivers with 55 yards and hauled three receptions.
"Brandon had some really good games, he did not have a good game today," Dimel said. "That was disappointing but he showed some good things.  Down the stretch here, we had seven offensive linemen healthy for this ballgame.  We're playing guys who haven't played all year up front.  And that makes us more one dimensional in what we do and we can't establish the run game."
Mosley led all Golden Eagles with 108 yards on the ground, quarterback Jack Abraham led the team with one touchdown pass and threw for 92 yards.
"I think they've really learned how to compete and to stay in ballgames and battle, and be that type of a football team that battles and has pride in what they do," Dimel said.  "So I've been very happy with the progress and the buy-in that they've had.  I brought the guys up on the field at the end of the game and wanted to talk to them about that and what the seniors have done for this program, and how proud I am that they've been able to contribute and of where they've taken us.  Obviously, it's a development process for us.  We had our ups and downs this year.  We showed some stretches where we played really good football.  Even when we were beat up and battered, we played some really good football.  We have taken some steps, but in the end injuries just got to be insurmountable for our football team."