UTEP falls short of another fourth quarter comeback against NMSU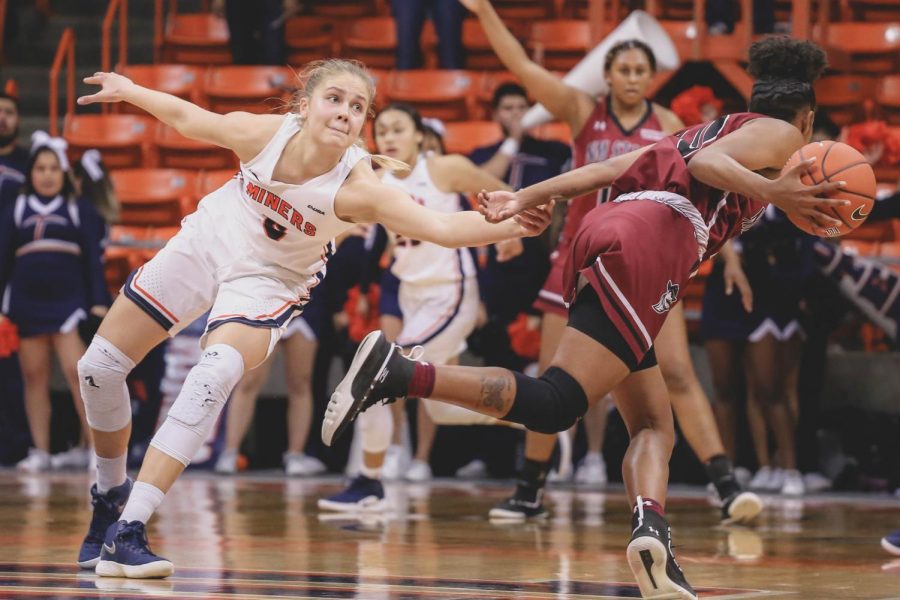 The UTEP women's basketball team fell short of another fourth-quarter comeback as they lose their first game of the season against the New Mexico State Aggies, 69-65, Saturday afternoon, at the Don Haskins Center.
UTEP is now 2-1 on the young season and the Aggies are now 3-0, NMSU leads the all-time series 50-37.
"We didn't start out well, I mean that 18 to eight in the first quarter, where we just didn't shoot the ball very well and got ourselves in a little bit of a hole, " said head coach Kevin Baker. "I thought that was the difference in the game."
The Aggies would close out the first quarter on an 18-5 run after UTEP junior guard Katarina Zec scored the opening three points of the game. As UTEP came out slow to start the first period missing 11 of their 13 shot attempts. 
The Miners outscored the Aggies in the second quarter, 14-12. UTEP was trailing by as many by 10 points in the second quarter. UTEP was able to go into the half down by eight.
The Aggies committed six turnovers and shot 5-of-14 from the field. UTEP struggled to score in the second quarter shooting 4-of-14 from the field, at one point UTEP suffered a scoring drought of over four minutes and change till junior forward Zuzanna Puc scored two of her game-high 17 points. UTEP dug into the lead by nailing five of their nine free throw attempts.
"We started to play our game pretty late," Puc said. "But we tried to catch up and do our best to execute and to improve especially after halftime when we saw what we were missing and what we needed to improve."
Coming out of the half, New Mexico State capitalized on points off turnovers, with seven points off the Miners five turnovers in the third quarter. The Aggies also shot 44 percent from the field compared to UTEP's 41 percent. UTEP struggled to score in the third period missing seven of their 12 shot attempts. The way UTEP was able to chip into the Aggies lead was by shooting 50 percent from the free throw line, 5-of-10.
In the fourth quarter, sophomore transfer guard Alexa Hoy scored four quick points for the Miners to cut the Aggies lead to four. NMSU called a timeout to regroup, out of the timeout NMSU's Western Athletic Conference reigning player of the week senior guard Brooke Salas scored a jumper to bring the lead back to six.
Puc would respond with a three of her own to bring the Miners within three, senior guard Monique Mills responded with a three of her own, that Aggies three was the first of their eight made shots from behind the arc in the fourth quarter. The Aggies lead was extended to eight, till the Miners went on an 11-to-3 run after junior guard Neidy Ocuane drove to the paint to get the and-one opportunity. Ocuane would nail the freebie to bring the Mines within three, 50-53. The Aggies would extend their lead by nailing a free throw. Ocuane answered back by getting fouled and converting her two attempts. Brooke would nail a jumper to extend the lead to 56-52 before Hoy and Zec tied the game up at 56 after they both made their free throw attempts.
The game was tied briefly for 17 seconds before NMSU answered back with back-to-back threes of their own to put the game away. UTEP would cut the lead down to three again before NMSU would respond with a three of their own.
"We were fighting over that hump, and tied it up, " Baker said. "I thought when we tied it up, I thought we're in really good shape I thought we really did some good things early in the fourth. But then you got to give credit where credit is due. I thought we dared them all that long to make a perimeter shots, we dared them and they made him late. And that was ultimately that was a difference in the game when they can bury those shots late when we're we're pretty much trying to make them do it. And then they do it so gotta give credit them our hats off to them."
Both teams committed 14 turnovers, but NMSU outscored UTEP on points off turnovers, 18-6. UTEP did outrebound the Aggies, 36-33.
Salas led all Aggies with 18 points and seven assists.  Mills would score two of the three shots from behind the arc to put the game away at the end, Mills finished with 11 points, which all came in the second half.
Puc led all Miners with her second consecutive double-double, she had a game-high 17 points and grabbed 10 boards. Zec and junior forward Ariona Gill were tied for second in scoring with 14 points. Gill and Ocuane each dished out a team-high three dimes. Hoy added 13 points off the bench, to give her a new career-high as a Miner.
UTEP returns to action as part of the Thanksgiving Classic Friday and Saturday at the Don Haskins Center. UTEP will kick off the classic when they play Nicholls State on Nov. 23 at 3:30 p.m followed by facing Abilene Christian on Saturday, Nov. 24 at 7 p.m.