UTEP women's basketball opens up the season with a blowout win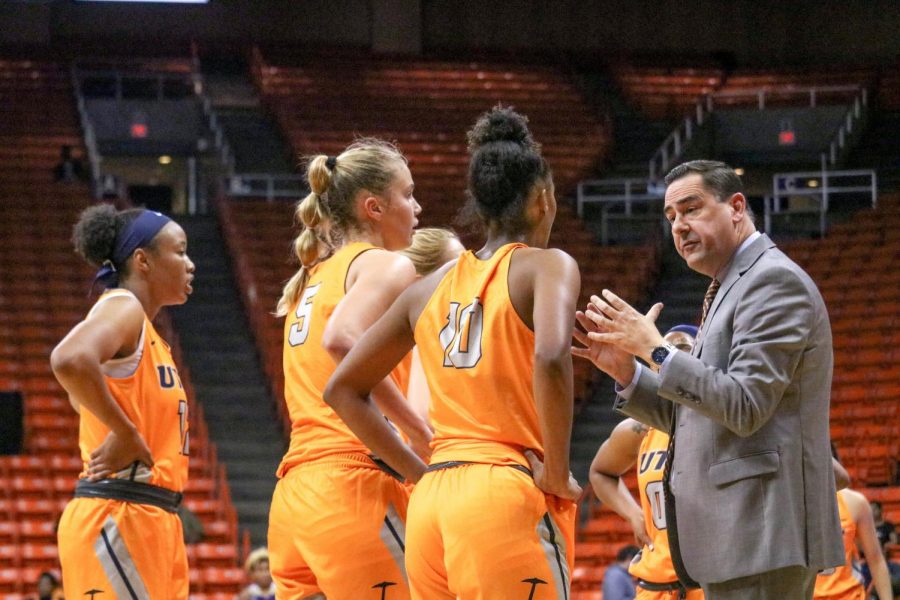 The UTEP women's basketball team defeated Alcorn State,77-51, in their season opener Saturday, Nov. 10,  at the Don Haskins Center.
"We're proud of the fact that we shared the ball so well, " said head coach Kevin Baker. "I think we shot close to close to 50 percent for the game and, and share the ball well. So I mean, there's not a whole lot of things I can walk out disappointed about except for the turnover."
It was a perfect night for the Miners (1-0) minus the fact that UTEP had 27 turnovers for the night against Alcorn State (0-1). Every Miner player that played committed turnovers, starting sophomore guard Jordan Jenkins and junior forward Jade Rochelle were the only Miners to commit only one turnover. Despite the turnovers, UTEP did share the ball well, finishing the game with 23 assists.
"We spread the turnovers out amongst all of us, it's not like I can single out to kids and say, we've got to get you better if you look down the line it was it was all of us probably except for Jordan," Baker said. "So you know, it's it's something that will address like we address the rebounding and you know, basketball, basketball, you're going to have games like that where you're going to get out of rhythm and not in value in the way you want to and hopefully, we can limit that."
Jenkins led all MIners with six assists, coach Baker had nothing but praise for his sophomore guard and the jump she has made from last season as a freshman to this season.
"When you make the jump freshman to sophomore year I don't really think a lot of kids understand the amount of improvement that happens most of the time when you make the jump from freshman to sophomore you tend to understand things better you kind of understand the expectations from the coaches better and Jordan certainly has done that she's completely different player than she was last year the talent was the same," Baker said. "The talents there she does understand a little bit more of what we're trying to do out there and how we're trying to get it done and it's paid dividends for I'm proud for because she works hard for it."
"Hard work and staying poised under pressure," Jenkins said when asked about what she has done to improve her game. 
UTEP outrebounded the Lady Braves, 48-21 in a collective effort. Each Miner that played had two or more rebounds, junior guard Katarina Zec led all Miners with nine rebounds.  junior forward Zuzanna Puc was the second leading rebounder with seven. Jordan Alexander added six boards of her own.
The Miners had four players in double digits Puc led the team with 18 points, junior Ariona Gill added 15, Zec and Jenkins each had eleven points.
In the first half, UTEP started the first period shooting 53 percent from the field while dishing out four assists. UTEP continued their hot shooting in the second period when they shot 47 percent from the filed nailing 8-of-17 attempts. Meanwhile, Alcorn State only made 8-of-25 shots from the field.
In the third quarter, UTEP put the game away when they outscored the Lady Braves, 23-14. UTEP shot 61 percent from the field and nailed 75 percent of their attempts from behind the arc. UTEP opened the third period on a quick 6-0 run when Zec and Gill made back-to-back threes.
UTEP outscored Alcorn State 40-26, in the second half alone. UTEP held only one Lady Braves member to get into double digits, junior guard Jada Hargrove scored 10 points.
UTEP will play CSU Bakersfield on Nov. 14, at the Don Haskins Center, tipoff is scheduled for 7 p.m.