Despite a strong fourth quarter Miners come up short against the Blue Raiders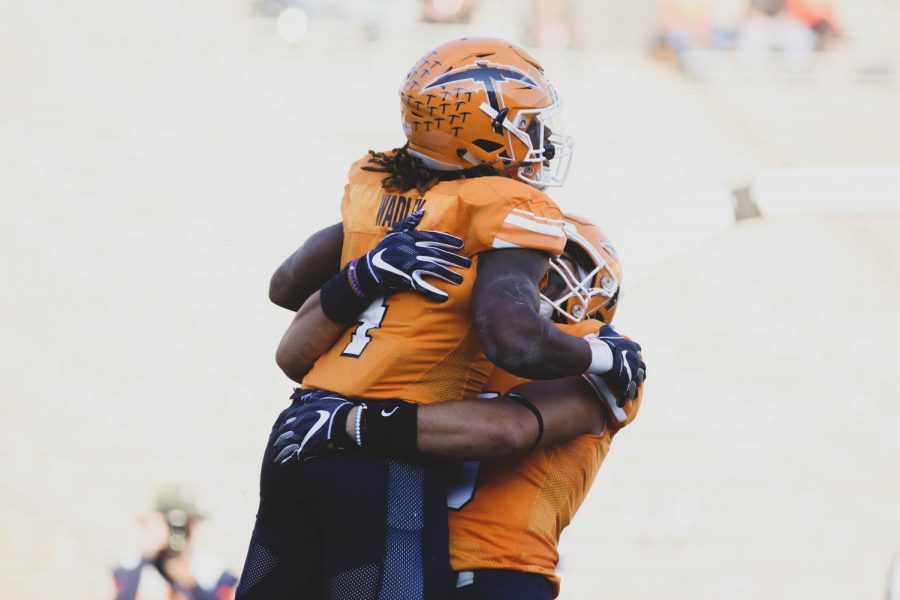 Daniel Medez, Sports Editor
November 10, 2018
A 22 point second half for the UTEP Miners (1-9, 1-5) was not enough as they lose their ninth game of the season and tenth straight home game in a 48-32 defeat against Middle Tennessee (7-3, 6-1) Saturday afternoon at the Sun Bowl.
Middle Tennessee got off to a hot start with a 14-0 lead after five minutes of play.
"Something showed up, they were ready to play and we weren't ready to play and falling behind 14-0 is not fun" head coach Dana Dimel said.
Senior running back Tavares Thomas was responsible for those two early scores, cashing in on a 13-yard touchdown reception from senior quarterback Brent Stockstill, and on a one-yard rushing touchdown.
Besides the stellar play of the Blue Raiders offense the other roadblock for the Miners were once again turnovers and points off turnovers. 
The Miners would finish with three turnovers.
UTEP's first possession of the game resulted in a fumbled pass by junior wide receiver Keynan Foster.
After back to back three and outs for the Miners, junior quarterback Kai Locksley threw an interception to Middle Tennessee's senior cornerback O.J. Johnson.
In the first quarter prior to Locksley's interception the nagging ankle injury that has been with the quarterback since UTSA was re-aggravated on the second drive of the game.
Junior quarterback Brandon Jones was inserted for the third drive going 1-for-2 for six passing yards.  
Between the two quarterbacks, UTEP had just 54 passing yards to Middle Tennessee's 241 in the first half.
There was one bright spot in the first two quarters for UTEP as the Miners scored on a seven-yard rush by junior running back Quardraiz Wadley.
To cap off the second half senior kicker Jason Filley nailed a 50-yard field goal to make the score 27-10.
Middle Tennessee had 314 yards of total offense to UTEP's 81 through the first two quarters.
The Miners did put up a respectable fight in the second half.
UTEP would add 22 more points on the evening first with a nine-yard rushing touchdown by Wadley, then a successful two-point conversion pass to senior tight end David Lucero.
Wadley would finish the game with 99 yards on 15 carries and two touchdowns.
Both tight ends for the Miners performed well for UTEP.
Senior tight end Josh Weeks finished the game with four receptions and 71 yards, while Lucero had four receptions and 62 yards.
"Really excited about the way they stepped up, they were two nice targets and that's encouraging moving forward," Dimel said
"Josh could be a really good target down the line. "
Locksley would later link up with senior wide receiver Erik Brown for a six-yard touchdown reception. UTEP would fail on the two-point conversion attempt. 
Locksley went 14-for-29 had 163 passing yards, one touchdown, and two interceptions.
Jones was inserted back into the game with about five minutes left to play and threw his first career touchdown to senior wide receiver Terry Juniel on a nine-yard reception.
Jones finished the game 4-for-10 with 55 passing yards with one touchdown.
The Miners would tack on two more points with a successful two-point conversion by Lucero.
With three minutes left to play UTEP completed a successful onside kick.
The Miners were down 48-32 but were unable to find the end zone once again.
The Blue Raiders would finish the game with 500 of total offense. Coming in Middle Tennessee was averaging 367 yards of total offense. Senior quarterback Brent Stockstill was the maestro of the high powered Blue Raider offense.
Stockstill finished the game with 352 yards going 31-for-40 and had four touchdown passes.
His favorite target on the night was freshman wide receiver Ty Lee who had 10 receptions, 158 yards, and one touchdown reception.
With this performance, Stockstill becomes the eighth player in Conference-USA history to reach the 11,000-yard mark.
Stockstill now has 17 career 300-yard passing games tying for fifth all-time in Conference-USA history.  
"Stockstill played as good a game as any quarterback I've been around, and that kid can really play," Dimel said.
"He's the best quarterback we've played all year and I think he did a really good job of staying poised in the pocket," graduate transfer linebacker A.J. Hotchkins said.
"There were points where we have been tested but we responded and did a lot of positive things out there," Dimel said.
UTEP will hit the road this week to face Western Kentucky(0-5, 1-8) on November 17.
Kickoff is set for 5:30 p.m.