UTEP women's basketball celebrates 45 years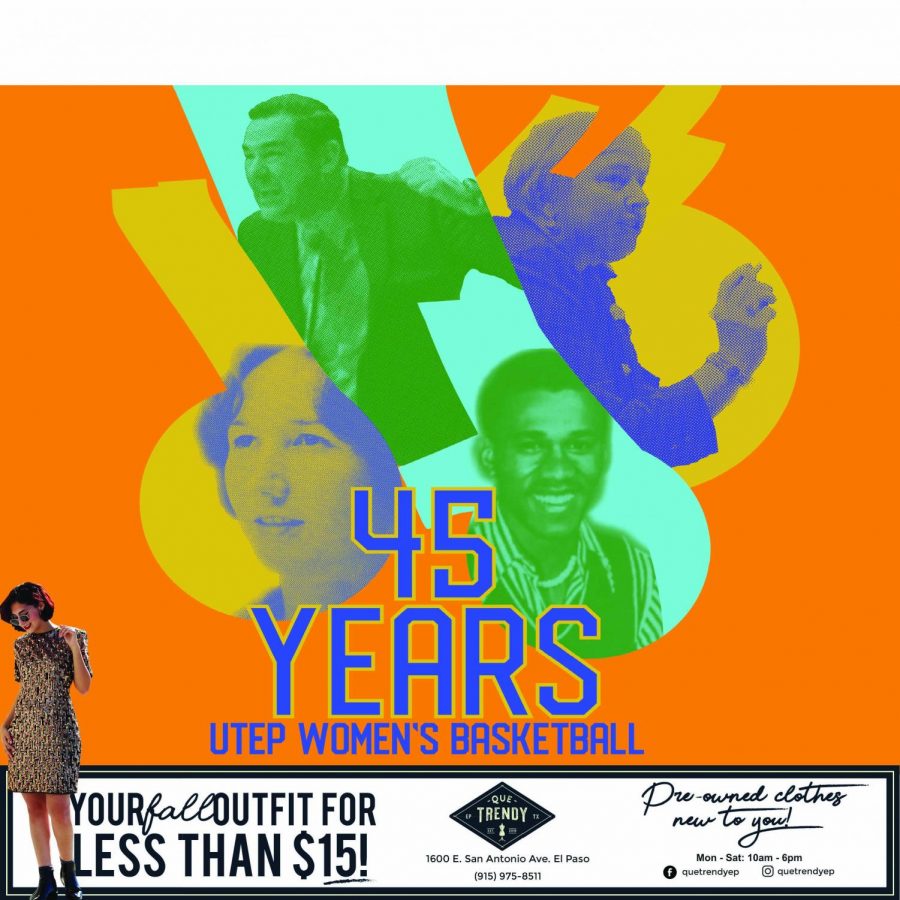 This upcoming basketball season marks a significant anniversary for the UTEP women's basketball program as they celebrate 45 years when the Miners start their upcoming season on Saturday, Nov. 10, at the Don Haskins Center.
Before we move to the 45th year, let's revisit how they got here.
How it all started
In 1973-74, two students by the name of Don Lewis and Wayne Thornton approached then president of the university, Arleigh B. Templeton, with hopes of creating a women's basketball team. The duo impressed Templeton enough that he rewarded them a $1,000 to kick-start the program. It was barely enough to purchase uniforms and basketballs but it was a start.
"That 1974 season was so special because it was the first, Thornton said. "Nobody can ever take that away, the fact that it was the first women's team ever. What they did and how they did it with the class that they used to do what they had to do is unmeasurable."
The two men would go on and coach the first ever UTEP women's basketball team. They then held tryouts and got coeds they rounded up from around campus and the team was born. During that season, the Minerettes, as they were originally called, only played three games that year, against New Mexico State. They lost all three games but it was the beginning chapter of UTEP women's basketball.
"For me, it was important because there were a lot of El Paso players that otherwise wouldn't have gotten a chance to play," said former Miner Gloria Estrada. "So, I mean, starting the program were the pioneers, but it meant a lot to me because we were all mostly local players when we started."
Carol Ammerman would end up taking over the program and be the first female coach in UTEP athletics history. In her first season, Ammerman finished the campaign 11-5 (1974-75), becoming one of the first coaches to experience a winning season in their first year at UTEP.
Every program needs a star, and the Miners had one of their own in the early years of the program by the name of Gloria Estrada. At the time, hardly any fans nor media witnessed what Thornton called "the greatest shooter he's ever seen." Estrada was a fundamental part of the inaugural team, as a junior and senior she led the Miners in scoring.  Estrada was a member of the 2013 UTEP Hall of Fame and was named to UTEP's All-Centennial Team in 2014.
The Bear's influence
During the early years of the program, during some of the team's practices, they would get an unexpected visit by the legendary Don Haskins. He would come in echoing his voice through Holiday Hall­—which was the former gymnasium of the women's team—often inserting himself to teach them defensive schemes to make up for their lack of height.
"Wow, we were in awe when he walked in, Estrada said. "I remember we were practicing. He walked into the gym, and we could hear is a booming voice we were like, oh, what's he doing here?"
Haskins would continue to be one of UTEP women's basketball biggest supporters until his passing in 2008. The basketball legend often shared stories to fellow women basketball coaches, that would, in turn, get them to think. One particular moment still stands out to former UTEP head coach Keitha Adams.
At the time, Adams and her Miners were riding high into the month of Feb. as they were nationally ranked for the first time in program history. Haskins shared this piece of advice to Adams, "don't you let those gals get too happy," that statement would resonate with Adams as she stayed true to the Bear's words and led her 2007-08 Miner team to the program's first 16-0 record in conference play to claim the program's first league title.
"Hot. Damn, I knew you were good. But I didn't know you were that damn good," said Keitha Adams doing her best Haskins impersonation when sharing a story of Don calling her cell phone after her Miners put on a fast break clinic against Eastern Carolina on ESPN.
The introduction to blue banners
Throughout the history of the program, no other coach has been successful for the Miners former coach Keitha Adams. Adams is the winningest coach in program's history, 284-209, she coached at UTEP for 16 seasons before taking the head coaching job at Wichita State in 2017.
Before coach Adams, the Miners had never won more than 18 games in a season.  Prior to Adams, the Miners had no postseason bids, zero conference titles, never made it past the semifinals in league play, nor received a top-25 poll.
Adams would go on to change all of that.
"When I came in there, men's basketball had such a rich tradition that we really just embraced that success and wanted to work extremely hard to win the first championship and continue to put banners in the Haskins Center," Adams said. "When we first got there, there wasn't any, there's a whole lot of orange banners in there but there wasn't any blue. And so, we just really wanted to work hard to build championships and change to a winning program."
Adams is responsible for all four postseason bids, which include WNIT in 2014 and 2016 and the two lone NCAA Tournament appearances in program history, 2008-09 and 2012-13. Those two seasons saw the most wins Adams compiled in her tenure at the program with a 28-4 and 29-8 campaign respectively. The 2008-09 Miners made it to the Round of 32, the farthest UTEP women's basketball has ever gone in the big dance. That same year Adams would be named Conference USA Coach of the Year she would go on to win the award again in 2012 and 2016 she still is the only coach in league's history to win the award three different times.
"Coach Baker's a great coach, and it's now his program, and he's a winning coach, "Adams said. "He's done great things in his coaching career and so, I think it's in good hands, and I'm excited to continue to see that program be successful."
Year two with Baker
Head coach Kevin Baker made his first season at UTEP a memorable one. He more than doubled the team's overall win total from the previous campaign all on the way to becoming the most successful first-year head coach in program history. Baker's team finished with a 17-14 (7-9 C-USA). In addition, Baker became the first-year Miner head coach to taste victory at the league tournament when his Miners' team made it to the quarterfinals in the 2018 C-USA Championships.
"It is an honor to be a head coach in women's collegiate basketball anywhere because women's college basketball has really hit an uprise," said head coach Kevin Baker. "It's an honor but it's even more so an honor to be the head coach here at UTEP because of the tradition that was laid before me and we just want to build upon that so you know it's amazing how far the game in 45 years has come."
Baker's team went through a roster overhaul, losing last season's leading rebounder, leading scorer and lone senior Tamara Seda. Furthermore, coach Baker lost last season's second-leading scorer in Najala Howell to a transfer. Currently, Baker is focusing on team rebounding and seeing if someone is willing to fill in the hole.
"We're trying to do it by committee, we're trying to do it by four, five players and trying to rebound the basketball in that way and I hope that we just get better at it," Baker said. "Right now we're still trying to figure out our identity and when a player like Tamera leaves the program and leaves that hole there. We got to have some people fill it and so I'm looking forward to see who steps up and does that for us."
Baker's squad has four letter winners returning; senior guard Jordan Alexander, sophomore guard Jordan Jenkins, junior forward Zuzanna Puc and junior guard Katarina Zec. In addition, junior forward Ariona Gill and guard Neidy Ocuane are set to make their Miner debut this season after sitting out a year. There are six newcomers—sophomore guard Alexa Hoy, freshman guard Sabine Lipe, freshman forward Ariana Taylor, freshman guard Conchi Satorre and junior forward Jade Rochelle.
Baker envisioned this year's squad to play with an uptempo style and run the court, so far through two exhibitions games the Miners have not taken advantage of points in transition as much as Baker would like. But Baker acknowledged the need to emphasize to his players to run the court and is hopeful this team will play with that identity as the season progresses.
"We're not running the way we need to right now, we're not we're not scoring much in transition, Baker said. "I'd like to emphasize it more and push it more and really make it if we're going to be a running team we've really got to impress upon our players that's what we want to do and we're not anywhere near that yet, of course, it's early but hopefully we'll get better."
This upcoming season, that inaugural team will be honored at halftime when UTEP faces C-USA Western Kentucky on Saturday, Feb. 1, at 1 p.m. at the Don Haskins Center. 
Daniel Mendez may be reached at [email protected]