Fans get a taste of the upcoming basketball season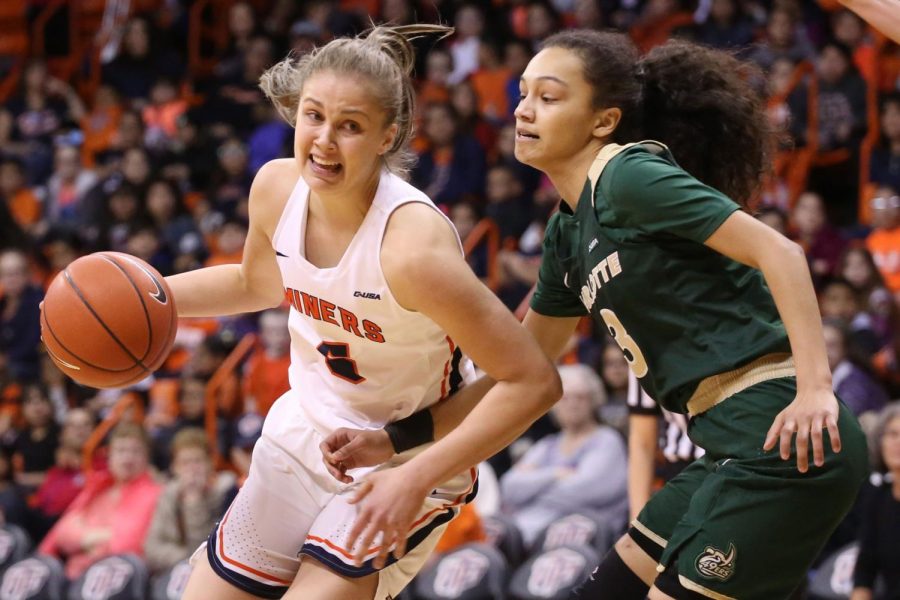 On Wednesday, Oct. 10, fans will get their first look at the 2018-19 UTEP men's and women's basketball teams as they hold the Miners Preseason Showcase at the Don Haskins Center.
The event is free to all fans and will include an open practice with both squads, followed by an autograph session. Fans in attendance, interested in season tickets can purchase tickets as the UTEP Athletics Ticket Office and the Miner Athletic Club will be hosting a one-time-only select-a-seat promotion. Fans who buy their season tickets at the showcase will be able to select one of their choice for the following basketball season.
Getting to know both teams
The men's team will give fans the opportunity to get their first look at the Rodney Terry era. Coach Terry was introduced as the 19th head coach in UTEP men's basketball history in mid-March. Terry was the former head coach at Fresno State for seven seasons from 2011-18. Leading the Miners will be the lone senior forward Paul Thomas. As a junior last season, Thomas averaged 8.1 points per game and a team-high 5.4 rebounds per game.
Sophomore guards Kobe Magee and Evan Gilyard are the other two returnees for the Miners. Both guards as freshmen provided stellar play for UTEP. Gilyard set a UTEP freshman record for free throw percentage at 84 percent and Magee shot 42.5 percent from behind the arc.
During the off-season, coach Terry had to coordinate a  massive roster overhaul that featured 13 new players. The highlight of his first recruiting class includes snagging four-star guard Jordan Lathon out of Mississippi, three-star guard Nigel Hawkins, three-star center Efe Odigie and 6-foot-10 forward Kaosi Ezeagu. These incoming freshmen will be looked upon to contribute early. In addition, UTEP will have four Division One transfers that will need to sit out the year because of NCAA regulations, which are Souley Boum (San Francisco), Anthony Tarke (NJIT), Tydus Verhoeven (Duquesne) and Bryson Williams (Fresno State).
On the women's side, the Miners are led by second-year head coach Kevin Baker. In Baker's first year gracing the hardwood, the team went 17-14 and advanced in the Conference USA Tournament before getting bounced out by the top seeded UAB. Baker became the most successful first-year head coach in the program's history since Carol Ammermann (11-5, 1974-75) and Janet Wood (11-16, 1979-80).
Coach Baker's squad returns four letter winners–senior guard Jordan Alexander (8.4 points per game, 6.0 rebounds per game), sophomore guard Jordan Jenkins (2.0 points per game, 1.4 assists per game),junior forward Zuzanna Puc (9.1 points per game, 4.3 rebounds per game) and junior guard Katarina Zec (9.2 points per game, 3.8 rebounds per game). In addition, two junior players who sat out last year due to redshirt, forward Ariona Gill and guard Neidy Ocuane are set to make their Miner debut. There are six newcomers—sophomore guard Alexa Hoy, freshman guard Sabine Lipe, freshman forward Ariana Taylor, freshman guard Conchi Satorre, and junior forward Jade Rochelle.
Last season as a sophomore, Puc shot 55.3 percent from the floor coming off the bench, which ranked second in C-USA. Puc had a career night against Florida International University on March 1, where she exploded for a complete game of 27 points, 11 rebounds and five assists.
The showcase will start at 6 p.m. at the Don Haskins Center.
Daniel Mendez may be reached at [email protected]