Miners outlast NMSU 4-1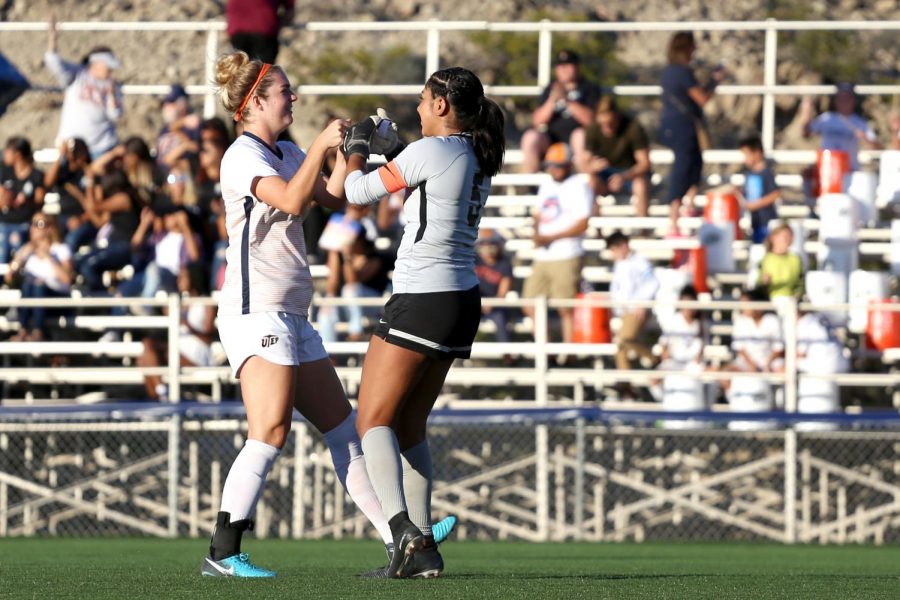 UTEP soccer defeated the NMSU Aggies 4-1 on Sunday, Sept. 23rd at University Field.
"We prepared for this game because we wanted to get back at them for last year," said sophomore Anna Jimmerson. "Battle of I-10 in general and then plus our football team lost yesterday so we really, really needed to get this win," Jimmerson said.

UTEP (6-4-1) handed the Aggies (1-9) their ninth loss of the season as well as bragging rights against their rival this year in the Battle of I-10. Improving their overall record against the Aggies to 7-1.
Junior Natalie Valentine opened up the scoring early in the game at the 1:58 mark when she was assisted by sophomore April Pate. Giving the Miners an early advantage against their rivals.

Senior goalkeeper Alyssa Palacios recorded four saves and allowed one goal that came off a penalty kick in the 39th minute of the first half.

Just before the first half ended, freshmen Hayley Vaughan scored for the Miners extending the lead to three. Vaughan was assisted by freshmen Jojo Ngongo.

In the second half, it was all UTEP had the Aggies failed to get anything going offensively.

At the 87th minute, Jimmerson put the game to bed when she scored the fourth and final goal for the Miners.

Sophomore Vic Bohdan added another goal for her impressive season in the first half.  Bohdan's goal tied her amongst junior Lauren Crenshaw with four goals apiece as the Miners leading scorers. 
"It was a real good performance. I mean, in a rivalry game to play that well," head coach Kevin Cross. "I'm very proud of the girls and it was a good response after Thursday."