The night served as a convenient and smooth ending to the summer, as Flamingosis debuted his talents to El Paso for the first time at the Lowbrow Palace on Wednesday night.
Flamingosis, whose real name is Aaron Velasquez, is a New Jersey-based electronic producer who lights up the stage with extremely funky sample-driven beats blended with underground hip-hop beats, resulting in a sweltering vibe of funk and disco.
Local artists The Swell Kids and New Jersey producer UNiiQU3 were the openers for the night's main act, both of which played an interesting mix of old-school beats and original bangers.
Flamingosis came ready to offer some unique, groovy hip-hop beats, as he played some tracks off his eighth album, Flight Fantastic, which was released at the end of July. The producer was perched on a platform above the audience, triggering samples from the new album, as they collectively swayed back and forth to the peachy sounds.
Being new to Flamingosis' work, I didn't have any set expectation, but what I saw was enough to win me over. The term "chill-hop" can sometimes be used to justify bland or colorless instrumental hip-hop and electronic music; however, in Flamingosis' case, it serves as an apt description of his laid-back and sinuous sound.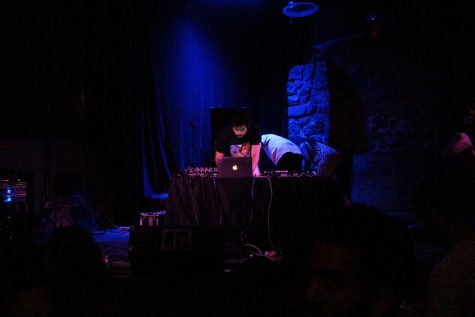 Expressing nothing but the simplest of feelings, Flamingosis indirectly poses that perhaps the key to these feelings of pleasure is simplicity. The lush instrumentations of his set are rooted in loops, synths and a driving bass that come together into full-bodied, soulful melodies.
If you are a fan of Flying Lotus, J Dilla, and their contemporaries, then you'll have no trouble getting into the chill, yet funky, beats of Aaron Velasquez.
If the meandering bass lines, subtle twisting synths, samples trumpets and saxophones, and the overall hazy quality of the layered male and female vocals don't put a bounce in your step, I just don't know what will.
Wednesday night was proof that this underground maestro is on his way up, surely headed towards spreading his message of tranquility and good vibes to the masses.