UTEP volleyball embraces underdog status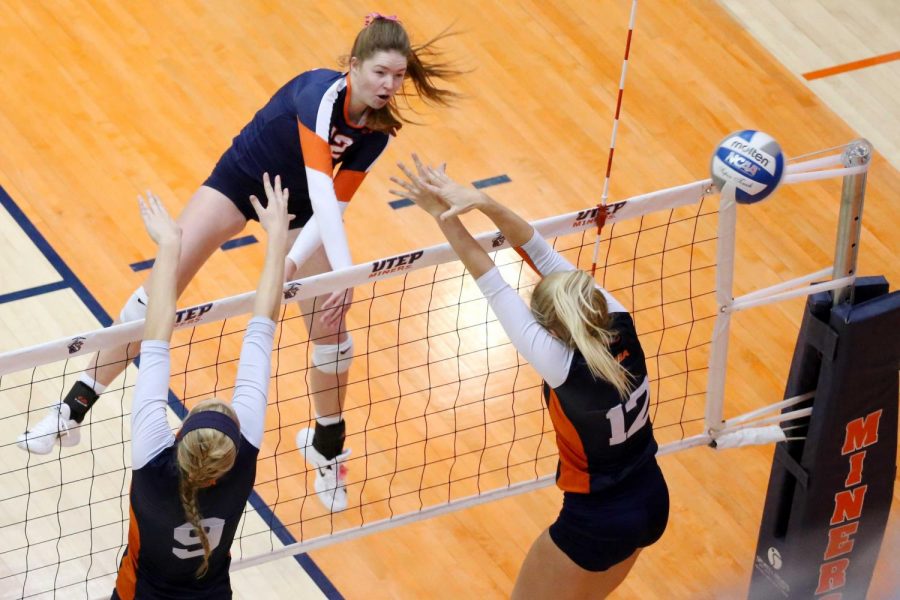 After spending two weeks on the road, UTEP volleyball returns to Memorial Gym for two games as part of the Borderland Invitational this weekend.
"UTEP volleyball is the underdog for whoever we play against," said head coach Holly Watts. "We have nothing to lose, we want to go hard and be competitive all the time and give ourselves a chance to win."
The ladies in orange and blue will be facing two teams that are above .500. The first battle of the weekend will be against the undefeated Arizona Wildcats (6-0), this is the only game of the Borderland Invitational that will be held at Las Cruces, New Mexico. The next two games against Montana (1-5) and Battle of I-10 Rivalry New Mexico State (5-2) will be at Memorial Gym.
Junior outside hitter, Macey Austin, acknowledges the challenges her and her Miners squad are facing on the upcoming slew of games. But she wants her team to embrace the underdog and just keep fighting no matter what team they are playing against.
"Upsets happen all the time and so we just have to go in expecting an upset don't think that there just going to roll over us and give them a fight because you never know what can happen when you just play your best," Austin said. "We know our potential as a team so if we go out and do that there is a good chance that we will beat them I know we can."
Junior outside hitter Briana Arellano wants her team to go into the rest of the season with a different mindset. The mindset that the Miners squad can go out and shock the world.
"I think a lot of times this year we're going to be the underdogs, so we need to go in thinking no matter what we're going to make a difference, we're going to win this game or we're going to surprise people." Arellano said. "So we're going to go in making our name known now so that we can just keep building as a team. "
Austin is responsible for 98 points, she leads the team with 90 kills and five service aces. Meanwhile, sophomore middle blocker Mallory Yost leads the team with 17 blocks, while freshman setter Kristen Fritsche leads the team with 83 digs. The freshman is also leading the team in assists with 215. The second leading Miner with 20 assists is Arellano. Fritsche is making her young presence known for the Miners so early in the season.
UTEP has been on the road for the past two weekends in part of the Tulane Volleyball I-10 Challenge and the Omaha Challenge. After both challenges the Miners currently sit at a 2-4 record, picking up wins against Incarnate Word and the University of Illinois at Chicago. The team is looking forward to finally playing in front of their home crowd for games that matter.
"I know the newcomers are all looking forward to finally getting to play at Memorial Gym, I mean we played the exhibition game here but its not the same," Watts said. "Its always good to be home. We love the atmosphere in here."
UTEP will play Montana on Saturday, Sept. 8., at 11 a.m. and The Battle of I-10 will Sunday, Sept. 9., at 1 p.m.