A search advisory committee comes together to find President Natalicio's replacement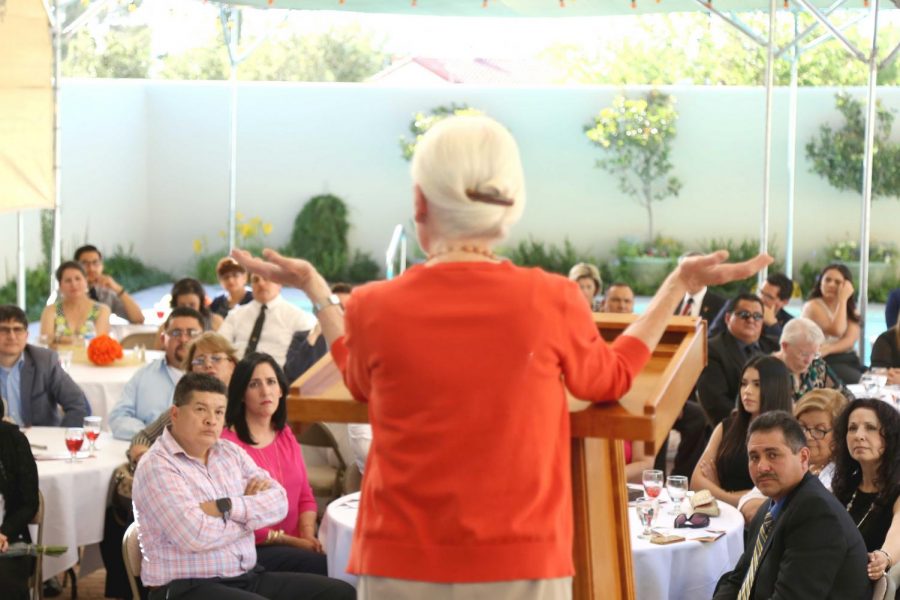 Brianna Chavez, Reporter
September 4, 2018
The University of Texas System announced a search advisory committee has been assembled to help guide the Board of Regents in selecting a new university president for The University of Texas at El Paso.
The committee announced on  Aug. 31, consists of 18 members, including Board of Regents Vice Chairman Paul Foster, El Paso Mayor Dee Margo and SGA President Cristian Botello.
The Presidential Search Advisory Committee will meet multiple times over the next couple of months to discuss possible candidates to replace UTEP's president and will be assisted by Russell Reynold Associates, a global search firm.
They are expected to meet for the first time in the next few weeks and go before the Board of Regents with recommendations for candidates early next year.
"I wanted to make sure that we as a student body have accurate representation when we choose who will lead our school and replace Dr. Natalicio," Botello said. "I believe the students here at UTEP deserve the best possible representation and I'm going to do my best to help the committee in any way possible."
The UT System will also post a website to provide a timeline of the search process and an opportunity for members of the public to privately submit candidate nominations.
Back in May, UTEP President Diana Natalicio announced she would be retiring after 30 years as the university's president.
President Natalicio told The Prospector and other members of the media during her announcement, "I will be happy to serve as long as I need to in order to make a smooth transition."
Natalicio, who was named one of TIME Magazine's most influential people of 2017, said she would like for her successor to continue a commitment to access to a public higher education, particularly with low income and underrepresented students.
Several UTEP students agree. Sophomore environmental science major Frida Murga, and sophomore psychology major Alejandra Nevarez both hope the next UTEP president has similar values as Dr. Natalicio, especially in regards to the representation of Hispanic students.  
"Being an immigrant myself I know UTEP is one of the only choices for many people, so (I hope the new president) does not change the mission and values because I know a lot of people do count on those to come and get their education here," Nevarez said.
"I know she's worked really hard to keep UTEP affordable for students who have a lower income and Hispanic families," Murga said.
According to UT System Regents' rules and regulations, the selection criteria for the next president must relate to the needs of the individual institution. The advisory committee must submit to the Board an unbiased selection of no more than 10 recommended candidates and they must receive a majority vote of the committee.
The Board then determines which candidates will be further interviewed before naming a finalist or finalists.
If none of the names submitted by the committee fulfills the Board of Regents satisfactions, the Board can either select a new committee or select a president "under other procedures as in its discretion it may deem proper and appropriate," according to the Regents' rules.
Board of Regents Chairman Sara Martinez Tucker said in a press release that the board is "eager to appoint a president who will build upon President Natalicio's immeasurable impact on UTEP and Texas, especially in the areas of student success and research contributions."
"The last time Regents appointed a president of UT-El Paso was more than three decades ago, so we are especially grateful to the committee for assuming this critically important responsibility," Tucker said.
Students like Murga and Nevarez hope the committee selects candidates who value the decades of work that Dr. Natalicio has put into the university and border community.
"I would want (the committee) to choose somebody who cares, who understands the culture here and who wants to improve our community and work for El Paso and Juarez," Murga said.
"Someone who sticks to what UTEP stands for," Nevarez added.
Here is a list of the entire Presidential Search Advisory Committee:
Chair of Committee Steven Leslie, Ph.D., Executive vice chancellor for Academic Affairs.

Board of Regents : Vice Chairman Paul Foster, Regent Ernie Aliseda and Regent Rad Weaver.

Presidents of other UT institutions:: Taylor Eighmy, Ph.D., President of UT-San Antonio, and Sandra Woodley, Ph.D., president of UT-Permian Basin.

UTEP dean, faculty, and staff: Charles Ambler, Ph.D., dean of the Graduate School; Edward Castañeda, Ph.D., professor of psychology; Mark Cox, MSPH, Ph.D., associate professor of biological sciences; Elena Izquierdo, Ph.D., associate professor of teacher education; and Nadia Munoz, director of military services.

UT El Paso student and alumnus: Cristian Botello, UTEP student and president of the Student Government Association, and Bonnie Schulenburg, social media relations specialist at Ysleta ISD and president-elect of the UTEP alumni association.

External and community members: Woody Hunt, chairman of Hunt Building Co.; Sally Hurt-Deitch, market CEO of The Hospitals of Providence; Renard Johnson, president of METI, Inc.; Mike Loya, CEO and president of Vitol, Inc.; and Dee Margo, mayor of the City of El Paso.
Brianna Chavez may be reached at [email protected]