UTEP looks for consistent effort entering week two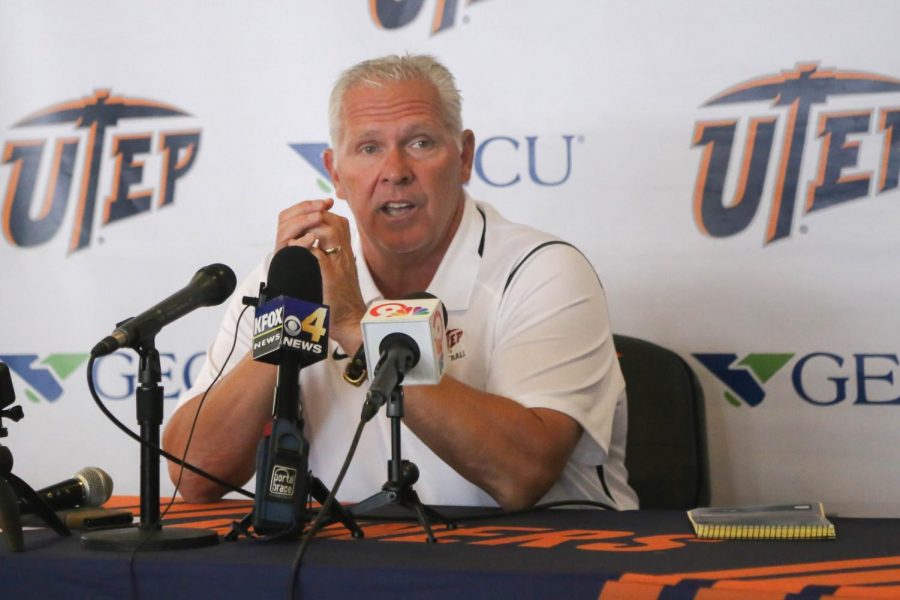 After losing the season opener against NAU, the UTEP football team is in search of their first win of the season when they go on the road to face UNLV Saturday, Sept. 8.
"The big picture is that we put a quality product on the field, we continue to improve each week, work as a team, continue to care about each other, move in the right direction and get our players to be better football players," Dimel said.  
The former Western Athletic Conference rivals will meet for the first time since 1993. The Miners are 2-5 all time versus UNLV, and 0-4 on the road. Both teams are in search of their first win of the season.
Last week against the 15th ranked USC Trojans, UNLV was able to rush for 308 yards. The Rebels have a dynamic duo on the ground with sophomore quarterback Armani Rogers, who can make plays on the ground, and senior running back Lexington Thomas.
The Miners will hope to shut down the run game and make Rogers beat them with his arm. Rogers is on pace to to be the all-time rushing leader by a UNLV quarterback, standing currently in second with 862 career yards.
Dimel acknowledged that he was impressed with what he saw on tape from the Rebels, emphasizing their use of  the offensive line to their receiving core. Rogers threw for 97 yards with two touchdowns last week against USC.
"They have a good and solid Mountain west football team. I think they're excited about how they played against USC, even though they didn't get the win," Dimel said.
UTEP will look for stability on the offensive line. The five starting lineman were all in new roles that they weren't accustomed to. The newcomers are replacing two members of the offensive line that are out of the season—senior center Derron Gatewood and sophomore Greg Long. True freshman Zuri Henry, who started at left tackle, made his Miner debut along with redshirt-freshman Bobby DeHaro at left guard, junior Ruben Guerra started at center, senior Bijan Hosseini at right guard and senior Jerrod Brooks at right tackle.
"The biggest things I think we need to improve upon schematically from that game looking as a full football team unit is the cohesion of our offensive line," Dimel said.
There will be no question marks for who will be under center for the Miners entering week two of the season. JUCO transfer quarterback Kai Locksley will make the first start of his career. Dimel was pleased with the way his quarterback played despite the struggling o-line.  
"When you go back and critique his first game performance as a first-time starter in a new system and everything around him, the youth of the offensive line position, given our receiver position to mesh the way we want it to mesh, I thought his play, in general, was a solid performance," Dimel said. "You saw some of the things he could bring to the table with his athleticism. He's an intelligent player and he's got a good skill set. We'll improve as we go through the season. There's a lot of excitement with what we're going to do. We're going to work to continue on improving."
Kickoff between the two is slated for 7 p.m. MT and will be broadcast on AT&T Sportsnet.