The losing streak continues for the Miners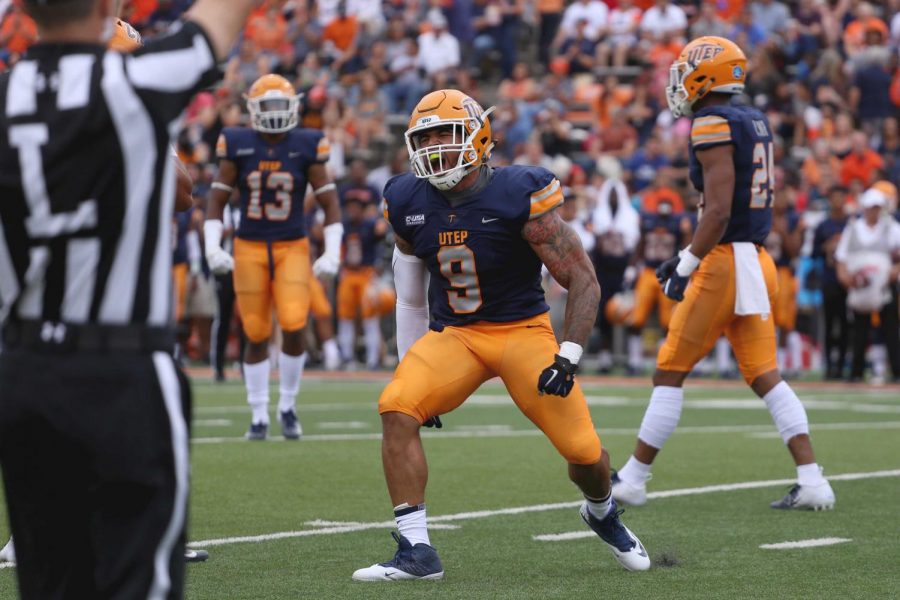 The nation's longest losing streak, which is now at 13, carried over into the 2018 season for the UTEP Miners (0-1) Saturday evening in a 30-10 loss against Northern Arizona (1-0).
Missed opportunities for the Miners were apparent as they went scoreless through the first six drives of the game.
Offensively the Miners only averaged 3.4 yards a play as opposed to the Lumberjack's 5.4 yards.  The Miners could not find an offensive rhythm and were plagued with five offensive penalties to go along with two interceptions and one fumble.
"As you start moving forward for progress with a football team it's all about the unforced errors" head coach Dana Dimel said.
Junior transfer Kai Locksley entered into the ball game after Ryan Metz started the first two drives for UTEP.
Metz threw an interception on the third play of the game, and went 1-for-2 with three passing yards on the next drive which resulted in a three-and-out.
Locksley, who was making his Division-one debut on Saturday, went 13-for-26 with 120 passing yards and 50 rushing yards.
In the second half, Locksley struggled going 4-for-9 while only throwing 23 passing yards.
"I definitely could've played a lot better and I have to put in a lot more hours for improvement, and you know I'm my biggest critic," Locksley said. "We all could do a lot better we lost the game and we only put up 10 points and we all can improve."
UTEP certainly had some momentum brewing during the second quarter with a 32-yard rushing touchdown by running back Quadriz Wadley. The score brought the Miners within 10 points after the Lumberjack's tacked on 17 points with two touchdowns and a field goal. UTEP added a late field goal before the half to bring the game within seven points.
Unfortunately, for the Miners not much offense came into the second half as they went scoreless and only amounted 32-yards of total offense.
Inconsistency is one word that can be used to sum up UTEP's performance as it was a tale of two halfs for the Miners.
Defensively there were some bright spots, specifically in Oregon transfer linebacker A.J. Hotchkins. Hotchkins lead all Miners with 13 tackles, while senior cornerback Kalon Beverly ended the night with six tackles and one interception.
"I thought the defense did enough things to help us come out with a win, and we knew coming in Northern Arizona had a good team offensively." Dimel added.
Northern Arizona's offense seemed to have everything clicking offensively, as the Lumberjacks put up 318 total yards of offense, 211 passing yards and were 3-for-4 in the red zone.
UTEP plans to overcome this opening season loss to Northern Arizona and learn from what went wrong Saturday.
"Right now it's all about learning from our mistakes learning what we did wrong, and understanding what we did wrong and we are going to move forward from there," Dimel said.
UTEP is on the road the next two-games, first against UNLV in Las Vegas, on Sept. 8th then the Miners head over to Knoxville, Tenn. to take on the Volunteers the following Saturday on Sept. 15th.