Who will be under center for the Miners to start the season?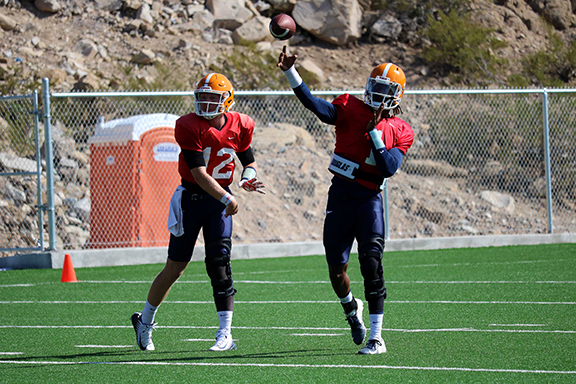 The Miners plan to exceed expectations and plant the roots to a successful reboot under first-year head coach Dana Dimel this season.
In order to have a successful season, the Miners will look to have prosperity under center and a bona fide leader.
The highly anticipated battle between these two quarterbacks will continue into the first game of the season Sept. 1, against Northern Arizona at the Sun Bowl. The main question the following week will be how long do Dimel and his coaching staff use the two-quarterback system before they announce a starter?
Just like with any team a leader is necessary. A leader is someone who has the capability to alter the course of a game and lead their team to victories on a constant basis. This team is looking for that leader at the quarterback position. The lights could be shining brightly on senior Ryan Metz who is a proven leader with a high football IQ, or the lights could head in the direction of Kai Locksley, a standout Junior College product out of Iowa Western, who has an outstanding athletic ability.
Naming a starting quarterback before the season began would be a tough decision to rapidly make considering both of these athletes are highly talented, and both are capable of changing the losing dynamic of this team.
"We're definitely not anywhere close to naming a starting quarterback," head coach Dana Dimel said. Previously, Dimel acknowledged on his radio show that he had used a multiple quarterback system at Kansas State, where he was the offensive coordinator for the past eight years.
In regards to Locksley, there's a lot of praise about his athleticism and that stems from being the fourth best dual threat quarterback according to 247Sports and Junior College Offensive Player of the year. At Iowa Western Locksley passed for 2,238 yards in 12 games, averaging 186 yards a game, while rushing for 705 yards. Locksley threw 20 pass touchdowns and 20 rush touchdowns.
"When I'm out there, I just try to make a play out of nothing sometimes, and I feel like that's where my athleticism comes into play," Locksley said.
During training camp, Locksley has keptplays alive with his feet and that is going to be crucial for the Miners struggling offense. Last season the Miners averaged only 11.7 points a game on offense, so having a running threat like Locksley can contribute to more points on the scoreboard this season at the Sun Bowl.
Being able to adapt to the style and fast-paced situations of Division I college football is necessary if Locksley wants to solidify his spot as the number one quarterback on the depth chart.
Coach Dana Dimel mentioned in an interview with KVIA that in his system at Kansas State they were successful through the play of a dual-threat quarterback, such as 2012 Heisman Trophy finalist Collin Klein. Dimel also mentioned that Locksley fits the mold of a dual-threat quarterback that fits nicely in his system.
"Kai runs the ball well and is comfortable out of the pocket but he can also throw the ball really well and I think that is going to surprise a lot of people, and he's not a running back playing quarterback he's a quarterback that's really special," offensive coordinator Mike Canales said.
The ability to create a positive outcome of a negative breakdown play is what coaches including Dimel are excited to see.
"Kai's great athleticism and open field speed are things you always like as a coach because they create plays that you didn't necessarily draw up and that's what we like about Kai so much," Dimel said.
On the other hand, Ryan Metz, who started last year for the Miners, possess a high IQ and has proven he is a solid leader that can put up stable numbers. In 2016 as a sophomore, Metz threw for 1,375 yards and added 14 touchdown passes with four interceptions for the season. The El Paso native is praised for his knowledge of defensive tendencies and how to counter-attack their game plans.
"Ryan is very smart and very sharp and possesses great leadership and experience," Canales said.
But when it comes to the battle under center, Metz is looking to always improve and contend for the top spot.
Having to battle for the number one spot on the depth chart is nothing new to Metz, the fifth-year senior has had to compete for the spot on numerous occasions. Last year he was the number one quarterback before he struggled with nagging injuries towards the last three games. The previous battles will benefit Metz considering he's been through this before and those experiences will be an advantage for number 12.
"I feel pretty good but there's always room for improvement and you never want to be complacent with where you are at because if you do that you've already beaten yourself," Metz said.
During Dimel's first football media luncheon of the season, he mentioned that the quarterback who will take the first snaps for Saturday's  game against Northern Arizona will be announced after thursday's practice.
"After Thursday's practice is when I will make up my mind for who will be the starter for the first series. That won't be the starter, they'll just be the player to take the first series." Dimel said
"Our plan is for both quarterbacks to play during the first game," Dimel added.
Isaiah Ramirez may be reached at [email protected]
About the Writer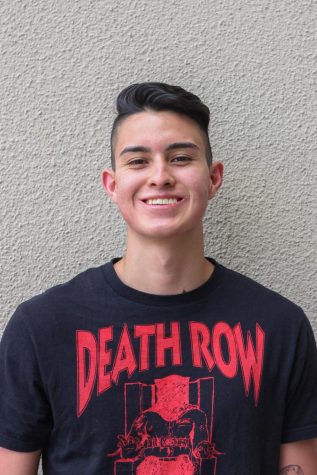 Isaiah Ramirez,
Isaiah Ramirez is a junior multimedia journalism major at the University of Texas at El Paso. Isaiah has worked for the university's paper The Prospector...