After spending four years in the process, this September, Viejo Coffee will open its doors to the community at International Bar in downtown El Paso.
Owners Jose Arevalo, Miguel De la Rocha and Ricardo Silva, spent the past four years learning about the fundamentals of coffee to open their own coffee shop.
"Four years back, we just fell in love with coffee, not only just the taste of it–the drinking side of it, but just the art of it," Arevalo said. "We've been into art since we were young. So just the concept of putting out latte art, it was something that intrigued us and that's why we just decided to learn and take that route."
One thing in particular that makes Viejo Coffee unique, besides their iced horchata latte, is the way they serve their drinks in plastic bags.
"We want to keep a Mexican theme to our coffee business, and 'la bolsa' (the bag) comes from Mexico City," Arevalo said. "We would spend every summer in Chihuahua, all three of us we grew up there, and if you've gone to Chihuahua they serve you Coke in a bag so that's childhood memories for all of us."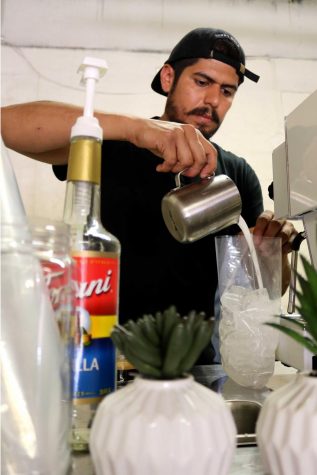 De la Rocha said that in the beginning the theme of the bag was supposed to be their logo, but it later turned into their main thing.
According to De la Rocha, both, the plastic bags and the straws are made of bio-degradable elements. The bag being plant-based and the straws are made out of avocado seeds.
Besides opening a coffee shop, Arevalo and De la Rocha own the Roasted Corn Bus. At the start, naming their new project Roasted Coffee Beans was an option to match it with their food bus. However, they found that "Viejo" would have a much emotional meaning to them.
After Miguel's father passed away, they decided that Viejo would fit their concept much better.
"Viejo Coffee comes from my dad, that's how they used to call him, so that's why we named it. We wanted to keep it a very Hispanic Mexican vibe and that's where it comes from," De la Rocha said.
In the last couple of months, Viejo Coffee has been serving the community at different locations around town, and in September they will finally open their coffee shop in the heart of downtown El Paso.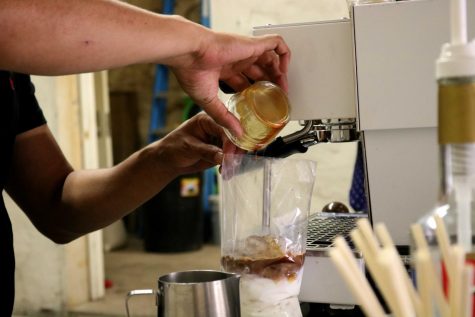 "We'll be open inside International Bar in a secret room that they been keeping secret for a really long time," Arevalo said. "So they reached out to us, they gave us the amazing opportunity to collab with them and we will be open in September."
Getting their products from coffee roasters near the El Paso area, Arevalo said that they obtain their products from a roaster in Marfa, Texas, who brings the coffee directly from farmers in Mexico.
"They do fair trade and they bring the products from the farmers in Chiapas, Mexico, and that's something that really matters to us," Arevalo said. "We were going to take on this venture three years ago, but we realized we knew nothing about coffee and we started learning and three years later we fell that we're ready."
Being from the El Paso area, Silva said that Viejo Coffee is the concept of three friends who are starting this business and going into this venture in their local region.
"We just want to give back to the community and just all over town and anywhere we can help this city grow, we're all for it," Silva said.
For more information about Viejo Coffee, visit their Instagram page @viejocoffee .