Pride Month sends an important reminder for support of the LGBTQ+ Community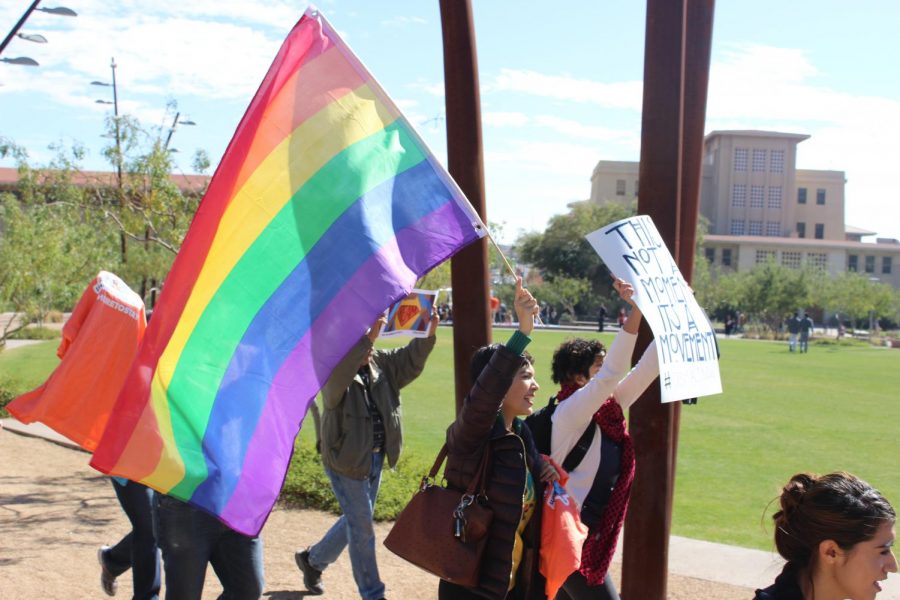 Nicolas Silva, Contributor
June 29, 2018
LGBTQ-Pride month this June marked a timely reminder to celebrate successes, commemorate history and advocate for social justice in mental health. The Stonewall riots of June 1969 in New York's Greenwich Village catalyzed the ongoing LGBTQ+ rights movement. Although the riots spurred a movement for change, many issues are still pressing today, including transgender mental health.
Transgender individuals may be diagnosed with gender dysphoria–a condition treated with social support, hormone therapy, psychotherapy and/or gender affirmation surgeries. Even though not all transgender individuals affirm their gender in their lifetime, for various reasons, being supportive of their mental health needs is paramount in today's society. Transgender people experience harassment, violence, discrimination, and cultural misunderstanding — leading to a toxic environment that is not conducive to good mental health.
National Alliance on Mental Illness states that "LGBTQ individuals are almost three times more likely than others to experience a mental health condition such as major depression or generalized anxiety disorder." Alongside depression and anxiety, suicide risk is high for transgender individuals.
The National Transgender Discrimination Survey (NTDS), by the National Gay and Lesbian Task Force and National Center for Transgender Equality, reports a 41 percent prevalence of suicide attempts among 6,450 respondents in the United States. With mental health disparities and challenges ahead, developments need to be made to bolster resilience, expand professional services, and organize for community progress.
Over the past decade, El Paso has improved its services and support for transgender individuals. For example, at UTEP, the Queer Student Alliance (QSA) and Rainbow Miner Initiative (RMI) strive to make the campus a healthy and inclusive community for all. Queer Prom, hosted by QSA, has been a huge success for diversity and inclusion. To make education more accessible, El Paso Sun City Pride raises funds to provide scholarships for community-engaged LGBTQ+ students.
Transgender individuals looking for community support can find it at the Borderland Rainbow Center, located at 2714 Wyoming Avenue. The Borderland Rainbow Center (BRC) provides programming such as karaoke, sliding-scale psychotherapy, LGBTQ+ friendly 12-step addictions meetings and support groups for transgender youth and adults. The BRC also provides training in LGBTQ+ competence for various groups such as mental health and medical professionals.
The Purple Pages of El Paso helps link LGBTQ+ people to friendly social services and healthcare providers, including mental health professionals. Transgender individuals looking for support in affirming their voices can access services through the Voice Modification Clinic for Transgender Individuals at UTEP. The clinic provides a critical service for transgender individuals to train their voice to match their gender, which can have a transformational mental health and social benefit.
Recently, Empower Change–The Paso Del Norte Center for Mental and Emotional Well-Being positioned with partners and collaborators across the region to empower change in mental health. For more information about Empower Change, including joining leaders in discussing the pressing mental health needs of our region, please visit www.empowerchange.utep.edu 
If you or a loved one are struggling with a mental health condition, please seek help.
---
The Purple Pages
The Trevor Project
www.thetrevorproject.org : 1-866-488-7386
Hotline for LGBTQ youth to talk to trained specialists
24 hours a day, 7 days a week
Trans Lifeline
translifeline.org : US: (877) 565-8860 CANADA: (877) 330-6366
18 hours a day, 7 days a week
Hotline staffed by transgender people for transgender people
Emergence Health Network
https://emergencehealthnetwork.org/
Crisis Hotline: 915-779-1800
Veteran's Crisis Line
1-800-273-8255 and Press 1, chat online or send a text message to 838255
to receive confidential support 24 hours a day, 7 days a week, 365 days a year
https://www.veteranscrisisline.net/
Empower Change Behavioral Resource List
http://empowerchange.utep.edu/images/EmpowerChange_BehavioralHealthResourceListSummer2018.pdf