Chihuahuas offense goes cold as Fresno snaps win streak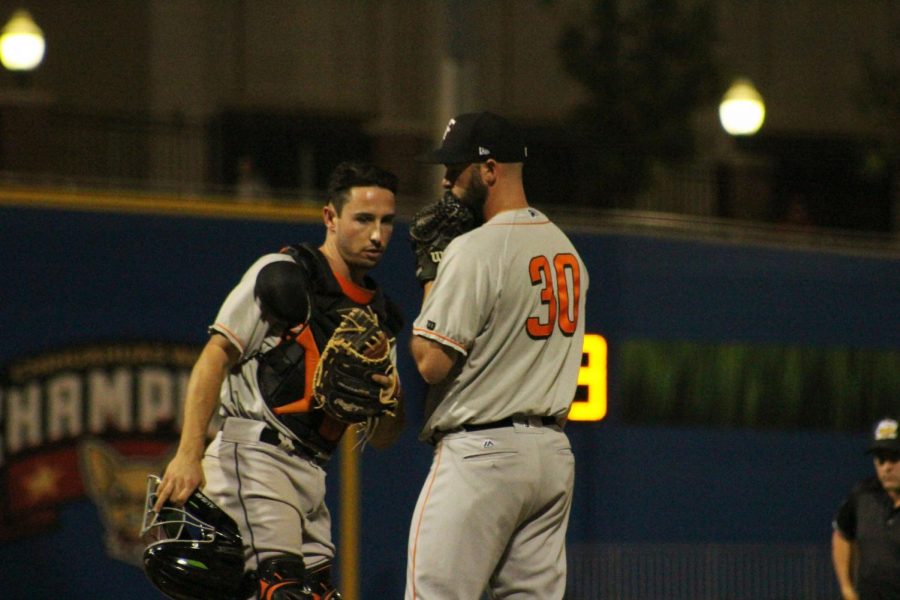 The Chihuahuas eight-game win streak came to an end Thursday night, as the Fresno Grizzlies defeated the Chihuahuas 12-2 in front of 7,847 fans at Southwest University Park.
The Chihuahuas (42-38) were on the verge of setting a new club record of nine straight wins but fell short when the Grizzlies (47-32),  exploded for three runs in the top of the first inning to avoid the series sweep. 
The Grizzlies were led by first baseman Taylor Jones, who had just gotten the call up to Triple-A. He hit the game's first home run in the first inning. Jones continued his impressive debut by recording three RBIs and currently has a batting average of .600.
The Grizzlies scoring didn't end there, as the runs would continue to pour into the third inning. After recording 56 hits in their last four games, the Chihuahuas didn't get their first hit till the bottom of the third when Diego Goris was able to make contact and get on base. His hit gave the Chihuahuas life heading into the fourth inning.
After a shutout inning by the Chihuahuas, third baseman Luis Urias was walked to first base, and second baseman Carlos Asuaje hit a triple that lead to the Chihuahuas' first run of the game. Right fielder Franmil Reyes hit a sacrifice RBI that saw the Chihuahuas add another run. At the end of the fourth inning, Chihuahuas trailed 2-5.
After a shutout inning in the fifth, the Grizzlies decided to let their bats do the talking, as they scored a run in the sixth, and three runs in both the seventh and eighth innings. 
The Chihuahuas were able to get on the board in the eighth inning, but the comeback fell short as they left a runner on third. The ninth inning featured a three up, three down inning for the home team.
After hitting the ball so well in during the eight-game win streak, the Chihuahuas were only able to get four hits on the opposing Grizzlies pitchers, compared to Fresno, who recorded 17 hits with no errors. Meanwhile, the Chihuahuas committed two critical errors.
This marks the fifth time in franchise history that the Chihuahuas win streak ends at eight games.
The series wrapped up against PCL Pacific Northern leading Fresno in the Chihuahuas favor of three games to one. This marks their second straight series win. Currently, the Chihuahuas are two games and a half behind the PCL Pacific Southern division leading Salt Lake Bees (44-35).
The Chihuahuas wrap up to their nine-game homestand as the Albuquerque Isotopes come into town. First pitch of the series is set for Friday at 7: 05 p.m. at Southwest University Park.