UTEP and Citibanamex team up to support Mexican students studying abroad
This summer, UTEP and Citibanamex, Mexico's largest bank, collaborate for the first time to support 18 Mexican college students who will attend UTEP's English Language Institute (ELI) month-long training program.
UTEP's Professional and Public Programs (P3) offers the ELI program for non-native English speakers that desire to be proficient in the English language. This collaboration allows the students to stay on campus for four weeks and refine their English skills. They will be studying for the Test of English as a Foreign Language (TOEFL) and the Graduate Record Examination (GRE); standardized tests that demonstrate the ability of non-native speakers who wish to enroll in English speaking universities and are a requirement for graduate schools in the U.S.
The students, who were selected due to their outstanding academic level, represent nine different Mexican universities. They each form part of Citibanamex's Jóvenes de Excelencia (Excellence in Youth) program, which supports Mexican students who intend to pursue graduate degrees abroad.
This program prepares students by teaching English courses, mathematics, and mentoring them for professional practices.
"We're bringing this group of 18 students for the first time so they can not only enhance their English skills and prepare them for the GRE, but we also want them to potentially get their masters here (at UTEP)" said Veronica Solana, Citibanamex Jóvenes de Excelencia deputy director said.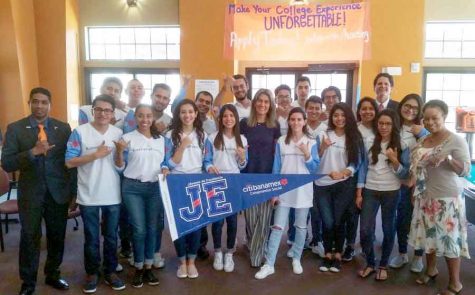 According to Solana, Jóvenes de Excelencia has sent a total of 477 students abroad for the summer.  They have invested more than $3.2 million through Citibanamex Social Commitment, which benefitted 1,549 students.
"When I first heard of this program I immediately thought it was such a great opportunity," said Brenda Segundo, a graphic design student at UAEMex. "Not only is it a chance to study somewhere different, but I see it as a unique occasion where I can experience life in a different way and appreciate new cultures."
Although the students will be studying hard all week long for the next month, they will have the chance to experience the city on the weekends. Sam Parthiban, program manager for the ELI said, "We're trying to give them the flavor of El Paso, as well as give them a slice of what American life is."
Students expressed that being able to enhance their English skills would incredibly benefit them when working in a professional setting. "I feel the most confident when speaking Spanish, and I think that it's important for me to take that step and interact in an environment where the language is out of my comfort zone," said Areli De Loera, an architecture student at UAEM.
"Both institutions know there are strong cultural ties between Mexico and the University, and by sending this group of Mexican students this summer to UTEP, Citibanamex Social Commitment seeks to foster this new relationship," Solana said.
The students' support plan will include information about UTEP and its graduate programs, scholarship opportunities, financing options, and advice on how to apply to U.S. universities.