UTEP students, faculty and community members react to President Natalicio's retirement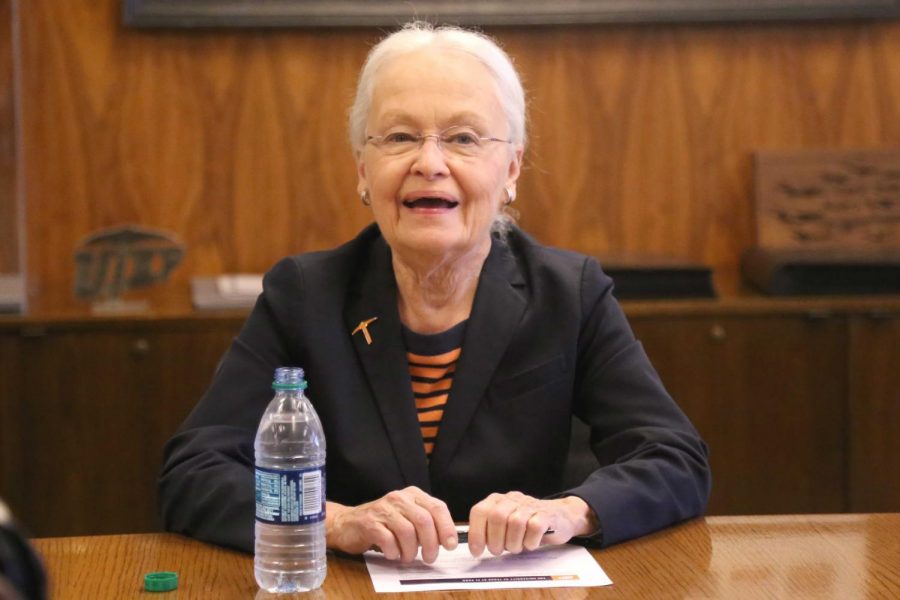 Upon the announcement of UTEP President Diana Natalicio's retirement, students, faculty and community members of El Paso took to social media to voice their thoughts on what the university's president meant to them.
She has been the university's president for 30 years and formally announced her retirement on Tuesday, May 22. As soon as a successor has been named and they fill her spot, Natalicio will formally retire.
During her press conference in front of the El Paso media, Natalicio stressed the importance of higher education saying, "Low income students don't have access to higher education anymore and that's because people are more focused on other things like four-year graduation programs." She said she hoped that UTEP continues to grow in enrollment and that she will stay with the university for upwards of six months.
Here's what people had to say about Natalicio's retirement:
Kristen Ahumada, Student Government Association President (SGA) 2017-18:
"Dr. Natalicio has instilled in me the core values of this institution and has stayed true to our university's mission of access and excellence. She has integrated these ideals into all UTEP initiatives and continued to reach out to our unserved El Paso Del Norte Region, and has generated many robust programs.  I have gone to many University Texas System meetings and I was truly proud to be a UTEP student for Dr. Natalicio has established so much credibility and she is very influential and she has earned and won that respect by many. I look up to her and she has exemplified all the attributes of a true leader, she is not just a remarkable women but a remarkable individual.  She has set the standard and her successor has very big shoes to fill."
Sergio Baltazar, SGA President 2016-17:
"It's very hard for me to exactly describe it all. It sort of makes me feel like UTEP is letting its soul go. Dr. Natalicio was and is the reason why I am able to continue to accomplish my dreams of education.  Dr. Natalicio, as you know, is someone that authentically cares for the students and El Paso region's growth and development. I was extremely lucky to have a chance of working with her in a variety of student issues. She is a true inspiration! This being said, it's clear that whoever becomes the next president, he/she will have a huge pair of shoes to fulfill. However, this person will be warmly welcomed to the UTEP's family."
Stephanie Paz, Zeta Tau Alpha President/SGA Senator at Large (2016-17):
"As a Senator at Large for the 2016-2017 Student Government Association, I had the great opportunity of speaking with Dr. Natalicio and working with her through various resources and networks on occasions that were hosted by SGA. It's amazing & honorable to have had a strong, influential woman like Dr. Diana Natalico proudly represent the university and advocate for minorities to achieve a higher education. Our institution is a great one as we excel in social mobility and great research opportunities—all of which are products of Dr. Natalicio's hard work and advocacy. As a minority and woman, I'm so thankful for the impact Dr. Natalicio has had not only on me but on the 24,000-plus students at (UTEP)."
Izaiah McCormick, junior nursing student:
"I appreciate everything that Dr. Natalicio did for the school on the administration end. I wish her and the rest of the school would have put more focus on student life and raising the standards for the school. The institution needs to make acceptance rates lower. UTEP students have lost their pride in the school and there needs to be a sense of urgency to bring the pride back. I hope that the next president will resurrect that pride within the student body."
Oscar Sanchez, College Republicans president
"What Dr. Natalicio did to the school during the past years has been unmatched. With that being said, I wish there were better athletic department support during her time. Less emphasis on making education so easily accessible (hence the 99-100 percent acceptance rate) and improve existing programs instead. Also, continue to not make UTEP a sanctuary campus."
About the Writer
Adrian Broaddus, Sports Editor
Adrian Broaddus is the sports editor for The Prospector. He is a junior multimedia journalism major with a minor in political science.



Adrian...