As part of the annual tradition, the Gerald and Stanlee Rubin Center is set to present the 2018 Annual Juried UTEP Student Art Exhibition for the 2017-18 academic year.
"The show is put together by the Department of Art and the Rubin Center and the requirements to enter are to be a student enrolled in an art class seeking a BFA degree," said Daniel Szwaczkowski, preparator at The Rubin Center. "And they apply by buying a couple of applications, so they can purchase up to five entries and with that they're entering their pieces."
For the exhibit, two jurors are brought in from out of state to look over the students' work to see if their work will be chosen as part of the exhibit.
"The jurors come in with many years of experience within the arts. They're usually curators or directors, and they come in with their own bias and they want to see that the students are clearly representing the ideas they're trying to convey, or they just want something pretty to look at," Szwwaczkowski said.
Students are allowed to bring in any work within the department courses, which includes painting, drawing, metals and ceramics, among others.
The exhibit also features a special category for those who are not part of the department but wish to showcase their work and take a shot at forming part of the annual exhibit.
"There is an interdisciplinary category for students who aren't enrolled in the art department. They have the chance to win awards for the best of each category and the overall best of show, which is a purchased work, which means the department buys that piece," Szwaczkowski said.
[arve url="https://www.youtube.com/watch?v=WLxTh7TfyRs&t=2s" /]
Sara Aguilar, a senior art student, with a focus in drawing and a minor in printmaking, said she's trying her best shot to get in the show.
"It is really nerve-racking without really knowing if I'm going to make it or not, and that's what makes it really interesting," Aguilar said.
She has been working on her piece since the fall. The piece consists of a collection of objects that she most people consider as trash, but, to her, these objects document a part of her life and surroundings.
"I started with six, then 40, then 60 and now I have 108. And they're all different questions—maybe just one or two repeated—but it's been really fun to see how far I can push myself to do this work. I don't think it's finished cause its just so much fun," she said.
If Aguilar makes it into the show, this will be her second time joining the exhibit.
"If I make it, I will feel great about myself. I would be so lucky to get into the show. It's always a hit or miss. It's like playing the lottery here," Aguilar said. "I was in the last show last year and that gave me the motivation to maybe try for a prize, and if I don't make it, I'm going to try again because it's something I have to get used to in the art world is rejection.".
The Student Juried Art Exhibit has been a tradition since the art department opened in the mid '70s.
"The graphic design studios used to be the main galleries where they also held the student shows and all the exhibits and that lasted until the early 2000, and in 2004 the Rubin Center was open and that's when the show started to take place here," Szwaczkowski said.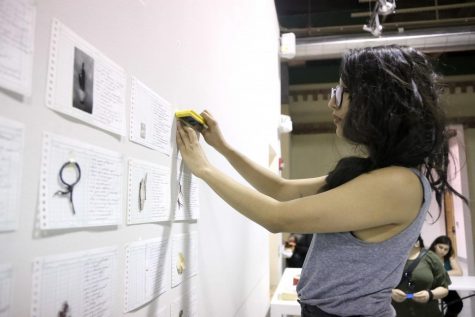 According to Szwaczkowski,  persistence and passion are what it takes for artists to have a successful career.
"Everyone has talent, and many of our students have a great degree of talent, but talent doesn't do it and talent doesn't cut it all the time, so it does take a great deal of tenacity," Szwaczkowski said. "If they really want to make a mark, studying business and management really comes in handy so they can know how to market themselves."
Szwaczkowski added that exhibits like these give students the chance to learn about the process of applying to exhibits and art shows to grow as artists.
"In baseball they have recruiter and if they see the talent of a young professional they might sign him up for ball team, you never know, but we don't really have recruiters in the arts. So the idea is to give the artist the opportunity to showcase their artwork," Szwaczkowski said. "If you want to become a living artist and make money, you need to know how to apply to an exhibit. You need to know how to display your artwork. You need to know all these details of how to get your artwork out there."
Aguilar said that as a student she recommends other aspiring artists to keep trying and always ask for feedback. She added that shows like these make artists feel accepted and feel important and that students have a voice in the university.
"Liberal Arts is one of the largest colleges, but if you go to our facilities, the bathrooms are always stinky. They're really bad facilities, but having this gives us the voice to show the best of what we have, even with facilities like that we can always make beautiful work," she said.
The 2018 Annual Juried UTEP Student Art Exhibition will be shown from May 4 through August 10.