Recapping the 2018 NFL draft with winners and losers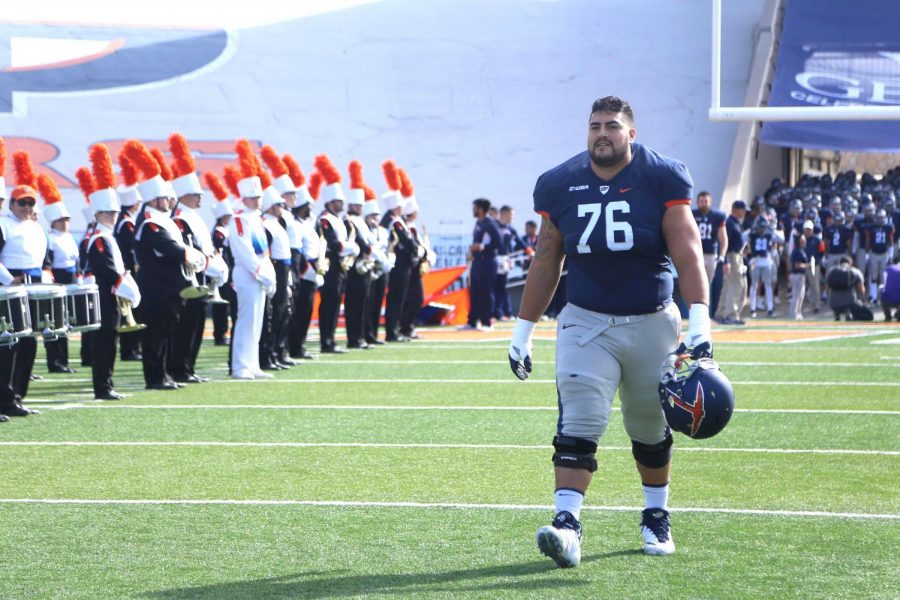 Mike Flores, Staff Reporter
May 1, 2018
The 2018 NFL draft was a big night for many football players all around the nation. The athletes made their dreams a reality when they heard their names called, joining one of the NFL's 32 franchises.
The draft turned out to be special for UTEP, as offensive lineman Will Hernandez was taken with the No. 34 pick overall to the New York Giants. Hernandez was the highest selected Miner since 2006, when Thomas Howard was picked by the Oakland Raiders. Also, with Hernandez getting drafted, it marked back-to-back years that a UTEP football player was taken in the draft—a first since the 2008 draft.
Hernandez made a name for himself during his time as a Miner, blocking and paving the way for UTEP's all-time leading rusher Aaron Jones (4,114 yards). During Hernandez's 49 career starts as a Miner, UTEP's offensive line was one of the conference's best. The line under Hernandez allowed one or no sacks in 27 contests, ranked first in Conference USA for sacks allowed in 2014 and 2015 and Hernandez received back-to-back AP All-American honors.
Due to his stellar collegiate career, Hernandez was projected a late first-round pick by many sports media outlets.
However, Hernandez did not hear his name called in the first day of the draft, but was the second pick in the second round.
In 2017, the Giants were ranked with the 26th-worst rushing offense, recording just 1,549 total rushing yards. With the second overall pick in the first round, New York got their tailback of the future in Penn State star Saquon Barkley. To protect their prized pick, the Giants got the 6-foot-2, 327-pounder from UTEP to go along with Nate Soldier on their line.
Both of the Giants' top picks could help pick up their rushing game and offense in total for a team that went a disappointing 3-13.
Besides Hernandez, some other Miners made their way to NFL rosters too. Linebacker Alvin Jones was picked up as a free agent by the Baltimore Ravens and lineman Logan Tuley-Tillman was invited to the San Francisco 49ers minicamp.
WINNERS:
1. Arizona Cardinals
The Arizona Cardinals lost two very important pieces to their team this offseason, head coach and quarterback whisperer Bruce Arians and quarterback Carson Palmer, both left due to retirement. After Palmer called it quits, the team was in desperate need for a signal caller. They brought out their checkbook for an unproven and injury risk of a quarterback in Sam Bradford.
It seemed unlikely that Bradford was the solution at quarterback for the Cardinals in the long-term. So, on draft night, with the 15th pick, it didn't look good for the Cardinals, as they were looking to grab their quarterback of the future, until they moved up five draft spots via trade, taking UCLA's Josh Rosen.
Not only is Rosen the most NFL-ready quarterback from a superior class of signal callers, but also he gives the Cardinals the hopes of a bright future for the next decade. Arizona also has one of the best tailbacks, David Johnson, to take the pressure off of Rosen. The Cardinals said they would be aggressive in getting a quarterback and they did so on the first night of the draft.
To go along with Rosen, Arizona added a target for him with their second-round draft choice, Texas A&M wideout Christian Kirk.
2. Baltimore Ravens
The Baltimore Ravens general manager Ozzie Newsome was the talk of the night in the first round of the draft. His Ravens moved back twice in the draft, piling up future draft picks, but still managed to get the players they needed and wanted.
With two first-round picks, the Ravens bolstered up their struggling offense. They selected an impact tight end Hayden Hurst from South Carolina. Hurst has drawn comparisons to Eagles playmaking tight end Zach Ertz because both are around 6-foot-5, 240 pounds, had very similar NFL Combine results and can each make winning plays from a dying position.
Baltimore only has one more year of Joe Flacco getting guaranteed money, so with the 32nd overall pick, they got former Heisman trophy-winning quarterback Lamar Jackson to possibly succeed Flacco.
Also adding to their offensive look, the Ravens picked up NMSU wide receiver Jaleel Scott, who adds to a receiving core, consisting of Michael Crabtree and Willie Snead.
3. Carolina Panthers
The Panthers went 11-5, made the playoffs, have an MVP quarterback in Cam Newton and a stellar defense led by linebacker Luke Kuechly. But the one thing the Panthers were lacking was a No. 1 wide receiver. Their receiving core last year was a bunch of no names after they traded Kelvin Benjamin to the Bills.
This year's draft was weak on wide receivers outside of the Calvin Ridley and the one the Panthers ended up drafting—D.J. Moore, the 6-foot-0 wide out from Maryland. Moore will be an immediate starter who can make a quick impact to a beefy roster. Newton will be more than happy with his new toy.
Even former Panthers receiver Steve Smith, who led the team in all-time receiving yards, said that the Panthers finally replaced his talent by selecting Moore.
The Panthers also selected the fastest guy in this year's draft in LSU cornerback Donte Jackson. Not only is he fast, but he has a knack for the football. Him and third-round pick Rashaan Gaulden, a former Tennessee cornerback, will add depth to an already strong defense.
Honorable mention winners—Denver Broncos, Chicago Bears and Green Bay Packers
LOSERS:
1. New Orleans Saints
The Saints made the most questionable pick of the entire draft with their fourth-round selection of Florida State offensive tackle Rick Leonard. He might turn out to be a good player for them, but selecting him as the 426th best player was a mistake. Leonard was not projected to get drafted in many mock drafts.
Not to mention, the Saints gave up their first-round pick of next year to move up 13 spots to pick up UTSA defensive end Marcus Davenport, who is a work in progress still. When a team moves up that much, they usually get a player that is for sure going to succeed.
With the 14th selection, Lamar Jackson was still on the board. That might have been a safer pick, knowing that quarterback Drew Brees is already 39 years old. Imagine the future of Jackson with the duo of running backs Alvin Kamara and Mark Ingram and wide receiver Michael Thomas. The Saints would have been scary on offense even after Brees.
2. Seattle Seahawks
The Seahawks used to have one of the most feared defenses in the league with the Legion of Boom. However, most of that defense is either gone or old and beat up now. Their defense is eroding quick and Seattle did little to nothing in this year's draft to improve on that side of the ball.
In the first round, they went for San Diego State tailback Rashaad Penny. They want to get back to their vicious ground attack they had with Marshawn Lynch, but tailback was not one of their biggest needs. They need help on defense and offensive line play.
Second-round pick Rasheem Green was a decent grab, but Seattle will miss the play of Sheldon Richardson from that position.
Also, with their fifth-round pick, Seattle traded up to get a punter. The most useless position in the game was picked while a number of good players were still left on the board.
The Seahawks are falling apart as a team and their draft was below par.
3. Cincinnati Bengals
First-round picks are the most valuable possession a team can have. With the Bengals first-round pick, they selected Ohio State Center Billy Price, who tore his pectoral muscle at the combine. Even when Price is healthy and ready to go, he will be protecting Andy Dalton, who is a quarterback not many believe in.
Plus, Price's knocks are pretty big—he has bad footwork and has a lot of mechanical breakdowns.
Lamar Jackson could and probably will be better than Dalton someday in the AFC North.
The Bengals went heavy on defense, but they should have balanced out their picks with some offensive players. Last season, Cincinnati was dead last in total offense and bottom six in both total rushing and passing yards.
HONORABLE MENTION LOSERS—Oakland Raiders, Pittsburgh and Los Angeles Rams.
Follow The Prospector Sports on Twitter @_ProspectSports.