In 2009, graphic design professor, Anne M. Giangiulio, came up with the idea that each semester an entire class of seniors graduating in the graphic design program have to create an exhibition of their best work during their last day of classes and invite the public in order to their name out and start becoming professionals.
The exhibition will have 17 different stations, one for each student, consisting of walls, shelves and pedestals in order to place their work. The work of each student varies from a variety of graphic design assignments, such as logos with graphic standards manuals, stationery identity designs, packaging, catalogs, posters and t-shirts.
"You'll see them at the last minute putting together their business cards, since we get members of the design community to come here, and sometimes our students get jobs right out of the exhibition," said Clive Cochran, senior lecturer design 9–portfolio class (GD9).
Seniors graduating with a BFA in graphic design are required to take GD9 as their final lesson. The class consists of doing packaging designs and polishing all of the assignments they have done since the beginning of their educational career in order to build their portfolio.
"Originally it started as a way to evaluate students, where we have to do an evaluation called Programmatic Learning Outcomes (PLO)," Cochran said. "It's a way of seeing what our strengths and weaknesses are, to what areas we need to emphasize as teachers."
Besides working on their portfolio and class assignments, students are responsible for promoting their exhibition, decorating the space, providing food to attendees and cleaning up when is over. Every Tuesday and Thursday, during or after GD9 class, students had to organize meetings on their own in order to prepare for their event.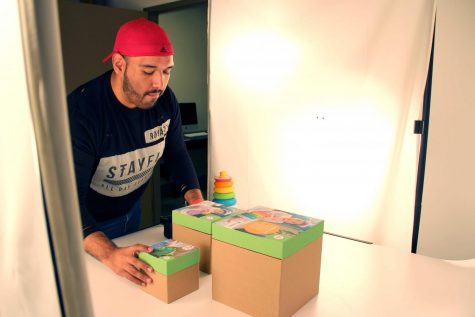 "Guys, please let's all try to participate and get involved because this is the last thing we will be doing together as students," said Betty Fernandez, a senior graphic design major with a minor in communications, during their meeting on Thursday, April 26, one week before their exhibition.
Following up on Fernandez's statement, Gabriel Garcia, a senior graphic design major with a minor in drawing, emphasized that they understood everyone had a lot going on in their final classes.
The event's poster is a homage to graphic designer Massimo Vignelli's 1972 New York City subway map. Every semester, the exhibition has a theme decided by the whole class. This semester is "Next Stop," signifying their trajectory as graphic design students, their exhibition, graduation and finding a job.
"I think the dream is to find a nice steady job here in El Paso. I have been applying for a couple of months now, got my first few round of interviews already," said Garcia, who also worked on campus as a graphic designer and has an internship with the El Paso Museum of Art.
Fernandez will leave her job at the Stanlee and Gerald Rubin Center for the Visual Arts, where she was as a graphic designer for every exhibition since 2016.
"After graduation, I want to prepare my portfolio perfectly and begin to apply to advertising agencies and magazines, from Juarez or El Paso," Fernandez said, "I would also like to do master's degree in interior design. While I pay a debt, I get into another."
Ricardo Carmona, a senior graphic design major, has worked as a freelance artist and also as a lab monitor at the graphic design lab.
"I would like to make my own business by creating several art studios, such as one on doing editography, engraving, screen printing, and another one with ceramics and graphic design," Carmona said.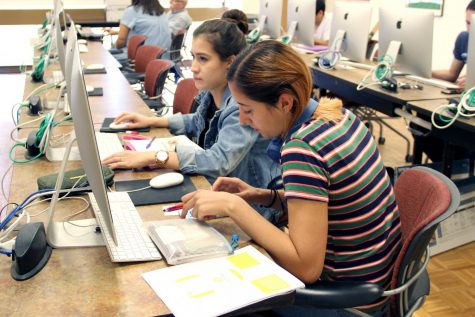 Sarah Huizar, a senior graphic design major with a double minor in communication and creative writing, works as a graphic designer and writer at the Undergraduate Learning Center (UGLC).
"My plan is to attend the bilingual creative writing MFA here at UTEP," Huizar said. "I have already gotten into the program, so I planned to move on into that field because writing is one of my passions."
Dennise Gonzalez, a senior graphic design major with a double minor in communication and French, has worked as a freelance designer.
"I'm looking into programs that will help me grow more into expanding my point of view on different cultures, which is why I also want to apply to a school abroad for my master's," Gonzalez said.
Ana Ramos, a senior double majoring in graphic design and painting, will go on an internship during the summer in Nashville to work as a graphic designer for LifeWay.
"You get stressed designing, printing and building everything, it is a mess, but once you see everything done and the fact you can hold your final product is the best feeling ever," Ramos said.
Victoria Garcia, a senior graphic design major with a minor in marketing, planned at first on becoming an architect, but since UTEP didn't offer the program, she eventually fell in love with designing and decided to stay.
"I only show my work to my friends and family, but now showcasing it to the public. I find it very exciting, and also the fact of sharing this exhibition with people whose work I appreciate," Garcia said.
Hektor Chavira, a senior graphic design major with a minor in communication, plans to keep working as a graphic designer for Special Events at UTEP.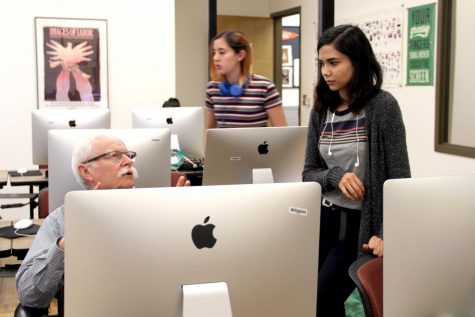 "I am very excited to show the overall work I have done in all of my years here and also very glad to be selected," Chavira said.
Enrique Torres, a senior graphic design major with a minor in communication, has been interested in graphic design ever since he was a child seeing logos on television.
"I feel excited, stressed, tired, but just the fact of doing this and ending my career 'con broche de oro'(on a high note) feels great," Torres said.
According to professor Cochran, a UTEP alumnus from the graphic design program, former students that graduated from the program can be found all over the United States, and every advertising or design studio in El Paso is staffed with them.
"One thing that I think the university should be very proud of is how much they've grown by the time they come to portfolio and the amazing wealth of talent there is," Cochran said, "Maybe I'm a little prejudiced, but I think we have some exceptional students. I think my colleagues agree on that, they are just amazing."
The event will take place on Thursday, May 3, from 6 p.m. to 9 p.m. at UTEP's Glass Gallery, located on the third floor of the Fox Fine Arts Center. The seniors' work will stay up at the gallery until May 11.
Paulette Villa may be reached at [email protected].