An educator, a mentor: Mary Trejo retires after 52 years at UTEP
In 1966, Mary Trejo sent out 100 letters looking for any open teaching positions across the country.
She was 22 and just received a master's in English from the University of Missouri. Growing up on a farm in the Ozark Mountains of Southern Missouri, she wanted to travel somewhere exciting and exotic.
She received a reply from UTEP.
"I thought El Paso, Texas, I've heard of that. So it must be a big city," Trejo said.
She opened up an atlas and found El Paso, a town on the far west edge of Texas, bordering Mexico, with a population of around 300,000 at the time.
"Look it's on the Mexican border. So there I had it—travel, excitement, adventure," she said.
Knowing very little about the city or the desert climate, she accepted the offer to be an instructor in the department of English and drove with a friend to Texas.
Trejo worked in the English department for 27 years before moving to the Department of Communication.  She did not officially transfer to the communication department until 1994 after she received her Ph.D. in modern letters from the University of Tulsa.
In 1984, the UTEP Forensics Program, commonly known as speech and debate, needed a new acting director, and someone—not Trejo—was offered the job. The program was in danger of being canceled. The person who was going to take over became ill and couldn't take the position, but they knew that she had a background in forensics.
"My mentor and friend who couldn't take over the job, recommended me for a temporary (position) and I've been doing it since," she said.
Now, 52 years later since first accepting a position at UTEP, Trejo is ready to retire.
Trejo has won multiple teaching awards. She has been awarded two educator of the year awards in Texas, she was awarded top teacher in 1988 at UTEP for teaching excellence, in 1993 she was awarded the highest distinction in the order of instruction by Phi Kappa Delta, an international forensics honor society.
"Bottom line, first-instinct reaction, gut-level, is that I feel lucky," Trejo said.
When she first took the position, UTEP did not have a great reputation for forensics.
"My first year out as a coach, coaches who I would meet, when they heard what school I was from would turn their backs to me and walk away," she said. "So I learned to say, I'm the new coach at UTEP, I'm brand new, I don't know anybody and I don't know any of the old people, and then they would talk to me."
Since then, the team has gone on to win multiple national competitions. If anyone were to go to the first floor of Cotton Memorial, they would find the walls lined with trophies won during her tenure.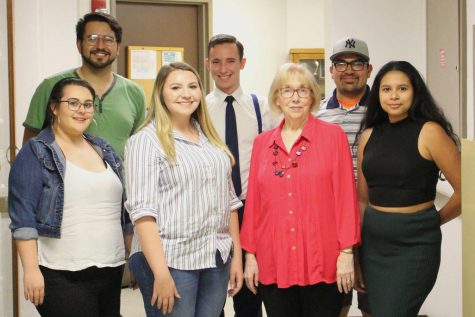 "I can remember about five or so years after I became the director of forensics, I was at the national Phi Alpha Delta tournament, and the national president came up to me and said 'thank you for what you have done for that team, you have done so much to bring that team back,' and I hadn't realized anyone had noticed," Trejo said.
Even though she has driven the team to win competition after competition, her students say that she always puts education and personal achievement first.
"Dr. Trejo is a very firm believer in the educational aspect of the speech and debate kind of activity, so she doesn't care whether or not you come home with everything or if you come home with nothing," said Matthew Magee, a senior political science major who is on the forensics team. "She wants to make sure that you've learned something; that you feel safe and that you are ready to go out the next time."
Her dedication to students was not only in their academic life, but also in their personal lives as well.
"Earlier in the fall, I left my job, it was a little too demanding and my grades were suffering. I don't live at home with my parents or anything like that and I'm realizing that bills are stacking up," Magee said. "I spoke to Dr. Trejo about what my situation was going on and she said 'let me see what I can do about that."
Trejo then created a scholarship for students on the debate team who are struggling and have been a part of the team for a set time. She awarded the scholarship to Magee.
"I don't have to worry about the bills that were stacking while at the same time I can still focus on my grades and get closer to graduation," Magee said. "I owe her greatly for that."
To many students, she is the forensics team. She has been a constant presence at UTEP that provided advice and comfort to her students.
"She's taught me that we are in a place of significance during important times, and that to me is so empowering and comes to show that we all have a unique voice we can tap into here at UTEP," said Dominic Chacon, a senior environmental science major, who is now going to graduate school because of Trejo's influence.
Mike Brooks, a communications lecturer, has worked with Trejo for over 20 years.
"The history of the team itself is kind of dependent on her presence and her involvement here. So I would say she is the heart of forensics really," Brooks said.
Although Trejo still plans on being involved with the team and UTEP, one of her last official acts as director will be hosting a speech and debate camp at UTEP, where middle and high school students spend a week alongside national champions.
She still has intellectual energy and ambition and is ready to pursue her next goal: creative writing.
"It's a lifelong childhood fantasy that I was going to be a writer when I grow up, now the question is whether I'm grown up yet." she said.
For more information about the speech and debate camp, email [email protected]