Track and design helps Horn find path in life
Carvellion Horn, a junior from Terrell, Texas, has been part of a family dynasty with UTEP track and field.
The team continues to be one of the school's best athletic programs, having claimed 20 of the university's 21 national championships.
This season, track and field has been nationally ranked and aside from national champion Michael Saruni, the team currently has other players excelling on the roster.
Horn's younger sister freshman Leearia Horn runs the 300-meter hurdle and his older brother Carnell ran for UTEP previously from 2013-2015.
This past indoor track season, Horn helped his team finish third in the 4×400-meter relay at the Commodore Invitational, as he ran the third leg of the relay. He also went on to set two career bests at the New Mexico Classic, with a time of 22.99 in the 200m, and 51.11 in the 400m.
Horn, who started attending UTEP to seek a computer science degree, decided after one class in his major that his hobby is what he should be focusing a career on, which is drawing and designing. He is now a graphic design major with a minor in drawing. Through this, Horn has aspirations of pursuing a career in video game design.
"I would say I've been drawing for a while, but I didn't really get the graphic design experience until college," he said.
He has found many different influences, not only in his artwork, but also in his own personal life. The biggest influence has been his older brother, Carnell. His brother was one of the first Horn siblings to run track for UTEP and always created art through drawing. That is why Carvellion views his older brother as the person he really looks up to.
"I would say that it was maybe a hobby (drawing) because I was influenced by my brother," Carvellion said. "Because he was always making art and drawing stuff. It made me pick graphic design and now it's like a gateway to a career after school."
Not only is his family an influence, but Horn also finds inspiration from the track and other sports UTEP has to offer.
A couple of weeks ago, he had an assignment for his graphic design class, where he had to put his own spin on emojis, connecting them to El Paso.
He decided to create emojis using inspiration from how the UTEP track and football fields look like.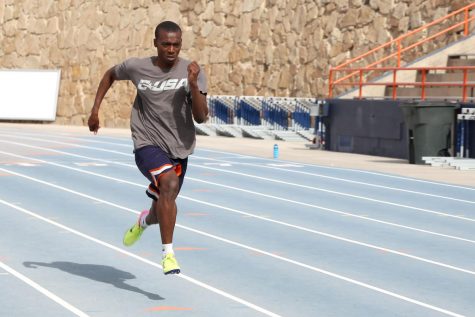 "I guess I just made my own idea," he said. "I tried to get influences from how the track and football field look just to make a certain type of emojis."
Another big influence on Carvellion Horn is his appreciation of Manga, anime and the Japanese culture. His favorite anime is Naruto. One of his favorite things to do is draw cartoons, but he is also currently interested in drawing more realistic caricatures.
"So far, what I like drawing is a lot of cartoons and stuff, but right now I've been trying to draw realistic things," he said.
In addition, earned the 2017-18 winter Conference USA's Spirit of Service Award. This award is designed to recognize the community service efforts of the league's student-athletes, based upon community service, good academic standing and participation in their elected sport.
Horn utilizes his time management skills by juggling practices and traveling,  along with three-hour long art studio labs and being a viable member of the community by participating in community service.
"Usually, I just schedule and make sure there's certain times to do everything and put it in order and make sure everything is scheduled out," he said.
The Department of Art at UTEP exposes students to different mediums of art, from sculpture to printmaking to metals. Horn is finding all sorts of fun and intrigue being exposed to the different mediums the art program has to offer.
"Right now, I'm taking my ceramics class and it's a lot of fun," he said. "Like I'm just enjoying the different type of stuff that I've never experienced before, so it's fun."
Another aspect that art majors may find daunting, is the critique. In the critique part of a class, students discuss what was their inspiration behind their artwork with their professors and classmates. Horn has found the critique experience beneficial for him, as it has opened him up to seeing art in a different perspective, teaching him to take criticism.
"It helped me better myself and how I take criticisms from other people," he said. "It helped me develop better ideas and how to look at other people's ideas, like how to see it in a different perspective."
 Follow Daniel Mendez on Twitter @dmendez24.