Terry, Wade and Smith speak out about transfers
During the Tim Floyd era at UTEP, basketball players transferring to other schools hit record numbers.
In seven seasons at the helm of the Miners, Floyd saw 24 players transfer away from the school. During the 2017-18 offseason and preseason, eight players departed, crippling the team and possibly speeding the retirement of the Don Haskins' protégé in Floyd.
New head coach Rodney Terry arrived from Fresno State with hopes of shifting the culture at UTEP to a winning one, but that might not mean that more players stay in the orange and blue from season to season.
"That's just the landscape of this game and that's the direction of college basketball," said Terry via phone while out on the road recruiting. "You can have a guy, who's your leading scorer and having a great career and having a great experience, all of a sudden say, 'you know what, I want to be challenged at a different level, I want to go to a different school.' That's just the nature of the beast right now."
During his seven years as head coach at Fresno State, Terry lost 20 players to transfer. The most in any season was five during the 2015-16 season.
The NCAA reports that transfer rates among men's basketball players are higher than in any other sport. A December 2017 study by the sport's governing body showed that 40 percent of all men's basketball players who enter college basketball out of high school will transfer at least once during their college career.
Terry has already seen three transfers in his brief time since his hiring in March.
Trey Touchet transferred to McNeese State as a graduate transfer after finishing all of the requirements for graduation from UTEP.
Freshman forward Trey Wade was one of the better shooters on last season's team, shooting 48 percent from the field and finished seventh in points per game (7.2). He announced that he would transfer about one month after Terry's arrival.
On the same day that Wade announced his transfer, freshman forward Tirus Smith announced that he would be transferring via Twitter. Smith missed time with an injury in his first year, but had several memorable games when healthy and showed Vince Hunter-like flashes on the block, putting up his season-best 17 points against Howard in December.
When asked about his reasons for leaving via direct message, Wade attributed it to several factors.
"I'm going to do something else. Get closer to home and family," said the Marietta, Georgia, native. "It's been a rough two years out here for me."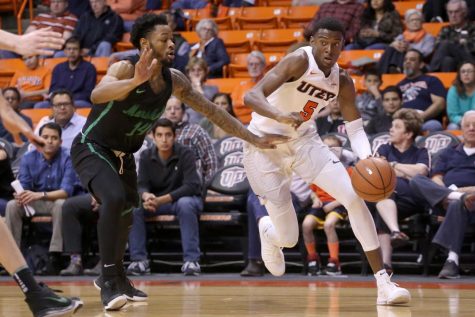 Wade added that he thought that the new head coach had a good vision for the program, but that it was going to be a "process."
When asked how much he was pursued by the new coaching staff, Wade said that he felt like "the coaches weren't too interested." But, he added that there were "no hard feelings."
Terry tells a different story when it comes to his pursuit of the two freshmen.
"I had a great team meeting with the guys initially, and the very next day after the team meeting. I met with a couple of the guys individually, and one in particular that reached out to me from the start was Tirus (Smith)," said Terry, who said several times during the conversation that transparency is very important for him and his staff.. "I knew when I got the text the next day, 'coach, can I meet with you?' I knew it probably wasn't great."
Terry said that when Smith came in for their meeting, he basically had his mind made up that he was leaving.
Terry asked Smith to give him two weeks to consider his decision. In those two weeks, the team practiced several times. Terry said that Smith had a great attitude during the practices, but in the end still decided to move closer to home.
When reached for comment, Smith stated that his decision "didn't have anything to do with coach (Terry)," and that his decision was "strictly personal." Other than that, Smith did not want to discuss his transfer further.
On the subject of Wade, Terry said that he put forth similar effort when it came to convincing him to stay at UTEP.
"I met with his dad. I would have loved for both guys to stay to be honest," Terry said.
The same problem arose with Wade as with Smith, according to the new coach.
"Those guys wanted to be closer to home and I said to them, 'I can't put you closer to home," he said. "But, I want those guys to be successful and if being closer to home is going to make them have a better chance to be successful and be happy, because you have to be happy where you are."
Wade was also asked about whether the fact that Terry was not recruiting his younger brother Trevin, a 5-foot-11 point guard from Montverde Academy in Georgia, played into his decision to leave or not.
"Something like that," Wade said. "But coach Terry wasn't disrespectful at all."
Wade later walked back a little from that statement by saying that even if the team had recruited his brother, he wouldn't have stayed, thus emphasizing that he wanted to be closer to home.
However, Wade did add that he felt slighted in some way by Terry's efforts in convincing him.
"I also felt like if he wanted me to stay, there would have been more communication between the two of us," Wade said.
Wade wanted to emphasize that he wished El Paso luck and appreciated all of the support of the community and fans.
Terry was asked about Trevin Wade and whether the meeting with Wade's father saw the topic of his other son attending UTEP was brought up.
"There was some talk about that and I think that was something that was talked about with the previous staff," said Terry, adding that he was a "straight-shooter" who was never going to lie to the press. "I got a chance to look at (Wade's) brother on tape and we have similar kinds of guys right now at that position. I was never going to mislead anybody and say 'hey, this is something we could do.' Because at the moment we were not in position to do it. I like Trey and I'd love to have Trey in my program, but at this point we just couldn't do the other piece."
Despite the 20 transfers away from Fresno State during Terry's time at the helm, the team went 126-108 with a trip to the CBI, NIT and NCAA tournaments. Terry helped to recruit future NBA players like T.J. Ford, LaMarcus Aldridge, D.J. Augustin, Kevin Durant and Tristan Thompson while at the University of Texas.
Only four days after losing Wade and Smith to transfer, Terry announced his first signings to UTEP. Efe Odigie is a three-star rated power forward/center, who is 6-foot-9 and 275 pounds, and he signed his national letter of intent to play for UTEP. Also, Nigel Hawkins announced he would verbally commit to the team on Monday.
After signing Odigie, the program has eight available scholarships with the departures of Touchet, Wade and Smith.
  Follow The Prospector Sports on Twitter @_ProspectSports.