The UTEP Department of Theatre will finish its semester with Sara Ruhl's play "In the Next Room."
The Tony Award nominee for best new play and a finalist for a Pulitzer Price, "In the Next Room" or the vibrator play" tells the story of the invention of the vibrator and its use as a medical treatment to cure women of "hysteria."
"We used to have this concept that women used to suffer from hysteria. It's not true, but it was a medical idea, and to treat hysteria they thought the appropriate thing to do was to create paroxysms in women and they used vibrators to do this, and so Sarah Ruhl has had a lot of fun playing with this history," said Jay Stratton, a theatre assistant professor and director.
Taking place in the late 1800s during the Victorian Era, this play is a strong call on feminism, as it deals heavily with female agency, according to Stratton.
"The main character is in an unfulfilling marriage and part of the reason that marriage is unfulfilling is because of the sex life that she has," Stratton said. "One of the fundamental questions this play asks is that women get to like to have sex and she gets to ask to have sex in her terms with her partner in the way that she likes in a very repressive society."
Joseph Fernandez, junior theater performance major and the lead actor, said that the strong female empowerment message this play has is very prevalent in society today.
"If you look in the past throughout history, women were submissive to men and recent time with things with the 'Me Too' movement, I think this show is a great punch in that direction," he said.
Stratton, who comes from a professional theater background with over 17 years of experience in the performing arts, has directed multiple shows at UTEP, including "Medea" "Bloody Shakespeare," "Sister Act" and "Dead Man's Cell Phone," which was also written by Ruhl.
Finding the right cast and preparing the actors to build their characters is crucial for the development of a play, as well as the many other technical elements that build the piece. In February, Stratton began to put the show together to give the production and the cast the time needed to end the last show of the season on a high note.
"It's been many months rehearsing every night from 6 to 9 p.m.  In a professional environment the rehearsal period is three and a half week tops and it's rehearsing six or seven hours a day, and in an academic environment we rehearse much longer but for shorter times, Monday through Friday every night. These people don't get weekends," Stratton said.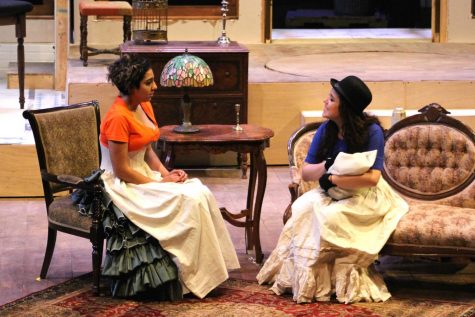 As the rehearsal process might be long, according to Mariana Baidon, sophomore theatre major with a concentration in musical theater, and the actress who plays Mrs. Givings, said this process is what she enjoys the most.
"There wasn't a day that I didn't have at least one laugh (during rehearsals). How you start forming a bond with these people, whether you share with them the entire play or not, the performances are pretty fun too, but I think forming those bonds and discovering those stories is what I enjoyed the most," she said.
A firm believer in the audition process, Stratton says that when it is time to cast actors for the play, he looks for students, whose core of their personality lines up with the core of the character, aside from their acting skills.
"I get to know students through class work and other shows, and also we have an audition process and you have to trust that audition process. There was some people who I thought they would be really good in the show and when they came into the audition, they had the material, they had time to prepare the material, they came in, did the material and didn't work," he said. "It doesn't mean they're bad actors, but they were not connecting with the material. For whatever reason it doesn't work, and you have to trust that process."
Before moving to Texas, Stratton spent 17 years in New York working as a professional actor, which was years that gave him the experience and knowledge to succeed in the area to later become a theater professor and share his experience with his students.
Nick Thomas, senior theater performance major, and actor, said that he really enjoys working with Stratton, as it is always interesting to see how he helps actors to discover things about the character themselves.
Fernandez, who plays the role of Dr. Givings, added that Stratton has always had an interesting way to make rehearsals fun and productive.
"He helps you as an actor and your process in rehearsal to grow so much and discover so many great things," Fernandez said.
"In the Next Room" will run from April 27 through May 6 at the Wise Family Theatre, located on the second floor of the Fox Fine Arts Center.
"This play is intriguing, is funny, obviously is mature content, so you can't bring your kids to the play, but it is terribly romantic," Stratton said. "This is a great date play because I promise that you will laugh and laugh and laugh, but also be very moved by it. If you want to see some vibrators in action in a comic but tasteful way, this is a good show for that."
Tickets may be purchased at the box office of Fox Fine Arts Center.