The world of art is often subjective, leaving an art piece to do the talking and giving the audience free reign over what to think about it. However, Betsabee Romero's art is meant to convey a certain message.
On Friday, April 20, Romero was a juror for the upcoming student art exhibit at the Rubin Center, while doing a site visit for her upcoming exhibit in the fall. In October she will be presenting her "Tu huella es el camino" (Your footprint is the way) mixed-media exhibit.
"I'm really enthusiastic and excited to have the opportunity to be face to face with the work of young students here, and I don't know what to expect, but I know it will be a wonderful experience," Romero said.
Romero has mainly lived and worked in Mexico City, and for more than 15 years, she has opened up a critical discourse of issues, such as immigration and daily rites of passage, global consumption and recycling and community outreach in the art world.
The Mexican artist is known for her mixed-media installations that specifically highlight the Mexican and Mexican-American life, including the migrant experience, religiosity and gender roles within those cultures.
"What we can take from this is what she's mentioned about having Mexican and Mexican-American artists exhibiting in Mexico and vise-versa, and how even though we identify in many ways, we still have that division of some being Mexican, some being American, even though we're the same" said Antonio Castro, an associate professor of graphic design at UTEP. "But I think that is something that is changing. I mean, there's efforts that are happening on both sides of the border that are bringing both peoples together."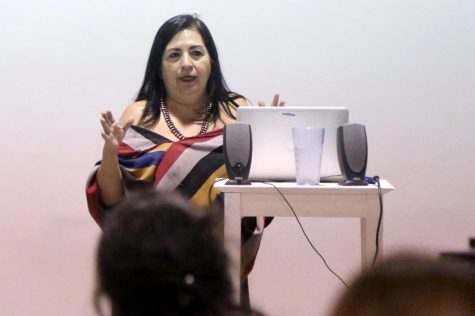 Castro said that Romero has spoken about how artists are affected by culture and the culture that they live in. He said the problems that Mexican artists are experiencing versus what Mexican-American artists are experiencing are completely different.
"I think it's great for all of our Mexican national students to see what is happening in Mexico City and see how she's applying her thinking into border issues and cultural events," Castro said.
Romero studied communication at the University of Iberoamericana and received her master's degree in visual arts from the National Autonomous University of Mexico (UNAM). Later, she studied at the Louvre and at the School of Fine Arts in Paris and she has a doctoral degree in art history from UNAM.
She's had more than 100 individual exhibitions in Mexico, the United States and Europe in places like the British Museum, the Mega Offering of the Zocalo of Mexico City, Nevada Museum of Art, Neuberger Museum, Nelson & Atkins Museum of Art, Old San Ildefonso College, Amparo Museum in Puebla,  Canberra University Museum and Recoleta in Buenos Aires.
"She'll be exhibiting in the fall semester and we're thoroughly excited to have her here because she's a core to our mission of exhibiting Mexican and Mexican-American artists and artwork, and also with us being here on the binational border I think it's of great pertinence in regards to that as well," said Daniel Szwaczkowski, preparator at the Rubin Center. "Also having a woman's voice in the arts is always a great and strong thing. I'm not too familiar with her artwork, although I know that she has done really large-scale sculptures and printmaking. What I'm most interested in seeing from her and learning more about is her printmaking process, where she is utilizing large tires to actually carve into and then using those tires as the printing surface."
As for her future collaboration with the UTEP's Rubin Center, she expressed her enthusiasm and hopes of what she wants translated through her art.
"I think that my dream would be more in terms of the relationships that you get with the public and to get more contact with communities," Romero said. "For example, to get a long-term experience with the community's problems and to know that maybe you can do something real to change the circumstances with your work."
The artist is most known for treating rubber as wood by carving textures, patterns, and symbols, painting them and even printing with them.
"All these issues come from the real history and traditions of the places that I'm in. So, for me it's very important to work with the real communities on workshops on doing the pieces for the exhibitions with art schools and this kind of dialogue with the community around the place where I will exhibit," Romero said.
Part of the exhibit will relate specifically to the El Paso/Juárez border, since one of the pieces will be a continuation of a previous project she did in October 2017 in Juarez. Her piece was an installation project of flags and wooden feet titled "Tu huella es el camino; tu bandera, la paz" ( Your footprint is the way; your flag, the peace.)
"It has been this kind of magical moment with this piece that usually should be very difficult and you don't understand how the piece is finally born. But it happened, and there are pieces where you think are not gonna be possible, but it happens and this was one of them," Romero said.
Her exhibit will run from October 11 through December 14, and will be free for UTEP students, faculty, and members of the El Paso community.
Aylin Tafoya may be reached at [email protected]