UTEP's Engineers for a Sustainable World awarded for rainwater harvesting
Outside the quaint town of Presidio, Texas, where less than 4,000 people reside, sits an even smaller colonia Las Pampas, where until 2016 there was no piped water.
Now, some families in Las Pampas will not have to haul water from nearly 10 miles away thanks to the collaboration of UTEP organizations that have come up with a solution.
The Texas Water Development Board awarded The Center for Environmental Resource Management (CERM) and UTEP's Engineers for a Sustainable World (ESW) chapter with this year's Texas Rain Catcher Award for their work in rainwater harvesting in Las Pampas.   
"The city of Presidio has a plan to expand water service to Las Pampas, but it's going to be several years before that can actually happen," said CERM Director Bill Hargrove.
Hargrove and his team at CERM decided to reach out to ESW to work on a project that would get Las Pampas up to where they could be quicker in using a rainwater harvesting system that collects rainwater from roofs and stores it in tanks. Together the group estimated they could cut down the amount of water residents would haul to the colonia in half. This saves each household in the system about $15 to $20 per month.
The group installed two systems in 2017, one in the spring and one in the fall, at two different homes. Now two homes can store water, which will be used for gardening, landscaping and for livestock use.
Coca-Cola Bottling Co. in El Paso donated free tanks to the group that are used to collect 2,200 gallons of water. This helped with expenses since the tanks were the biggest financial component. Some of the project costs were paid by a grant from the USDA National Institute of Food and Agriculture.
UTEP alumnus Jesus Placencia, a recent graduate with a master's degree in civil engineering and research assistant for CERM, acted as task manager for the project. Placencia drew inspiration from the model of the project from Tucson author Brad Lancaster's book "Rainwater Harvesting for Drylands and Beyond."
Placencia planned out how many tanks and gutters were needed and what materials were the most sustainable. He enjoyed working with the group of student engineers, who often had input and ideas while they were working.
"It was a huge learning experience, for sure, just because I've never managed so many students, especially so many people who don't have experience using power tools," Placencia said jokingly, noting the fact that students in ESW did all of the labor themselves. "It was really worthwhile, especially helping them learn something new."
Alexis Lopez, a sophomore mechanical engineering major, helped work on the project for two long weekends in Presidio, which is about four hours away from El Paso. There he had his first experience working hands-on with materials. Lopez worked on different positions, including cleaning the tanks, making holes for the tanks and drilling holes to install rain gutters.
"It seemed very easy, but once you were working on it, it was harder," Lopez said. "We came up with a lot of solutions. We faced a lot of problems we didn't expect and learned to use the power tools."
Most of the students working on the project had never worked with piping, so it was challenging to some, but a learning experience for all, according to the group.
"The gutter and the piping was more challenging because digging and moving around dirt, that's something that we've all done as children—playing with dirt, but doing things such as the piping and using the power tools to get all of these items on the roof was a bit more challenging because that was something we had not been exposed to before," said Nayeli Holguin, a sophomore engineering leadership major and secretary for ESW.
Holguin and the other students agreed it was all worth it, as they understood the impact they were making.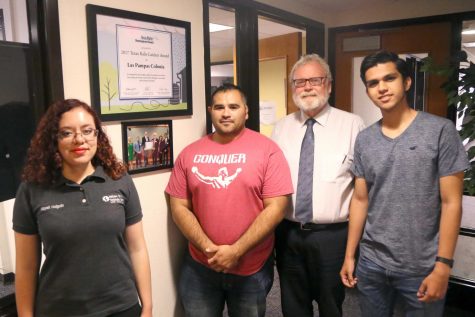 "One of the biggest takeaways is learning to be more grateful, because when we were there, we saw the conditions that people were in," Holguin said. "This issue was especially pressing because the people there are mostly elderly. So to be hauling water a lot of times a week is really hard on them, so it just really made me be grateful for being here in El Paso, where I can just open a faucet and it's there and I don't really have to worry about that."
Most Las Pampas residents are retired, previously working in construction or on the ranches. One of the men, whose house was part of the project, actually worked at the hardware store the group often had to visit. Lopez enjoyed the bond they created.
"What I really enjoyed was seeing the satisfaction from the families that we helped because they were very thankful with us," Lopez said. "They cooked us food, they were supervising our work all the time, they were chatting with us and they were very happy. Using our engineering skills to help people and make them happy was very satisfying."
Since one of the systems built was off the freeway, it generated interest from other members in the community and even the local airport. The goal was to have people interested in doing it themselves.
Holguin was able to get feedback and ideas for future projects from national ESW members at their annual conference in Atlanta, Georgia.
"I'd like to continue on with these projects," Holguin said. "As we grow as a community, we have more connections and people that can offer us different opportunities."
Holguin is now running to be elected as project manager for the ESW to help make sure all future projects get the same amount of attention and are balanced. She said ESW now wants to put the skills they learned into closer colonias in areas such as Hueco Tanks and Juárez. They also plan to continue to have a strong connection with CERM.
Follow Michaela Román at @michaelaroman_