Softball uses momentum down final stretch
The UTEP softball team opened up their six-game homestand with their first Conference USA sweep of the season against North Texas this past weekend. The Miners improved to 18-26 and 7-11 in C-USA play as their offensive firepower took over on the weekend.
The Miners will look to extend their four-game win streak as the team is gathering momentum with the season coming to a close.
"We just have to keep going," head coach Tobin Echo-Hawk said in a press release. "We started to pick up a few weeks ago. We just need to make sure everything falls into place and maintain confidence."
Despite the team's struggles this season, UTEP is ranked fourth in C-USA batting averages (287), second in home runs (30) and in the top three of RBIs. UTEP is in the top five of fielding but is dead last in terms of pitching statistics, allowing opposing hitters to a 5.68 ERA and .311 batting average.
That stat has not taken to affect for starting pitcher Kira McKechnie (9-7), who completed her third game of the season on Sunday. In the series sweep against UNT, the junior earned two wins and improved to 3-2 in conference.
McKechnie was not the only Miner to step up this past weekend. Junior first baseman Kacey Duffield earned C-USA Player of the week. Duffield hit .600 and produced seven RBI, two doubles, two home runs,four runs, and a stolen base during the series sweep against UNT.
Senior Courtney Clayton continues her rise through the UTEP records book. The slugger now has 51 career doubles, ranking second on that list behind Camilla Carrera (57). Clayton's batting average is .406, with seven home runs, 27 RBIs, and she has a slugging average of .696. Clayton is the fourth-best hitter in C-USA.
Meanwhile, senior Kaitlin Ryder has been just as explosive. She is second best in batting average for the Miners (.315), with 19 RBIs that puts her fourth on the team. Ariana Valles is second (22) with Duffield at the No. 3 spot with 19.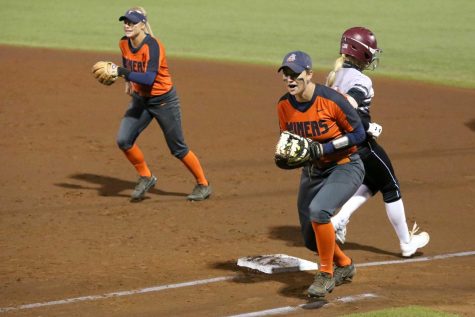 The Miners will resume Conference USA play against Middle Tennessee on the road (April 28-29) after a three-game stretch at home against out-of-conference foes the Ole Miss Rebels from the SEC on April 20 and 21. The Miners are currently ranked ninth in C-USA.
UTEP has been dominant at home (12-4), but has struggled on the road (2-12).
Luckily for the Miners, they will play seven of their final 10 games at home, including a doubleheader against Texas Tech on May 3–a series that was canceled earlier in the season due to weather.
UTEP continued their offensive power when they played rival New Mexico on April 16. The Miners romped the Lobos 7-0, behind Ryder and Valles, as they both each batted in an RBI. Junior starting pitcher Julia Wright pitched a complete game, striking out six Lobos while allowing four hits.
The Rebels will come to El Paso being battle tested. Ole Miss lost a double header to Mississippi State on April 15 and will complete the three-game series Monday, April 16. Ole Miss (21-16, 4-11) will then host University of Louisiana at Monroe on Wednesday, April 18, before making the trip to El Paso.
The Rebels are led by sophomore Autumn Gillespie, who leads the team with 25 RBIs and 105 at-bat appearances. Gillespie and freshman Amanda Roth are tied with three home runs each.
Ole Miss has a three-pitcher starting rotation that is led by senior Kaitlin Lee, who is 12-7 this season. The next pitcher the Miners will face will be either Anna Borgen (3-5) or Ava Tillmann (2-2).  Lee has given up the most hits (97) and home runs (six) as she is the pitcher the Rebels like to use to neutralize opposing offenses.
First pitch against the Rebels on Friday at the Helen of Troy Softball Complex is set for 7 p.m.