Football wraps up spring training on the right track
Last Friday, UTEP football concluded its spring season, as the Orange team beat the Blue 20-13 in the annual spring game.
The game was a chance for first-year head coach Dana Dimel to see where the team stands in terms of quality and readiness.
"The guys have got a lot to work on, obviously, but I thought we had a ready good scrimmage," Dimel said. "But overall I was very, very pleased with the scrimmage and very pleased with what they did.
"I love the attitude and the effort was fantastic.  The things they've got to work on now, are getting in the weight room and finishing up the academics very hard these next couple of weeks going into finals."
Here are some questions the Miners need to answer during summer camp.
When will they name a starting quarterback?
It was not much of a surprise that the starting quarterback battle did not find a conclusion in the spring football game on April 13, with the competition now continuing into the summer.
It wouldn't have been fair to name a starting quarterback with Kai Locksley dealing with a late spring injury and no quarterback having had a breakthrough spring season.
Along with Locksley, Ryan Metz, Mark Torrez, Calvin Brownholtz and Alex Fernandes threw a whopping 63 passes and threw for 380 yards the spring game.
The two frontrunners, Locksley and Metz, both had a good showing on Friday night. Locksley led the way, completing 11-of-17 passes for 119 yards. Metz went 4-of-9 for 66 yards and ran for a 15-yard touchdown.
The summer will tell a lot, especially if one of the two begins to separate himself into a solidified starter. But it won't be surprising if the Miners haven't named a starter when August rolls around.
"I saw all five quarterbacks get a chance to do some good things and all of them showed some nice things," said Dimel. "So that's encouraging for the future to build some depth. Obviously we split the reps up so everybody could play in the game tonight, and that was cool too, for the parents and the fans to get to see everybody play."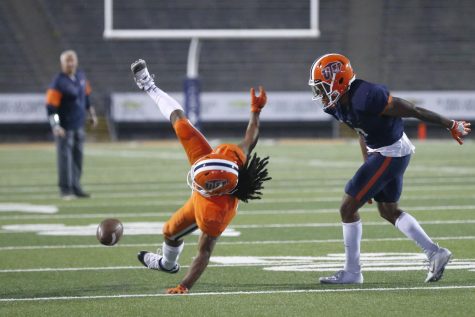 Air raid or run heavy?
Throwing 63 passes in a scrimmage cannot be overlooked for this team. This is pretty much the same team that just a few months ago was a run-first offense.
It's hard to say which way the Miners will turn on offense, but throwing 63 times alludes to the Miners being more balanced in offense than before.
The Miners are also taking about 95 percent of their plays from a shotgun formation, which is completely different than last year, where they primarily went under center.
Once summer is finally over, this team will probably look more balanced. They will utilize Locksley or Metz in the air game and give significant carries to runners such as Quadraiz Wadley, Treyvon Hughes and Joshua Fields.
Run by committee or true running back?
With weapons such as Wadley and Fields, the Miners had a lot of firepower at the running back position going into the spring. But guys like Hughes, a converted running back from linebacker, TK Powell and Ronald Awatt have made their weaponry at running back even deeper.
The Miners lost running back Kevin Dove during the off-season to a transfer, and thus Walter Dawn Jr., who took significant carries at the tailback position last season, converted back to a slot receiver, so there were definitely questions surrounding that position.
However, it seems that Dimel and offensive coordinator Mike Canales have a grip on the position and continue to develop the spot.
This year's running back group will probably operate again as a running back by committee approach. Due to his talent, Wadley will probably be the No. 1 back for the Miners, with Fields and Hughes splitting reps behind him.
How quickly can the defense readjust?
Switching from a 3-4 to a 4-2-5 will be a challenge to say the least for the defense. It will be even more challenging considering at one point last season, the Miners had over 15 linebackers on their roster.
At the spring game, there were no interceptions, but the defense had six sacks and nine pass deflections.
"I wanted to see good tackling and I saw really good tackling tonight," Dimel said.  "That's what I was really, really pleased about.  The defense didn't miss many tackles at all.  They had restrictions on them about tackling high.  Normally when you have those types of restrictions, you're going to see some missed tackles, but I didn't see that today."
  Follow Adrian Broaddus on Twitter @adrian_broaddus