Sun Bowl renovation expected to be completed by Sept. 2019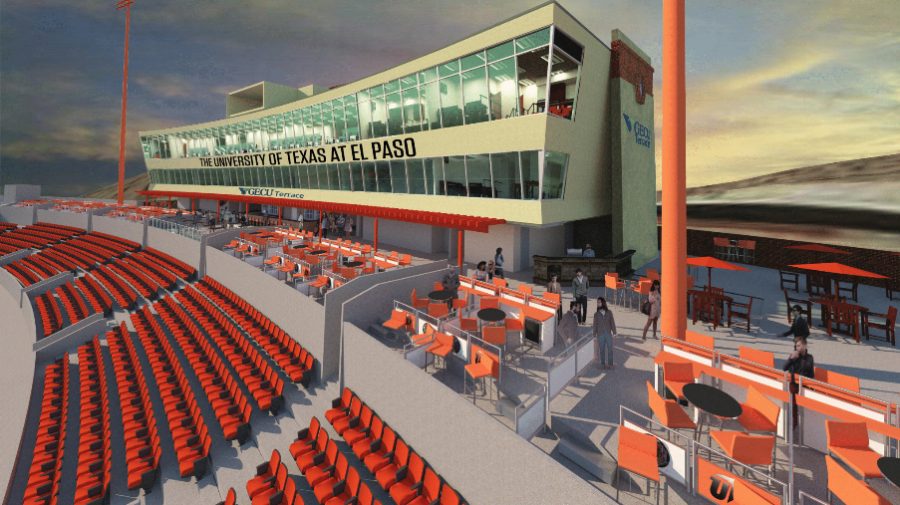 Mike Flores, Staff Reporter
April 13, 2018
After 55 years, UTEP and GECU will partner up on a "New Vision" for Sun Bowl renovations. The renovations will include facelifts for a new press box, Sky Lounge, concourse, premium seating, elevators, modernized fan amenities, and upgraded restrooms, along with many other improvements.
The project is expected to cost $10-15 million dollars and the process is expected to be completed on Sept. 1, 2019. The money is coming from private fundraising and strategic partnerships like GECU.
"The planned renovation of the Sun Bowl Stadium is a key step in our continued campus transformation on that enhances the overall experience for our students, faculty, staff and visitors," said UTEP President Diana Natalicio. "We are grateful for the collaboration and support of our longtime community partner GECU as we begin modernizing this iconic facility."
The renovation will begin this spring. On the west side of the Sun Bowl, the Center Club will feature premium seats and access to the food and beverage services. Social spaces and season passes to the Sky Lounge will also be available to spectators in the stands.
The first part of the Sun Bowl that will be completed is the concourse. The concourse is expected to be finished by the start of the 2018 football season.  It won't be until after the Hyundai Sun Bowl in 2018 when most of the work will take place.
Beneath the press box, the GECU terrace will include loge boxes and outdoor cantinas. Guests at the GECU Terrace will have table service and access to the cantina and party deck. Each loge box will have outlets for charging electronic devices.
Another big future addition to the stadium will be club seating, giving fans the luxury of comfortable seating instead of bleacher seating.
The club seating will be around the prices of other luxury seating such as the El Paso Chihuahuas' club seating and other universities. There could be as much as 600-900 club seating options in the new stadium.
"You look around our stadium and its 100 percent bleacher seating. You will be hard-pressed to find any venue in America that has just bleacher seating anymore."
This renovation is going to address many other aspects other than improving the look of the stadium such as the improvement of safety issues surrounding the stadium.
"This is why this renovation is good for the community—when opposing teams come in they are going to see an upgraded stadium, amenities that you would usually see in the modern stadiums," Senter said. "It will have a much better feel and look. It represents El Paso, UTEP, UTEP Athletics in a much better light."
However, the locker rooms in the Sun Bowl are not part of the renovation plans.
The plan for this renovation has been in the plans of the Athletic Department for several years. Former UTEP Athletic Director Bob Stull began the spark of this planned renovation.
"We've been working for several years to get this thing put together and done. I get the benefit of announcing it, so I'm very fortunate to do that," said UTEP Athletic Director Jim Senter. "This is long overdue."