A little piece of Hawaii has come to El Paso. On Tuesday, March 6, Poke³ had their soft opening at the corner of Glory Road and N. Mesa Street.
Restaurant owners Humberto Enriquez and Vicente Santaella developed the idea after closely watching the trends surrounding a rise in people wanting healthier lifestyles.
Poke (pronounced POH-kay) is proud of being among the freshest, tastiest and healthiest new food trends of 2018. Coming from Hawaiian cuisine, poke means "to slice or cut," and is a customizable raw fish salad.
In Hawaii, poke is comparably in demand as hamburgers are throughout the rest of the U.S. mainland. There, it is found in supermarkets, high-end restaurants, food trucks by the beach,  family events and tailgate parties, and at pot lucks and pau hana or after work gatherings.
Poke has evolved throughout the years, thanks to Hawaii's multicultural influences. Specifically, it has become a major part of Japanese, Chinese, Korean and Filipino cuisine.
"Poke is a Hawaiian dish that grandmas used to cook for the kids there. Like how here in town or in Mexico, our grandmas used to cook us beans and rice or tacos," Enriquez said. "Poke is a base of rice, noodles or salad with your fresh fish, but we will offer other options."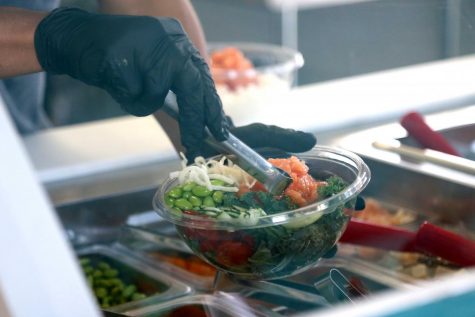 At Poke³, there are chicken and meat substitutes for customers who are still a little apprehensive in regards to raw ingredients or those who simply don't like fish, but still want the traditional Hawaiian flavor poke provides. Also, for those who are perfectly fine with seafood, octopus will be part of the Poke³ menu, bringing a new texture and flavor.
"We've been in the business for 20 years combined, mostly focusing on fine dining," Santaella said. "We initially wanted to open a fine dining restaurant. But this idea came to us after we started seeing so many trends on healthy eating, especially poke bowls. All these meal prep places are healthy, but not that tasty at all, and what we've come to see is that poke is both healthy and really, really good."
Most traditionally, poke was made from fish, salt, local seaweeds and chopped Hawaiian kukui nuts. Today, poke comes in various permutations, meaning it's very flexible, which is another reason why it's sparking the interest of fast and casual diners.
This establishment is perfect for college students on the run to class, businessmen and women on their way to work or regular people who don't have time to make lunch or are tired of making lunch every day.
"Number one, we wanted to be involved with the UTEP community. That's why we chose this location," said Enriquez. "Some of our bowls are even called the Sun Bowl, one of the burritos is called the Minerito. We just wanted to attract the students and faculty since we're so close."
Each dish has plenty of useful nutrients, depending on the ingredients of preference. The key to a healthy poke bowl is to customize the meal as much as possible to suit your health needs.
"I was hesitant of the raw fish at first, but learned to love ahí tuna. It has a meaty consistency, like chicken or beef, but still has a slight fresh flavor from the sea" said, Summer Masoud, senior multimedia journalism major. "It's also very healthy because of the versatility of the ingredients, and helps with the after-workout munchies. It fills you up just enough to where you feel satisfied and not like you're about to explode."
Choosing more fresh fruits and vegetables and less processed and pickled items is a strategy that will help reduce both the calorie and sodium count. You can consume four ounces of poke for under 150 calories. One poke bowl consisting of rice, ahi tuna, seaweed, cucumber and a light serving of a dressing of choice will provide you with approximately five grams of fat, 25 grams of protein, and 20 grams of carbohydrates.
Omega 3 is available from the fish and avocados that you can put in your bowl. These fatty acids are also proven to help fight depression and anxiety, reduce the risk of heart disease by lowering your blood pressure and heart rate, as well as improve a person's eye health..
Other suggestions to make it healthier are to use leafy greens instead of rice and opting for condiments that have less sodium like sriracha instead of soy sauce. Offering limitless variations of poke bowls, burritos, mochi ice creams and soft drinks, Poke³ is also looking to partner up with some local breweries to bring an array of alcoholic beverages, including wine.
"I'm excited that there's a healthy alternative for lunch near campus. I'm tired of eating pizza and Chick Fil-A all the time. Every time Poke Dots comes to the Union, it's what I get to eat," said, Rebecca Holguín, junior English major. "Now, with Poke³ just up Sunbowl, we're not restricted to special occasions for a healthy option."
Coming with a fresh take on healthy food and having an enthusiastic attitude in regards to the El Paso and UTEP community, Poke³ has much room to grow as a business in El Paso. 
"Honestly, we can't wait. We just want to feed people poke," Santaella said.
The business pair is set to open a new location on the east side this summer, increasing the number of people getting on the healthy bandwagon that is poke. For more information, visit poke3.com/