Clayton takes pride as ultimate team player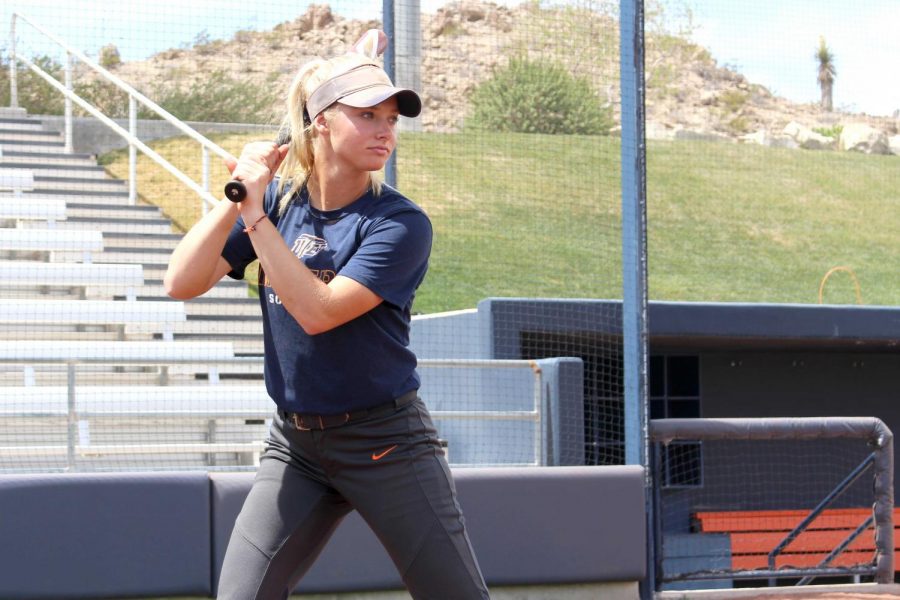 When Courtney Clayton took her recruiting trip to El Paso, it was her first time being away from her home of Cornelius, Oregon. On the trip, she stumbled upon UTEP softball fans at a bagel shop, who recognized Clayton and encouraged her to choose UTEP. That's when Clayton fell in love with the El Paso community.
Four years later, Clayton is on pace to being one of the best ballplayers who has graced the Helen of Troy softball field.
"Honestly, it's made me grow a lot as a person," Clayton said. "Going away from home really made me who I am today. I'm thankful for that and I know my family is thankful for that as well."
The senior comes from a baseball and softball family. Her grandfather, grandmother and mom all played collegiate baseball and softball at Linfield College in McMinnville, Oregon.
Originally, Clayton had agreed to stay close to home when she first committed to Portland State University to play under then-head coach Tobin Echo-Hawk. Echo-Hawk then became head coach at UTEP and is one of the contributing factors of how Clayton ended up at UTEP.
"I adored coach E (Echo-Hawk) and coach Cobb (Cristina Cobb-Adams), that was one of the main reasons," she said.
Clayton has continued to climb the UTEP record books in her senior season. On Sunday at Western Kentucky, she moved up on the doubles' list, giving her 50 career doubles, putting her second on the all-time list in program history behind Camilla Carrera (57). Clayton also moved to fifth on the all-time RBI list at UTEP with 110 in her career while recording her 70th multi-hit game.
"I think the biggest thing that I've been so proud of is the team aspect of everything," she said. "Just all the things we've accomplished as a team is more what I'm excited about. I obviously feel very humble and very blessed to be here and be a part of that."
Echo-Hawk describes Clayton as the ideal kid who you want to coach. Clayton's focus is always on the team no matter her personal achievement.
"She actually doesn't like praise," Echo-Hawk said. "Probably the most selfless kid that we have even though she has had a ton of success. She doesn't flaunt it, she doesn't act cocky, she doesn't. She's just the ultimate team player. Always there doing whatever she needs to for the team."
The best way to describe Clayton's leadership is the fact that she leads by example. That is the best way senior teammate Kaitlin Ryder said describes her best friend's approach to the game.
"She's all in it," Ryder said. "She's a ballplayer. She leads by example and is a great teammate, she just knows the game 100 percent and she'll give everything she has to this game."
Clayton's best friend and roommate on the team remembers their first encounter during a friendly game of travel ball.
Ryder and Clayton remember the story like it was yesterday—Ryder was behind home plate while Clayton went up to bat. As the opposing pitcher was attempting to strike Clayton out, Ryder kept on trying to get her attention. Then finally after Ryder had gotten her attention with a "hey Court," and Clayton looked back at her as if to question what is this girl doing.
After the next pitch, Ryder took off her helmet and introduced herself as the two were going to embark on a next chapter of their lives with UTEP softball. Little did they know that encounter would establish a tight-knit friendship between the two.
"Throughout the course of our four years, she's been my best friend and my go-to person," Ryder said. "I look forward to having her as my best friend for the rest of my life."
Despite the team's losing record (14-26, 4-11 C-USA), Clayton is proud of her team and that no one has given up.
"I describe us as a bunch of fighters—that no matter what's going on (with) hardships on and off the field, everyone just comes in and fights for what they believe in" she said. "I think just continuing forward, we just need to continue doing that and at the end of the season we'll be proud."
As the season comes to an end, Clayton is reminiscing about her time here. Her and her fellow senior teammates have thought about this being the last time they get to lace up their cleats and play the game they love.
As an 18-year-old, freshmen playing Division-1 softball, who had no idea what to expect, every day was a first for her.
"Now that it's in reverse, every day is a last for us. It's like 'wow we've really come so far.' We've just been saying how thankful we are that we have had all those experiences that made us grow," Clayton said.
  Follow Daniel Mendez on Twitter @dmendez24