Should the "preacher guy" have a voice on campus?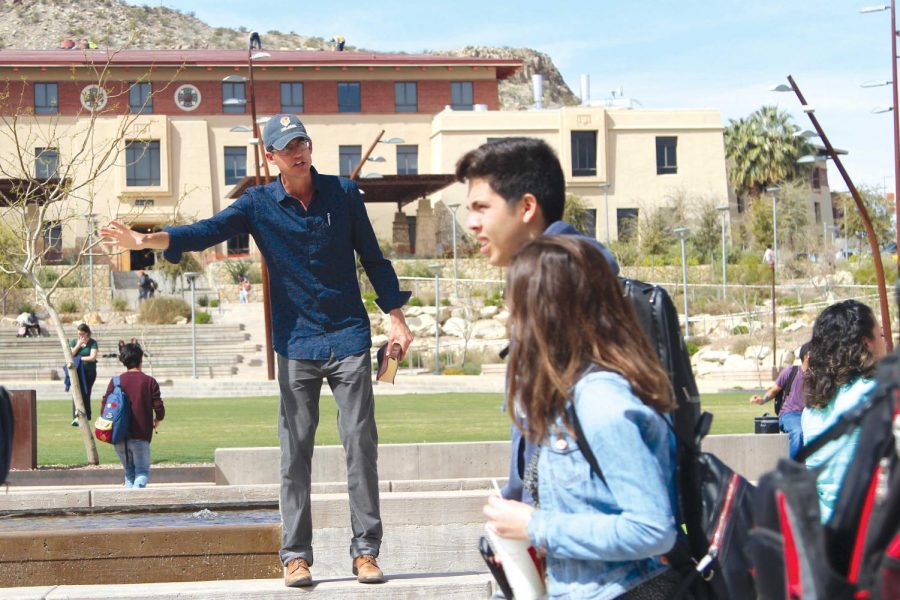 Four years ago, Centennial Plaza was still under construction as bulldozers, construction workers and fences overpowered the center of campus.
After its completion it became a spot for Frisbee throwers, graduation photo shoots and getting some peace and quiet in between classes.
However, for more than a year, in the center of the plaza, there is a good chance while walking from class to class, students will hear a man yelling about abortion, loudly attacking students who he deems are sinners and denounces other religions and faiths other than his own. Occasionally, he carries a sign that reads "abortion is murder."
Students on campus refer to the student standing in the front of Centennial Plaza as "preacher guy." 
"Preacher guy," whose real name is Ryan Denton, preaches at least two to three times a week during the peak hours that students walk to and from class. Denton claims he was once in the shoes of the students he is trying to save.
He considers himself a missionary evangelist and said his denomination of Christianity is Calvinist Baptist—one of the most conservative types of Baptists. The former pastor believes in the Puritan values of "doing everything according to scripture and the commitment to a life of holiness."
After what he describes as a downward spiral of profanity, promiscuity, whiskey, marijuana and trouble with law enforcement, Denton said he had a spiritual awakening when he was 22 years old after his friend passed away. 
"I became under deep conviction of sin and realized that God is good," Denton said.
This was not the first time someone in Denton's life had died, but for some reason this death was different. Now 32, he has been spreading his version of the word of God throughout college campuses and public places across the country for 10 years.
"I've been preaching on campuses before I came to UTEP for a few years," said Denton, a non-degree seeking student. "I have no doubt the Lord called me to preach. Outdoors in the pulpits, it's really wherever he's calling me to preach. I think what I'm doing here is definitely a calling of God."
Denton's preaching is often countered by students with everything—from a student dressed as a chicken squawking over his voice, students reading Dr. Seuss books out loud to drown him out and some students have even silently held signs next to him as he preaches that read "false prophet."
Although some may not appreciate what Denton is doing, the Student Government Association (SGA) planned to host a forum discussing religion and science, which was scheduled for March 28. The event, "How the two can coexist: religion and science," was meant to be an open discussion between Denton and a senior biology major named Sangeeta Kurada.
Kurada was first approached by SGA the Wednesday before the announcement of the forum. The 19-year-old was going to serve as a member of the panel. Kurada said she received backlash for wanting to participate in the event through social media from her College of Science peers. The backlash was along the lines of, "how do you possibly want to put yourself in that crossfire," given the person she is going to be arguing with.
Despite the cancelation, Kurada said she pushed for the event to happen. She felt it was necessary to have this type of conversation in order to see both sides of the argument and develop somewhat of a compromise. Kurada also said she respects what Denton is doing and realizes how much guts that takes for one to be doing what he does, but she does not support his rhetoric.
She has witnessed when students present their arguments to Denton, as he calls them names or belittles them for the color of their skin. That was one of the reasons she insisted on the forum happening. Instead of a hostile situation in Centennial Plaza, she felt it could have been a situation where both sides kept their cool and presented their differences.
"There were a lot of things that maybe I disagreed with. Not necessarily only the message that he was saying, but the way it was being delivered," Kurada said. "For me, I really believe that a lot of rationale and good attention to knowledge is needed from someone who can keep their cool and hear both sides of the situation."
SGA originally invited all 13 faith-based organizations on campus to participate. More than half declined to participate, but some chose to send a representative to the forum with the hopes of creating an opportunity to present their beliefs to Denton, who has been denouncing other forms of faith publicly on campus.
The forum was canceled within hours of the announcement. SGA had received multiple messages from students and parents of students on campus, who were concerned with providing Denton with a platform to spread his message.
SGA's representatives said the messages mostly consisted of people who harasses their child on campus, a platform to speak his ideology. In short, the deciding factor that led to the cancelation of the event was student safety.
Another concern brought SGA's attention was the fact that Denton was previously arrested in El Paso for preaching across the street from a drag show event on Dec. 20, 2017. Denton was charged with criminal trespassing. His arrest has been chronicled by Christian news media websites such as Christiannews.net.
Denton had his third court appearance/pre-trial for this charge. He left his court appearance with a no-decision and a new court date on April 25.
The Plaza Theatre was hosting an event called "A Drag Queen Christmas: The Naughty Tour" the show featured contestants from RuPaul's show "Drag Race." Denton was preaching adjacent to the theater. Attendees of the event called the police to complain. Officer Jared Lamb had informed Denton that he was on private property, whereas Denton claimed he had been preaching on that same exact spot for years without a problem.
Denton said that he was wrongfully arrested and the case is still ongoing. He then said that the SGA had given him three different reasons for the cancelation of the event, but in Denton's eyes he said SGA was trying to cover their tracks because they know it looked bad.
Ryan Saenz, an SGA executive assistant, said this type of behavior goes against SGA's student values.
"We were glad the students said that because we would never want any students to feel unsafe on campus," Saenz said. "That was the reason why we canceled the event. We really wanted to air out some of those disagreements on religious things so you can talk about it and move on from it."
In comparison to Denton's approach to spreading religion, other faith-based groups on campus, such as the Baptist Student Ministry (BSM), have taken a different approach to sharing their faith.
They offer bible studies and free lunches on Wednesdays. The approach is to offer the students a meal as they take time to listen to a message.
Chris Smith, director of the BSM, is not against Denton's preaching, but believes there is more effective way to target students.
"We're not against him per se, but our approach is obviously different than his," Smith said. "Our goal is to serve the campus and we do that by doing all kinds of different ministries or outreaches."
Joel Mckee, a recent digital media production graduate and current intern for the UTEP BSM, would have liked to see the open forum happen and thinks it's necessary for students to have discussions like this. He thinks it would have allowed a way for different sides to express themselves.
"It's kind of a bummer that they closed it down, but I think it is good to be able to have these discussions," Mckee said. "We should be able to be free to discuss these things. Not just show one side, but discuss both sides."
Denton said that he is taking classes here at UTEP simply for the "fun of it" without any plans of actually graduating with a degree.
He already has two bachelor's degrees from the University of New Mexico in philosophy and English literature, a master's degree in liberal arts from St. John's College in Santa Fe. He most recently earned a master's degree of divinity from the Southern Baptist Theological Seminary.
Denton usually draws large crowds as he spreads what he sees as the word of God, but some students consider his preaching approach to be aggressive and disruptive.
"I fully support thoughtful conversations between people who disagree, but it's so important we give a platform to people who can be respectful towards one another, said Destiny Garcia, senior physiology major.  "The preacher guy yells and harasses students, he singles out women in hijabs or random women, calling us 'baby killers,' as we're minding our own business, walking to class.
"This isn't about rejecting Christianity, it's about rejecting hate speech."
Denton does not consider his preaching to be hateful, but informative. He sees why students might find what he is saying to be hateful because they would rather not hear the truth.
"There's a lot of lies," Denton said. "Lies always spread around on campus. You'll never hear me call a Muslim woman a name. Despite what people say, no one's ever heard that, because I wouldn't do that. The thing is I do love the students enough to tell the truth about Christ."
On Denton's YouTube channel, "Christ in the Wild Gospel Society," he posts videos he takes on his GoPro while preaching.
Students aren't the only ones on campus who have a problem with Denton. According to Denton's Facebook page on Jan. 24, A UTEP employee filed an allegation against him for disturbing community members inside the Administration Building. The building is directly across from the plaza.
This was not the first allegation UTEP has filed against him, according to Denton.
UTEP's administration released the following statement in regards to students who wish to express their first amendment rights, "All members of the university community can exercise their right to free speech and assembly on the UTEP campus. At all times we ask individuals to be respectful and not disrupt the daily functions of the institution. For further information about Free Speech and Assembly, please refer to Section II, Chapter 2 of UTEP's Handbook of Operating Procedures."
Some students are supportive of "preacher Guy," saying they support the Constitution's First Amendment's freedom of speech rights. 
Victor Sanchez, a senior bilingual education major, does not find what Denton says as offensive. He witnessed students disagree with Denton and acknowledges at times students get upset, usually not letting Denton finish his argument.
"They got to be more open to what he's talking about," Sanchez said. "I believe everybody has their freedom of speech, so anybody can say whatever they want to say. It's up to you how you want to take it and respond to that."
Denton was not surprised at the cancelation of the open forum.
"All over the country, people that are given a platform to speak, who are considered bible believing, evangelical or conservative, you see that they're getting shut down. College campus across the country are shutting down evangelical Christians from having a platform from saying what they believe in," he said.
SGA has plans for a new forum led by Noelia Collins, who is the Religious and Spiritual representative in the SGA's House of Representatives. The event will take place April 18 at the Cactus Flower Room from 11 a.m. to noon. The event promises to be a safe space, where students can discuss religion freely.