Loyola Chicago fights for all mid-major programs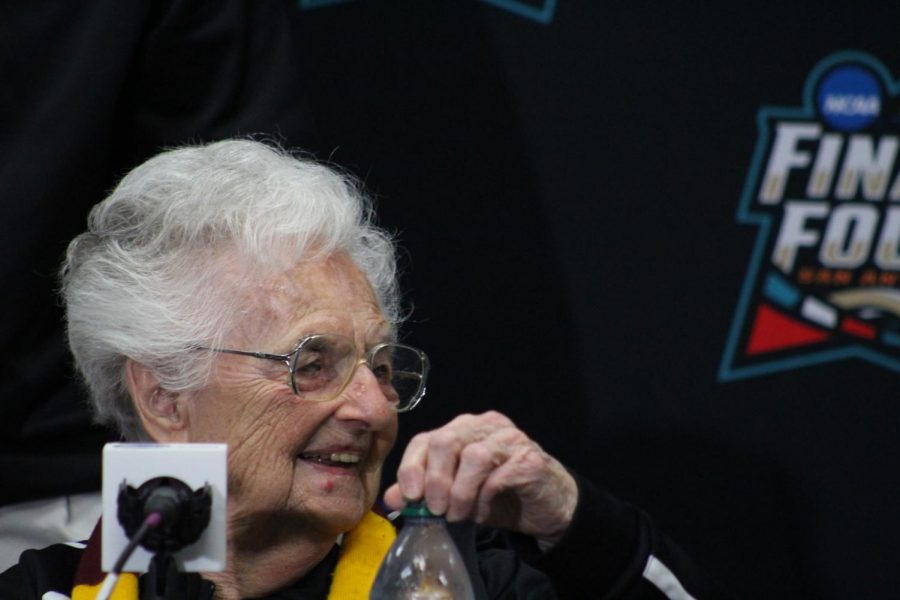 Mike Flores, Staff Reporter
March 30, 2018
SAN ANTONIO, TEXAS—The Cinderella team of the 2018 NCAA Tournament, Loyola Chicago, is playing for much more than just their second championship in school history.
They're competing and demanding respect for mid-major programs all around the nation.
Since the NCAA Men's Division I Basketball Tournament was first created in 1939, only four No. 11 seeds have reached the Final Four, with Loyola adding to the list this year.
Loyola's road was far from easy. In fact, they were put in a South Region that drew powerhouse programs, like Virginia (31-3), Arizona (27-8) and Kentucky (25-10).
However, it wasn't the ACC Champion Cavaliers who made it out of the South Region, nor was it the pair of Wildcat teams, who have NBA talent on their roster, it was the 11-seed Loyola—whose biggest star is a 98-year-old nun, Sister Jean-Dolores Schmidt, that says prayers for the team before every matchup—that made it out alive of their region.
"A lot of teams that are like us are definitely rooting for us to kind of prove that teams in smaller conferences and mid-majors are really good teams. There are a lot of good teams, good programs, good coaches and good players. It's very competitive at this level," said Loyola senior guard Ben Richardson.
Despite the Ramblers going 32-5 overall and 15-3 in conference play this season, Loyola was seeded further than schools in their part of the bracket like Texas (19-15), ninth-seeded Kansas State (23-11), Creighton (21-12), along with other programs that brought in a worse record.
The double-digit seed that Loyola received has to do with their conference. The Missouri Valley Conference (MVC) is a smaller conference that doesn't get the respect that a more prestigious conference receives.
Six times in the last 10 years, the NCAA Tournament has taken just one team in the MVC with that one team being the conference's tournament winner, taking away from the regular season's meaning.
The Ramblers' chances of accomplishing what they've done this year by making the Final Four would have not likely happened if they had one bad conference tournament game and lost early on.
"I hope our run sparks some conversation on trying to find the best way. We need to continue to find the best way, because, according to everyone, we weren't going to get in," said Loyola head coach Porter Moser. "You get a tweaked ankle in practice to a star player for us, and lose by one point in the conference tournament, and we're not here. You could have a shot bounce the other way, and we're not here."
Other smaller conferences have to deal with the same fate as the MVC. For instance, in Conference USA this season, Middle Tennessee had the best record at 25-8 overall (16-2 C-USA), but since they slipped up against Southern Mississippi, losing 71-68 in the C-USA tournament, the Blue Raiders were left out of the NCAA tournament.
Also, many mid-major schools do not have the luxury of picking their opponents on their season schedule like big conference programs do. So, like the majority of mid-major programs, Loyola did not benefit from their lack of schedule strength.
"The other thing that bothers me and many other coaches is the scheduling at our level. They blame us for our schedule," Moser said. "We want a hard schedule. We're blamed for not having a tough schedule. It's not like we're trying for that."
The one ranked team Loyola battled against in the regular season was at No. 5 Florida at the time. The Ramblers beat the Gators, 65-59.
Moser said that he had a Power-Five school buyout a game this year, meaning they did not want to play the Ramblers so that school paid to be removed from Loyola's schedule.
Instances like this made the lack of schedule strength even harder than it already was for them.
"We've talked to many schools. There are so many schools we've reached out to," Moser said. "If you look at our list of calls that we have made, and not to get any responses, it's tough."
Michigan, a team that participates in the Big Ten, had the opportunity to hand-pick their opponents to favor their strength of schedule. Despite the differences, both Michigan and Loyola will cross paths in the Final Four.
"The beauty of being at one of the power five conferences is that you can schedule the games you want. Loyola Chicago can't do that. That's a tougher thing," said Michigan head coach John Beilein. "The consistency of these type of runs, where you saw the George Masons, the VCUs, the Butlers. I think the more it happens, it's natural that they'll start to value them more (mid-majors)."
In each game of the NCAA Tournament, Loyola was listed as an underdog. But the Wolverines are not going to take them lightly.
"If Loyola were playing in a power five conference, they might have been a 4 or 5 seed. They might have won one of those conferences. They are that good," Beilein said. "Loyola could win the championship."
The Ramblers are two games away from adding another title to their program and they believe the trophy is there's for the taking.
"It obviously keeps the chip on our shoulder being the underdog," said Loyola junior Clayton Cluster. "We don't consider ourselves a Cinderella team because we have had such a good year. We are 32-5, and without a couple of injuries, we could have only had two or three losses instead. We think we belong on this stage."
Before becoming just the fourth 11th seed to reach the Final Four, other mid-major programs have tasted great tournament success like the Ramblers. LSU was the first to do it in 1986, followed by mid-major schools George Mason (2006) and VCU (2011).
About the Contributor
Adrian Broaddus, Sports Editor
Adrian Broaddus is the sports editor for The Prospector. He is a junior multimedia journalism major with a minor in political science.



Adrian...