For freshman guard Kobe Magee, his appearance plays a crucial part to how well he performs on the basketball court.
The San Antonio native owns close to 40 pairs of basketball shoes.
"RIP Smooth" is written on every pair of shoes he owns. These words that Magee carries with him throughout every game of his career mean something to him.
Magee had a close childhood friend who went by the nickname "Smooth." The two grew a deep bond over basketball, but unfortunately, Smooth passed away in high school.
Magee will always remember how Smooth helped him get to where he is now—a Division I basketball player.
"As long as I have Smooth's name written on my shoes, I feel comfortable. I can't wear a shoe that doesn't have something with him on there," Magee said. "It was hard to go through it and I really miss him, but that's my tribute to him.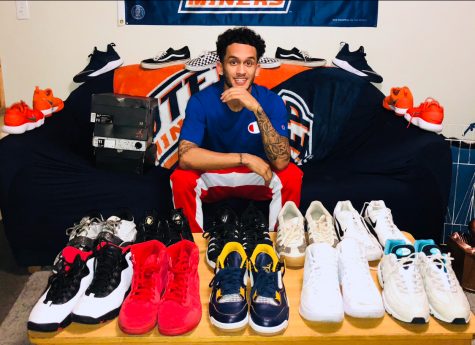 "I always look down at my shoes and remember him. He rubs off on me in the sense that life is short and to work hard for everything because not everything is given."
Another thing Magee wears every day, game day or not, are his tattoos. Magee's tattoos are also a huge part to who he is. All the ink on his body has meaning behind it.
Most of his tattoos represent his relationship with his mother, who is Magee's biggest inspiration and role model.
"Most of my tattoos are for my mom, but there's other things I believe and follow. I'm Christian, so I have a lot of scriptures on my arm," Magee said. "I have a lot of stars on me because my mom's last name is Star. My mom and I are really close."
Although Magee's father is there for him for whatever he needs, whether it's timely advice or just someone to talk to, Magee's mother, Darci, raised him as a single mother.
"I love my dad. He's always there still, but my mom has raised me by herself for my whole life. She does everything for me. She had to work sometimes two to three jobs at a time just for me to play AAU (Amateur Athletic Union basketball)," Magee said. "I see the love she has for me, and she works to give me everything she can. When I have kids, I want to be able to do the things she did for me, with the little she had."
Magee also has other tattoos, such as an hourglass on his arm, representing that "time is money."
Growing up, Magee said he did not have a lot of money, but found out many ways to grow his shoe collection. Owning more pairs of shoes than the average person, Magee said he had to do a lot of two-for-one trades to get the shoes he wanted.
Out of the nearly 40 pairs, there are some shoes he rarely ever touches because they're too special to be worn on a daily basis, like his Michael Jordan sneakers.
His favorite shoes to wear off the court are the Jordan 4s, in any color. Jordan's Toro 4s are on Magee's radar. He's never owned a pair, but the Toro 4s are his favorite.
But when it comes to basketball shoes, Kevin Durant shoes are Magee's go-to, having worn them since the seventh grade.
As an NBA fan, Magee likes the different styles of many NBA athletes. Although Magee looks up to the styles of Brooklyn Nets point guard D'Angelo Russell and Washington Wizards forward Kelly Oubre. Magee's favorite player is Houston Rockets point guard Chris Paul because of his stellar guard play on both ends of the floor.
Magee makes matching his number one priority with his style. For example, if he buys a Tommy Hilfiger shirt, then he'll match that by purchasing Tommy Hilfiger pants and maybe a hat to go along with it.
As big as Magee is into fashion, there's one store that stands out when he's looking to add to his look.
"It's tough to call, but I would say Urban Outfitters is my favorite place to shop. They have different and weird stuff that I like to put all together," he said.
While Magee believes he is on top of the leaderboard when it comes to fashion on the UTEP basketball team, he says that Deshaun Highler, Evan Gilyard and Corbin Stevens' styles are up there in the higher echelon of the Miners.
"For me, if I feel good, I feel like I play good. What we wear on the court, we feel better about ourselves and it adds to our confidence," he said. "But really, it's just how you rock what you're wearing."
Magee's style doesn't just add to his appearance, it has also translated to his game. In Magee's freshman season with UTEP, he finished the season with a team-high 42.5 percentage from 3-point land, second in total assists (53), top four in 3-pointers made (31).