Located at 200 S. Santa Fe St., Lalo Élan is a bohemian café/boutique, specializing in original new-age jewelry. The space is a representation of Elena Ruiz's personality—a 33-year-old self-taught jeweler designer, who strives to keep her passion alive every day.
Ruiz graduated with an associate's degree in graphic design at El Paso Community College and decided to study anthropology and linguistics at UTEP. After transferring from EPCC, Ruiz was in a political science class taught by professor Richard Gutierrez around 2013.
"They were all younger kids on their cellphones and I felt old, and they would not listen him," Ruiz said about why Gutierrez gave a  speech during class for students to consider if college is really for them.
It opened her eyes and she never went back.
"He has no idea who I am, but I was going to write him and tell him he has no idea what he did to me. It was the best thing and I'm pretty happy about it," Ruiz said.
Ruiz was born in Las Cruces and moved to El Paso at the age of 12, which was the same time that she started making jewelry.
"On Christmas, my stepdad gave me a set of hardware pliers for my jewelry," Ruiz said. "I have been using them for 15 years. They're my favorite thing."
Ruiz sold her jewelry exclusively at local markets and events. She later sold her work at the Dream Chaser's Club gallery.
"I was kind of like lost and I saw this ad to sell jewelry there (at DCC). I met Jam (the owner) and showed my jewels and he's like, 'yeah, this is great, I love your stuff,' and we became friends," Ruiz said.
The opportunity to have her own store came during a low time of her life, while she was working with a beer company.
"I'm driving home and Jam from DCC calls me, and he's like 'I wanted to ask you a serious question, the guy who owns a smoke shop next door, it's closing, and I just wanted to see if you're interested in opening your own store," Ruiz said.
Her jewels were selling well at DCC, so she decided to open Lalo Élan on Nov. 5, 2016.
Since Ruiz did not have enough merchandise to sell at the time, she decided to also include vintage thrift clothes from her own closet, garage sales, estate sales and clothes on consignment or donations from friends and customers. The idea stuck around ever since.
The name Lalo Élan comes from Ruiz's favorite book "Jitterbug Perfume" by Tom Robbins, a best-seller fantasy comedic-drama published in 1985. Lalo is the name of a character who is a fairy nymph, and Élan comes from a word the god Pan uses to describe two characters frolicking.
"I was like, well that's a cool word, what does it mean?" Ruiz said. "I looked it up and it means energy, style,and enthusiasm."
Ruiz describes her jewelry's style as "earthy," "minimalistic" and "bohemian." Some of it is also inspired by the tones of the desert. The jewelry consists of real materials, such as quartz, crystals, stones, metal and more. The making of her jewelry has evolved with her growth of style throughout the years.
"In high school, I was this hippy chick and started making hemp necklaces, then I did raver bead jewelry with my friend," Ruiz said. "Later I got obsessed with making epoxy jewelry, and also did beading with glass beads and tiny seeds, but I got tired of that."
The process of making her jewelry consists of cleaning her workspace, gathering materials, creating pieces and making a mess again.
"Some pieces take around 10 minutes, others need 30 minutes to dry because I use glue, or if I'm casting jewelry, it could take like a week of process," Ruiz said. "I've gotten really good with using the tools. They're like my second hands. So when I do something, I just do it like really fast, such as fixing people's jewelry."
Her jewelry ranges from earrings costing $12 to necklaces up to $38, depending on the materials. The purpose of each piece at Lalo Élan it's to be a one-of a-kind custom handmade piece, rarely made twice.
"I made one for my friend's mom, whose horse passed away, and my friend gave me some of the horse's hair to make a memento mori jewelry piece," Ruiz said. "I put it in shadow box in a necklace, with flowers and a lace, and she gave it to her mom on Christmas. It's really cool someone trusts you with something they treasure."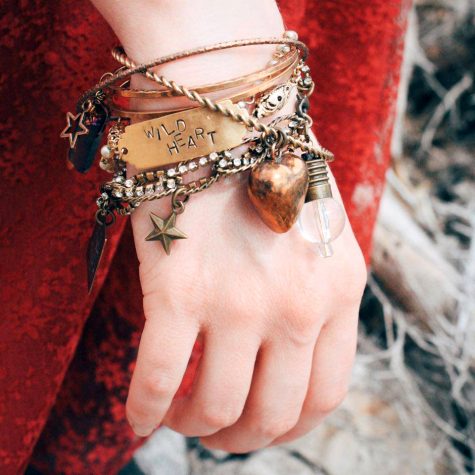 Photo courtesy of Lalo Élan
Ruiz's best-selling pieces are custom hand-stamped pieces, most with Spanish pet names, insults or poems. She got the idea after somebody called her a "huevona" (slang for "lazy" in Spanish) and decided to have it written on a necklace.
"I have a sense of humor and I like vulgar things. I love taking those orders because they're hilarious," Ruiz said.
Not only has Ruiz worked on making special pieces, but also for special occasions with costumers.
"Some people are like 'oh my god, I love this, but I can never wear something like that,' and I say 'who said you can't wear it? You said it, you're literally limiting what you want to do."
Lalo Élan also sells coffee for a mobile-café company from Ohio named Chicken Switch. The menu consists of café de olla, iced coffee, hot coffee and includes basic flavors such as hazelnut and vanilla.
"I always wanted a coffee shop because I'm a barista, I love working at cafes," Ruiz said, who previously worked at Joe Vinny & Bronson's Bohemian Café and Nomu Café. "Those things make me super happy, it's the same satisfying feeling as when I make jewelry."
Besides her own experiences, taking a studio casting class and looking for information online, Ruiz has also learned from the creative friends she has surrounded herself with. One of them is Cynthia Evans, who studied printmaking and metals at UTEP.
"She's been so amazing to share her time and knowledge, such as showing me techniques and what kind of supplies to get," Ruiz said. "I own some of her stuff and she believes in my work, which I think it's cool to have friends like that."
Ruiz said she has grown a lot for just a year and half of owning Lalo Élan. Her advice for people starting their own business is to always be nice to customers and never lower themselves.
"We all put a lot of work, care and love into what we make. I want people to like at least look at it," Ruiz said. "Even if you're not buying anything, just appreciate what is in your city because there's a lot of cool gems around, so take your take time."